Gluten Free Almond Crescent Rolls
Published on Mar 06, 2023
by
Kristina Stosek
Prep Time:

20 minutes
Cook Time:

15 minutes
Serves:

12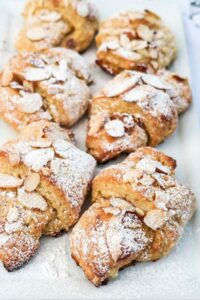 ​This post may contain affiliate links, please see our
privacy policy
for details
These are soft and easy to make gluten free almond crescent rolls filled with frangipane and made entirely from scratch. This recipe for crescent rolls is a fun weekend baking project that will elevate gluten free breakfast or brunch to another level.
Croissants VS Crescent Rolls
Croissants are multiple layers of yeasted pastry dough with extra butter rolled on top of each other and shaped into crescent rolls. This gives the croissants a flaky, light texture.
Crescent rolls are made with a yeasted light bread dough using a little butter rolled into only one layer and then shaped into a crescent roll. The bread-like texture of the rolls is soft and fluffy.
Both croissants and the crescent rolls can be made with or without a sweet or savory filling.
Where do almond crescent rolls originate from?
Almond crescent rolls became popular in Europe in the 18th century and were often made with almond paste. Today, almond crescent rolls are still popular in Spain and eastern Europe, as well as in North Africa and the Middle East.
You may also enjoy our savory crescent rolls the Gluten-Free Cheesy Crescent Rolls Recipe or the Grain-Free Crescent Cookies
What is the almond filling made of?
The almond filling called frangipane is a combination of ground almonds, sugar, eggs, butter, almond extract and flour. It also requires milk to make it into a custard often used in tarts and pies.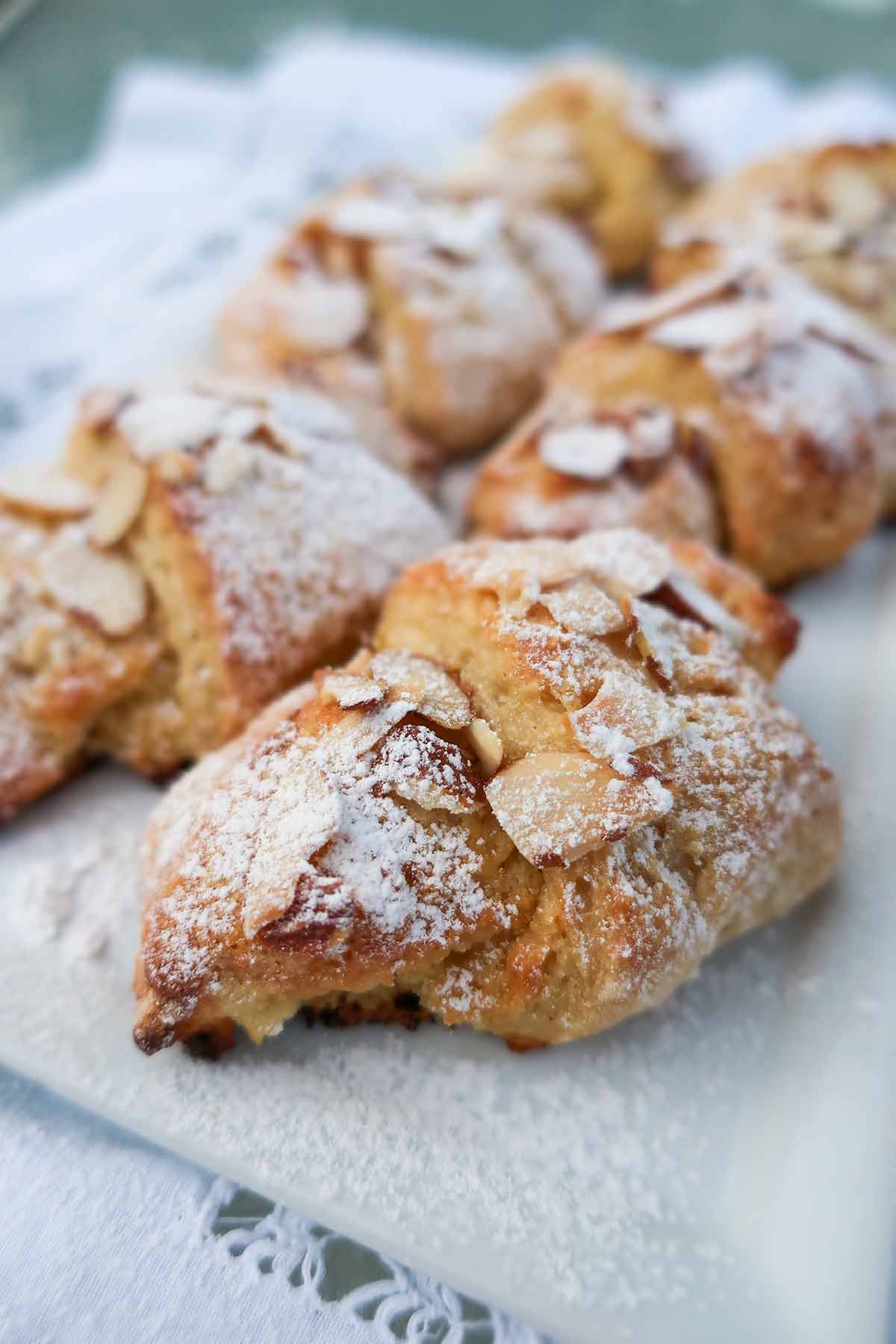 Key points for best gluten free almond crescent rolls
The dough should be sticky, not dry. This will create a soft pillowy crescent roll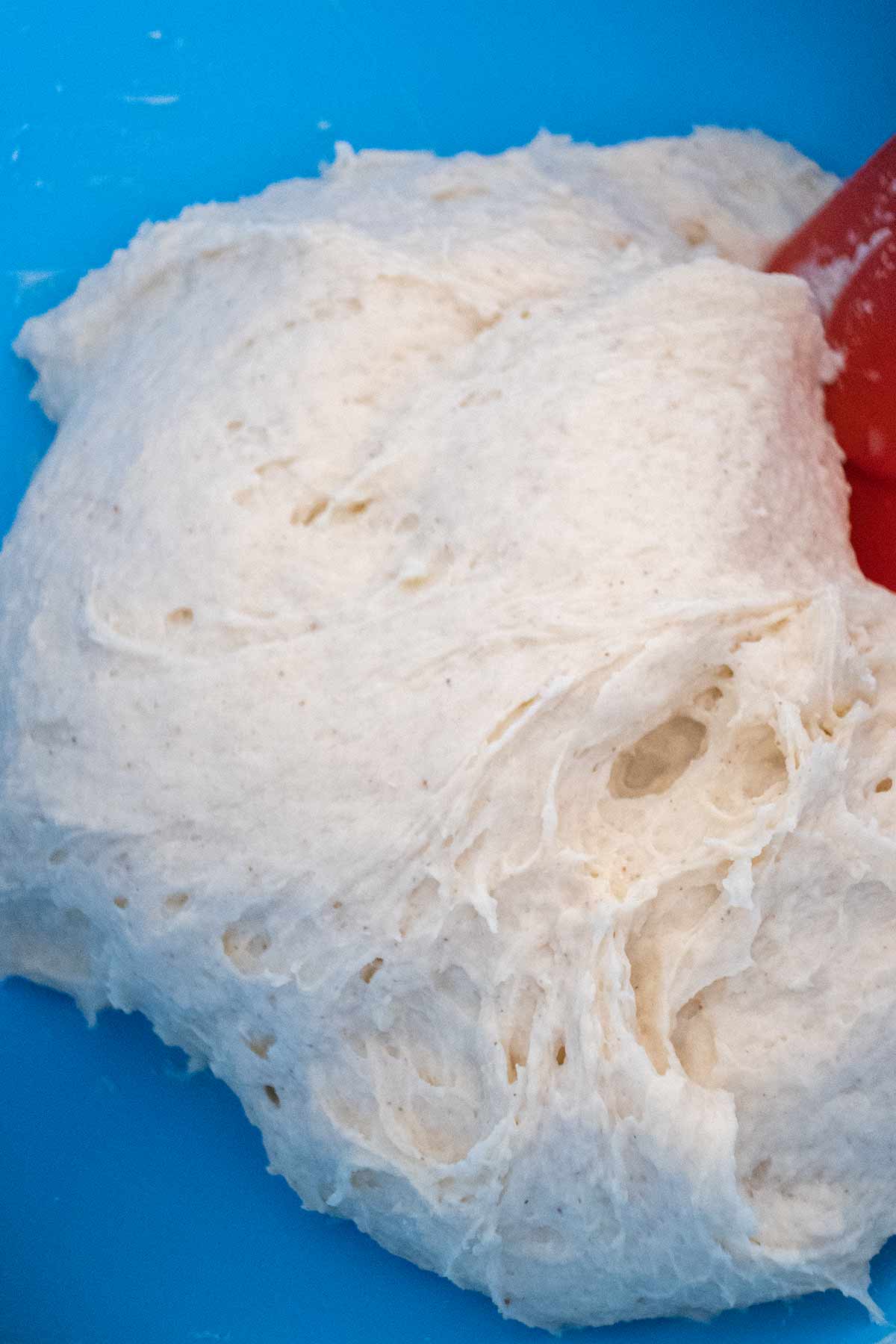 Chill and rest the dough before rolling. This allows the moisture to be absorbed by the flour and chill the butter. As a result, the dough will become less sticky.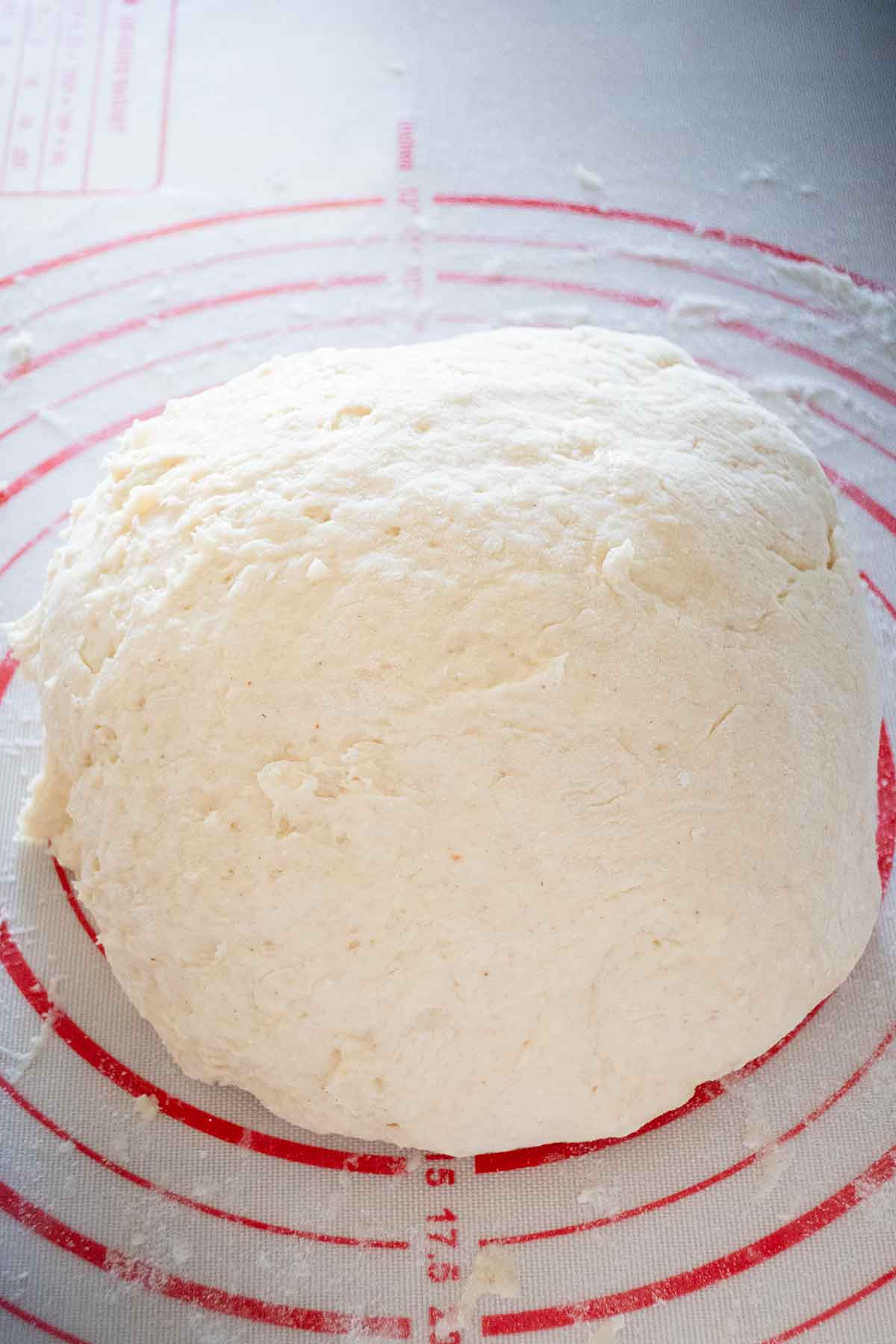 Do not spread the filling to the edges of the roll or it will leak out onto your baking sheet.
Fully proof the dough in a warm place, or the crescent roll will be dense and heavy. Proofing it in an oven at 75 F works best. The rolls should rise by about 50%. Gluten free dough rises less than one with gluten.
Bake the rolls on the middle rack with a pan filled with water on the bottom rack. This will keep the rolls soft and moist.
Always serve gluten free crescent rolls warm. To reheat one roll, microwave it for 12 seconds. For several rolls, use a hot oven.
FAQs about rolling dough to avoid sticking
When you roll out the dough, the friction between the dough and the surface can cause the dough to stick. To avoid this, here are some tips:
Make sure your surface is lightly floured.
Wipe the rolling pin with a wet towel and coat it with flour or lightly coat the rolling pin with cooking oil
Roll the dough by pressing lightly from the center outwards, turning it frequently to avoid sticking to the surface.
If the dough does start to stick, dust it lightly with flour and continue rolling.
You can also roll the dough between two sheets of parchment or wax paper for easy cleanup.
Shaping the crescent rolls
Turn the chilled dough onto a lightly floured working surface and shape it into a ball.
Roll the dough into approximately 14-inch circle
Use a pizza cutter and divide the circle into equal wedges. The easy way to do this, divide the dough into quarters, then each quarter into 3 wedges
Spread the almond mixture on each wedge to about 1/8th of an inch from the edge
Roll up the wedge starting with the wide side, and place on the prepared baking sheet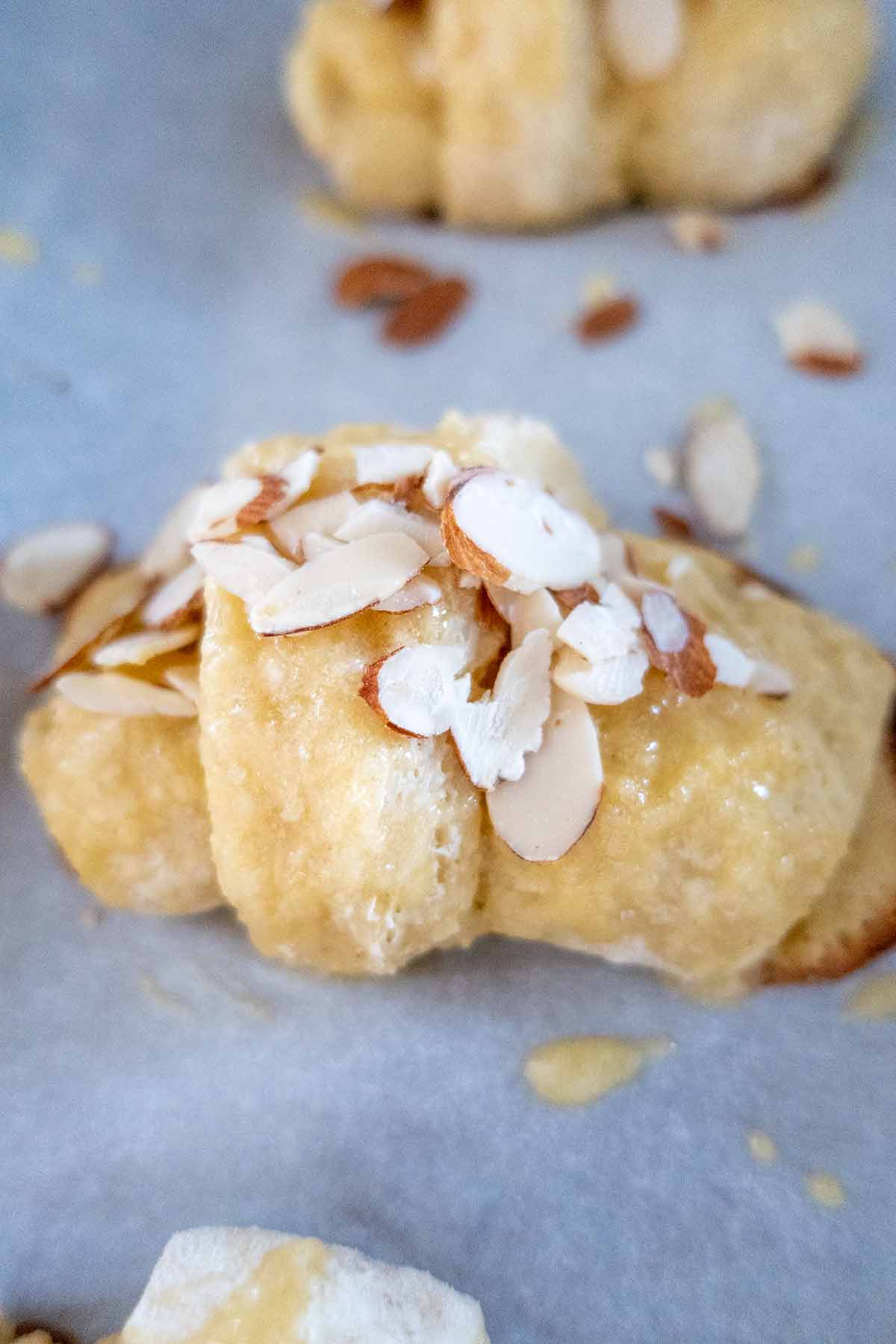 Various fillings for crescent rolls
There are various gluten free fillings that you can use for crescent rolls, including:
-Almond paste
-Cream cheese and chives
-Fruit preserves
-Nutella
-Peanut butter
-ham and cheese
-smoked gouda
-cream cheese and smoked salmon
Can I freeze the gluten free almond crescent rolls?
Yes, you can freeze raw rolls. To do this, place shaped rolls onto a baking sheet and freeze for 20 minutes. Then place them in a freezer bag and freeze them for up to three months.
To defrost, place frozen rolls on a baking sheet and refrigerate overnight. Then, continue with the recipe from proofing the rolls.
I do not recommend freezing baked rolls. Some gluten free baked goods don't taste good after being frozen. This is one of those recipes.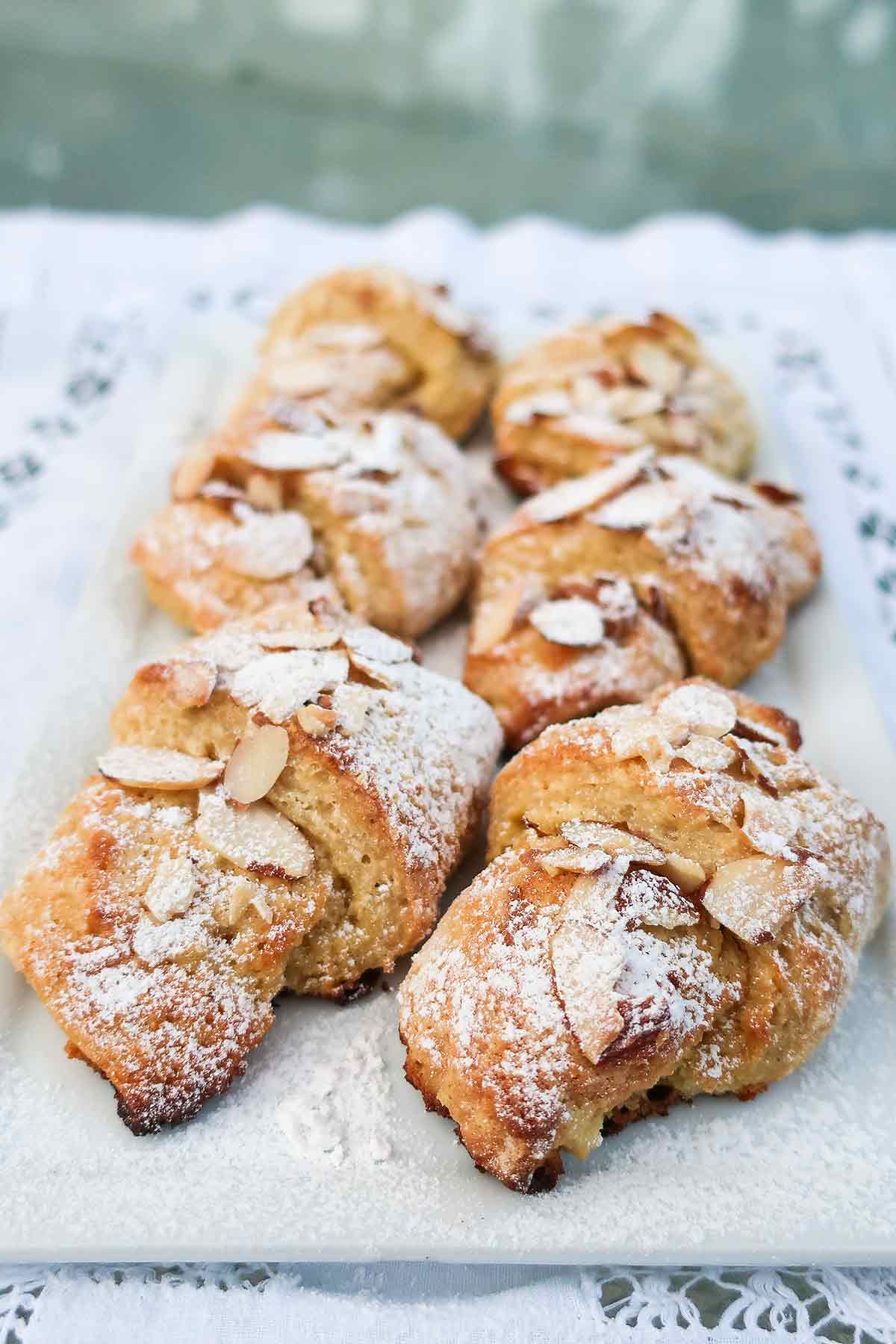 I hope you enjoy this gluten free version of almond crescent rolls. They are fun to make, delicious and relatively easy to make. They are best when served warm. Enjoy!
Gluten Free Almond Crescent Rolls
Published on Mar 06, 2023
by
Kristina Stosek
Instructions
1.

FOR THE ALMOND FILLING, mix all the ingredients in a bowl and refrigerate until ready to use

2.

FOR THE DOUGH, whisk psyllium husk powder with water in a medium bowl and set aside. It will form a gel-like mixture

3.

In a mixing bowl, whisk together tapioca flour, millet flour, rice flour, sugar, yeast, baking powder, xanthan gum and salt

4.

To the psyllium gel, add warm milk and melted butter and mix. Add the egg and whisk together

5.

Make a well in the middle of the dry ingredients and pour in the wet mixture. Using a dough hook, knead the dough until very smooth. The dough will be very sticky. *See the photo in the post

6.

Loosely cover the dough with plastic wrap and place it in the fridge for one hour.

7.

SHAPE THE ROLLS; turn out the dough on a lightly floured working surface and form into a ball. Roll the dough into about 14-inch circle

8.

Using a pizza cutter, divide the dough into 12 even wedges

9.

Spread about 2 teaspoons of the almond mixture on each wedge to about 1/8th of an inch from the edge, and starting from the wide end, roll up each wedge into a croissant shape. Place rolls on a baking sheet lined with parchment paper and loosely cover them with plastic wrap. Proof the rolls for 1 hour

10.

Mix the remaining almond mixture with 1 tablespoon of cold milk and set aside

11.

When ready, preheat the oven to 350 F and place a baking pan half filled with water on the bottom rack of the oven.

12.

Bake rolls for 12 minutes, then brush with the remaining almond mixture, sprinkle with sliced almonds and continue baking for 5 minutes or until the rolls are golden.

13.

Transfer the rolls to a cooling rack and cool for 10 minutes. Then sprinkle with powdered sugar and enjoy warm. 

14.

*see tips in the post on how to roll and shape the crescent rolls