Creamy Chicken Calabrese with Ham
Published on May 17, 2018
by
Kristina Stosek
Prep Time:

15 minutes
Cook Time:

45 minutes
Serves:

4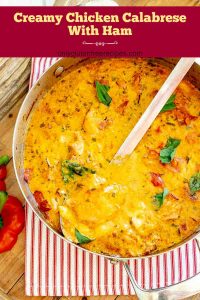 ​This post may contain affiliate links, please see our
privacy policy
for details
This Chicken Calabrese with Ham is made with the most delicious red pepper cream sauce that will impress even the savviest chefs. The recipe may sound complicated, but, it is made simply with fresh ingredients.
♥ How to make the best Calabrese sauce?
Flavour comes from herbs, spices and veggies. In this recipe the fresh vegetables are first roasted. The flavour intensifies when the garlic, shallots, bell peppers and tomatoes are roasted. Once they veggies are lightly caramelized they are blended until almost smooth. With added fresh basil and cream, the sauce becomes even more flavourful and creamy. The sauce is then used to deglaze the pan that has the chicken juices. Lastly, I added the mozzarella cheese, making the sauce thick and cheesy. I can't tell you enough how delicious this Calabrese sauce is. It turns a simple chicken dinner into an Italian delicacy!
Once the sauce is made, the chicken is layered with ham slices, fresh tomatoes and smothered with the Calabrese red pepper cream sauce. The vibrant sauce is made with roasted veggies, garlic, rosemary, plenty of fresh basil and of course cheese. The sauce is packed with tremendous flavour, making this Italian chicken Calabrese dish exceptional.
Chicken Calabrese dish is traditionally served with pasta. But, the creamy sauce goes exceptionally well over parsley rice or simple potatoes with parsley and garlic. 
Love creamy flavourful sauces? Check out these gluten-free recipes made with creamy delicious sauces ♥
Creamy Chicken Calabrese with Ham
Published on May 17, 2018
by
Kristina Stosek
Instructions
1.

Preheat oven to 400 F and line a baking sheet with parchment paper

2.

Mix shallots, bell peppers, tomato, garlic, rosemary, 1 tablespoon of olive oil and a pinch of salt. Spread on a prepared baking sheet and roast for 15 minutes, until lightly caramelized. Set aside

3.

Season the chicken breast with salt. Heat remaining olive oil over medium heat in a non-stick pan. Add the chicken and sear on both sides. Place the chicken pieces in an oven-proof dish large enough so that the chicken pieces are not touching, keeping the pan with the chicken juice. Top with ham pieces and tomatoes. Set aside.

4.

Place roasted veggies in a blender with cayenne pepper, half a cup of basil leaves and cream. Blend until almost smooth, leaving some texture. Add the sauce to the pan and deglaze the chicken juices. Stir in mozzarella cheese and pour over the chicken. Sprinkle with Parmesan cheese and bake for 25 - 30 minutes until the sauce is bubbling