Clam Chowder with Charred Corn
Published on Nov 02, 2020
by
Kristina Stosek
Prep Time:

20 minutes
Cook Time:

25 minutes
Serves:

6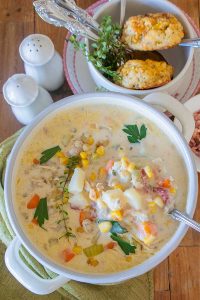 ​This post may contain affiliate links, please see our
privacy policy
for details
Thick and creamy supreme Clam Chowder filled with clams, potatoes, bacon, sweet charred corn and extra veggies. This recipe is not the classic New England clam chowder, but it is the clam chowder of all chowders.
In this delicious gluten-free fish soup, the broth is creamy but not heavy with a perfect balance of clams and potatoes and a hint of thyme. I also added a few carrots and celery for extra heartiness and sweet charred corn.
The charred corn is what sets this clam chowder apart from most.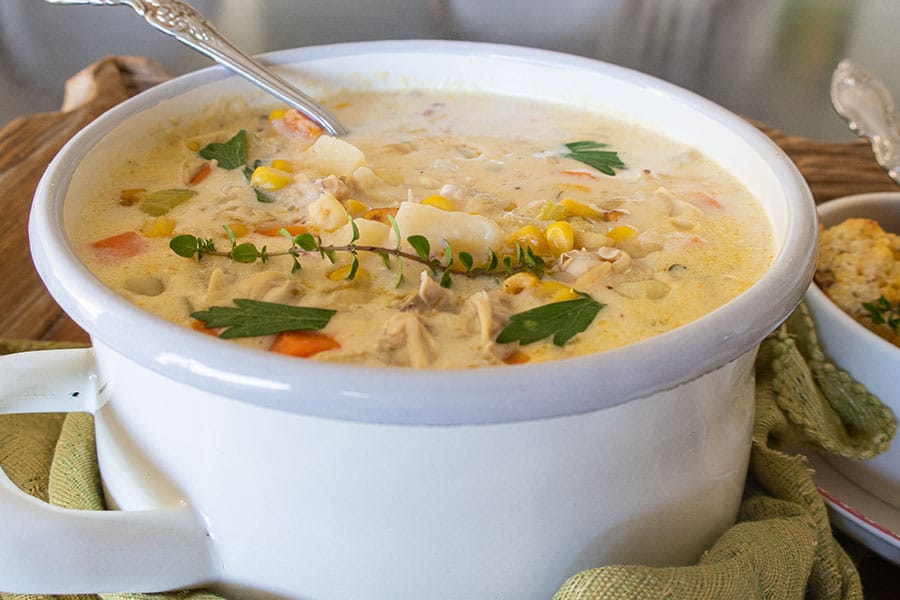 When I decided to create this white clam chowder recipe, I wanted more than just potatoes and clams and at the same time maintain its individuality.
In come the veggies with the charred corn, making this clam chowder an adventure of textures and flavours. Every spoonful is filled with so much deliciousness.
What is the difference between Manhattan Chowder and New England Clam Chowder?
It is very easy to spot which chowder is which. Manhattan clam chowder is red, and New England clam chowder is white. This is because Manhattan has a tomato-based broth, and the New England is the cream-based broth.
In addition to the tomato broth, Manhattan clam chowder has more veggies and is more like an Italian stew. The New England version — the broth is made with cream or milk, potatoes and clams, and has thicker consistency, typically served with oyster crackers.
The white clam chowder is known to be the king of clam chowders.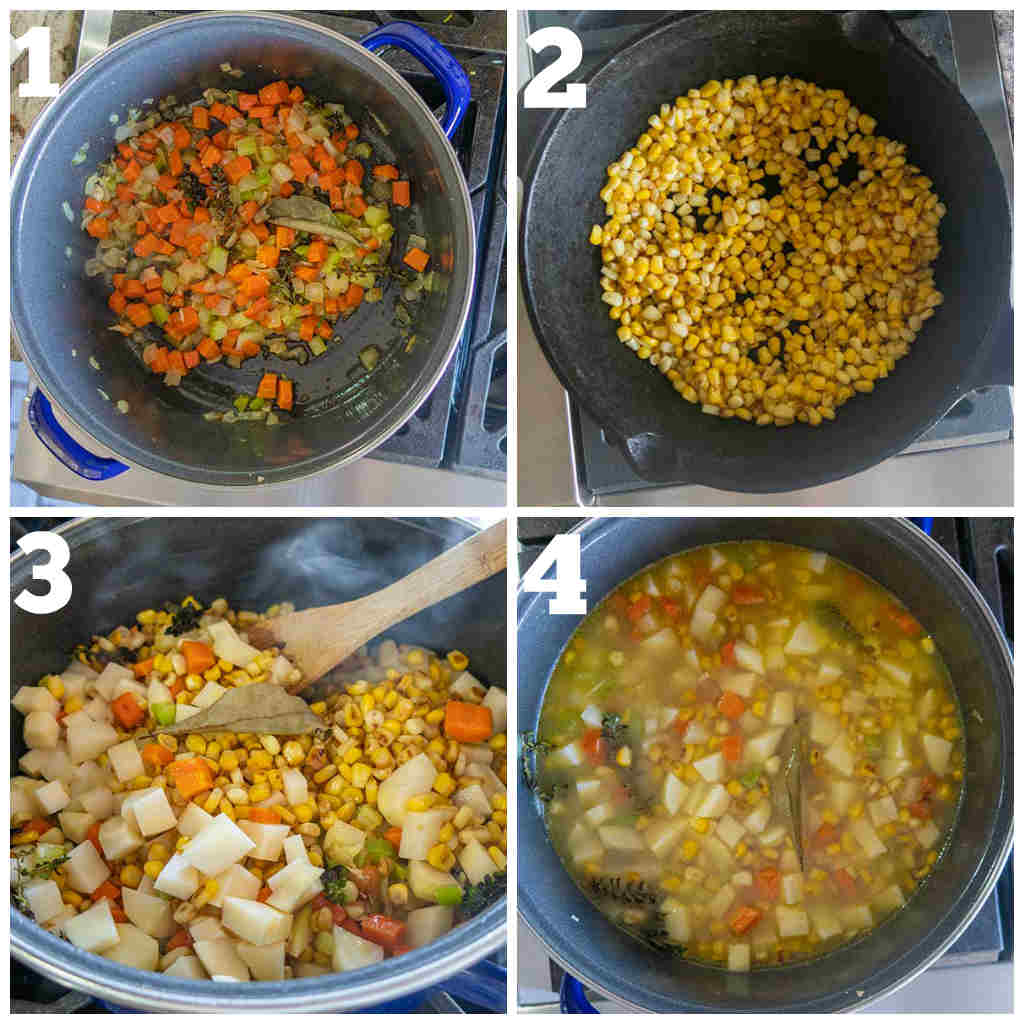 How to make charred corn kernels under 5 minutes
I learned this technique a very long time ago. Fresh corn is the best, especially when it is slightly charred because it has extra sweetness and is more flavourful. I often add charred corn to my soups and stews. To char the corn is super easy.
Heat a large dry skillet like a cast-iron skillet over high heat, add the corn kernels and allow the corn to char without stirring it too often. It takes less than five minutes to char the corn.
You could add some salt and cracked black pepper and eat it with a spoon. It is that good. This corn is also great when added to salsa or over nachos. You can use fresh or frozen corn, both char beautifully.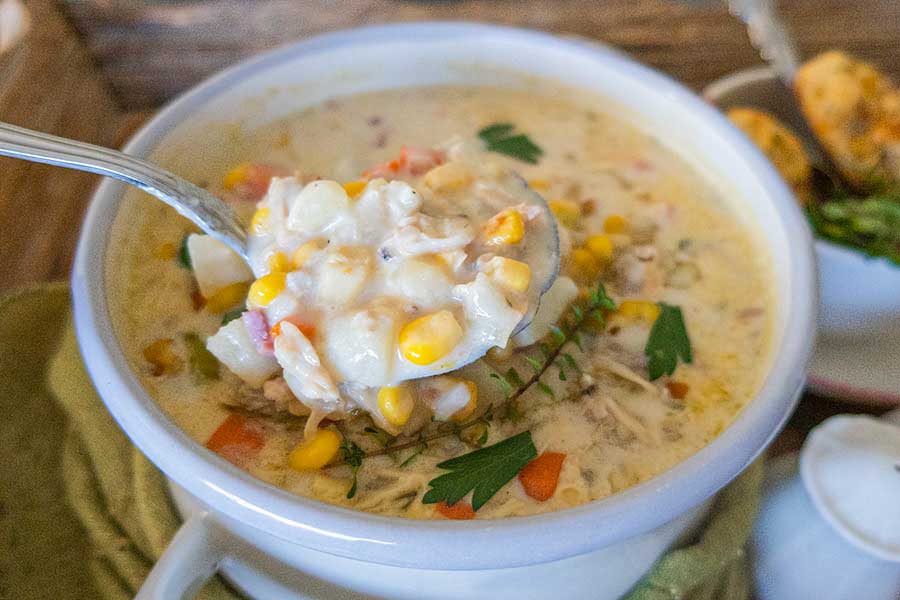 the details for the clam chowder recipe,
To start, crisp the bacon, then set the bacon aside for the very end. I add the bacon to the clam chowder at the end, keeping the bacon crispy and delicious. Once the bacon is done, using the same pot, add some butter and saute the onions, celery and carrots.
Then, stir in the herbs with garlic. Once everything is aromatic, add the potatoes, clam broth, charred corn and a little water. Cook for a brief ten minutes until the potatoes are tender. Since the potatoes are cut into small pieces, they take very little time to cook.
The next thing is to thicken the broth. The classic New England Chowder is thickened with flour. Since this is a gluten-free Clam Chowder, I used a grain-free starch mixed with the cream. You can use arrowroot or tapioca both work well.
This cream mixture is added to the chowder with the clams and half the bacon bits. The chowder is cooked just until it starts to thicken. Season with salt and pepper, and it's ready to be served. When I serve this creamy thick soup, I like to top the soup with bacon bits and fresh herbs.
This Clam Chowder is not a classic, but definitely comforting. Add a side of the freshly baked Gluten-Free Cheddar Corn Biscuits, and you have a meal that will satisfy even big appetites. Enjoy!
For the latest recipes and tips, please like us on Facebook or follow us on Pinterest.
Let's Connect!
Be sure to FOLLOW US on FACEBOOK and PINTEREST.
Many thanks!
Kristina xx
Clam Chowder with Charred Corn
Published on Nov 02, 2020
by
Kristina Stosek
Instructions
1.

In a large soup pot over medium-high heat, cook bacon until crispy. Drain the bacon on paper towels and roughly chop

2.

Meanwhile, toast corn over high heat in a dry skillet until lightly charred. About 3 - 4 minutes, stirring as needed. Set aside

3.

Remove most of the bacon fat from the soup pot and add butter. Add onions, celery and carrots and saute until slightly softened. About 3 -4 minutes. Add garlic, thyme and bay leaf and stir to combine

4.

Add potatoes, charred corn, clam juice, and water to cover the veggies plus 1/2-inch. Bring to a boil, cover, reduce heat to simmer and cook for 10 minutes or until the potatoes are tender 

5.

Mix the cream with tapioca/arrowroot and add to the soup with the clams. Cook over medium heat until the soup starts to thicken. About 3 minutes. Stir in half the bacon and season with salt and pepper

6.

Ladle soup into bowls and top with bacon bits and fresh parsley or thyme. Enjoy!

7.

Chefs notes; as the soup stands, it may thicken up. Add extra cream or vegetable broth until you reach desired consistency.
Leave a Comment
Kristina
that sounds delicious Fiona, I will try it with peppers the next time I make this clam chowder.
I added bell peppers to the clam chowder, it was soooo good! Thank you for posting my favourite soup recipe.
Kristina
Thank you, I am glad you enjoyed it
best clam chowder I have ever tasted. Thank you for sharing!
Omg I just made this, me and my family loved it! We love your recipes.
Kristina
thank you, I am glad you enjoyed it
this soup was amazing, I am definitely making it again!!