30-Minute Creamy Tex-Mex Soup Recipe
Published on Jun 17, 2021
by
Kristina Stosek
Prep Time:

10 minutes
Cook Time:

20 minutes
Serves:

6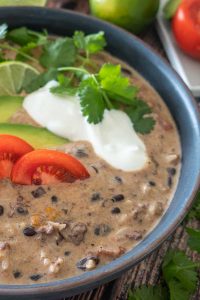 ​This post may contain affiliate links, please see our
privacy policy
for details
A Creamy Tex-Mex Soup made in thirty minutes…ground beef, Tex-Mex spices, onions, garlic, tomatoes, black beans and rice. The Tex-Mex soup is simmered in a tasty broth made with light cream cheese, making this soup extra creamy.
This is a naturally gluten-free flavourful Tex-Mex soup recipe that is like a taco but made into a soup. You will need only 30 minutes to complete this satisfying, healthy soup.
And because the soup is packed with meat and veggies, it can replace a meal. Add a side of Gluten-Free Mexican Cheesy Cornbread or Gluten-Free Jalapeno Cheese Corn Muffin, and you will satisfy even big appetites.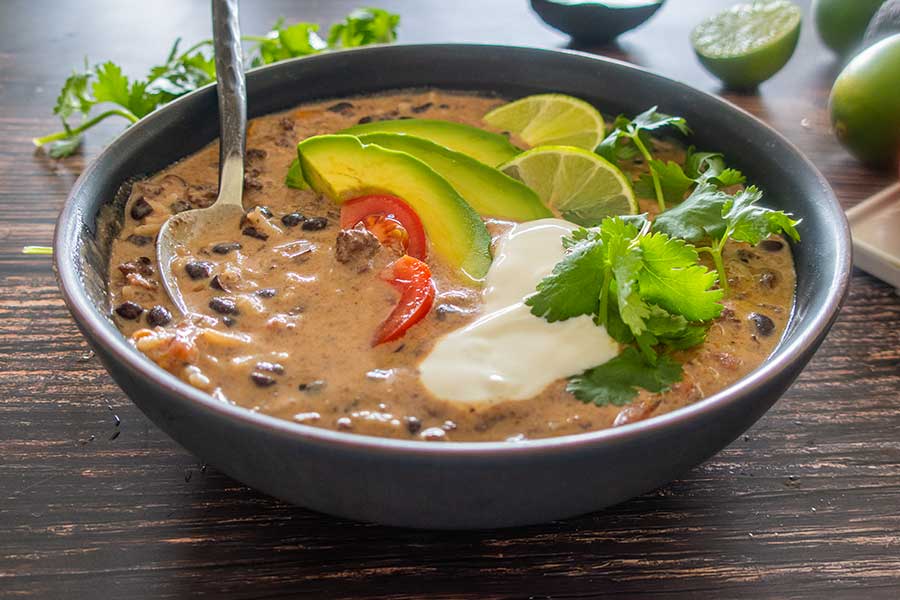 Tex-Mex recipes are always popular. The dishes are flavoured with chilli powder, cumin and oregano, and they are generally easy to make. This creamy Tex-Mex soup recipe takes only 30 minutes from the start to the table.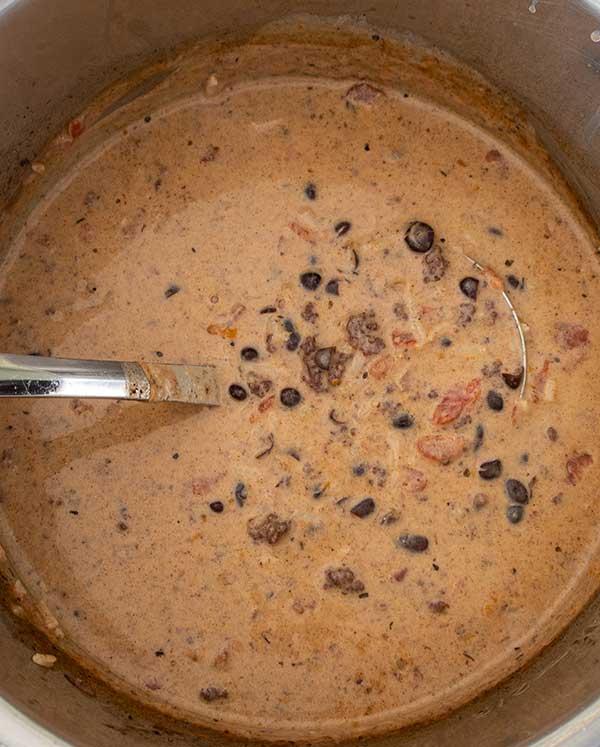 What is Tex-Mex food?
Tex-Mex cuisine is an American and Texan cuisine that derives from the culinary creations of the Tejano people, the hispanic residents of the state of Texas. Two notable ingredients that set the Tex-Mex cuisine apart from Mexican are cheese and the spice cumin.
In Mexico, only white cheese is used, so if you see cheddar cheese in your bowl, you know it is Tex-Mex recipe. And the spice cumin is primarily used in Tex-Mex recipes.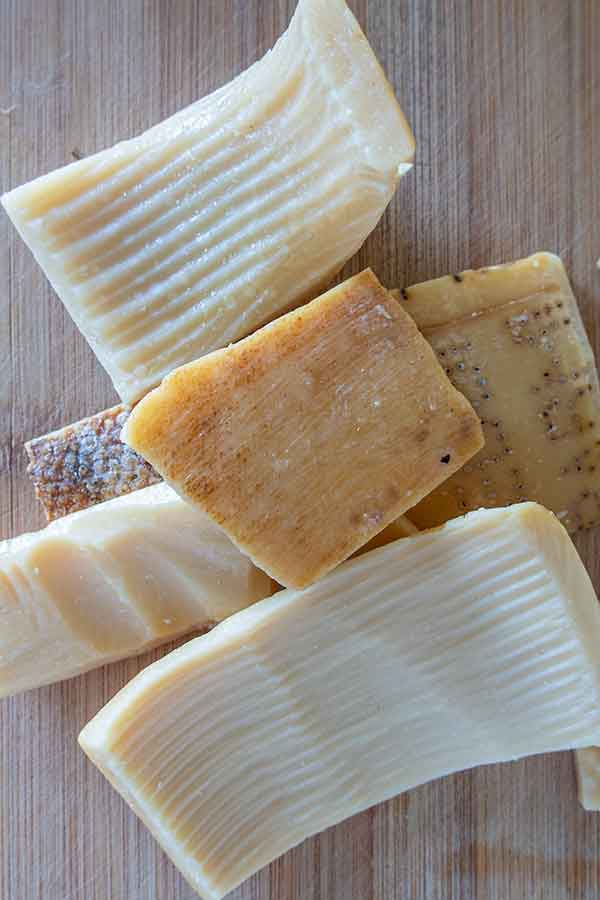 Today's kitchen hack
Parmesan rind…
Many ingredients will elevate the flavour of our food. Parmesan or Parmigiano-Reggiano rind is one of those ingredients and probably one of the best-kept secrets. Parmigiano-Reggiano cheese is more flavourful than Parmesan and is an excellent source of nutrients such as calcium, amino acids, protein, and vitamins.
The rind is a protective layer that develops on the outside of the cheese wheel as it ages. The rind is full of flavour and enriches soups and sauces to another level of deliciousness.
Parmesan or Parmigiano-Reggiano rind will keep in the fridge for months, or you can freeze them for years. Parmesan rind is often used in Italian recipes.
Next time you want to enrich the flavour of your soup, sauce or even stews, add one or more pieces of the rind. The rind will not melt but will soften. Once cooked, you can discard it.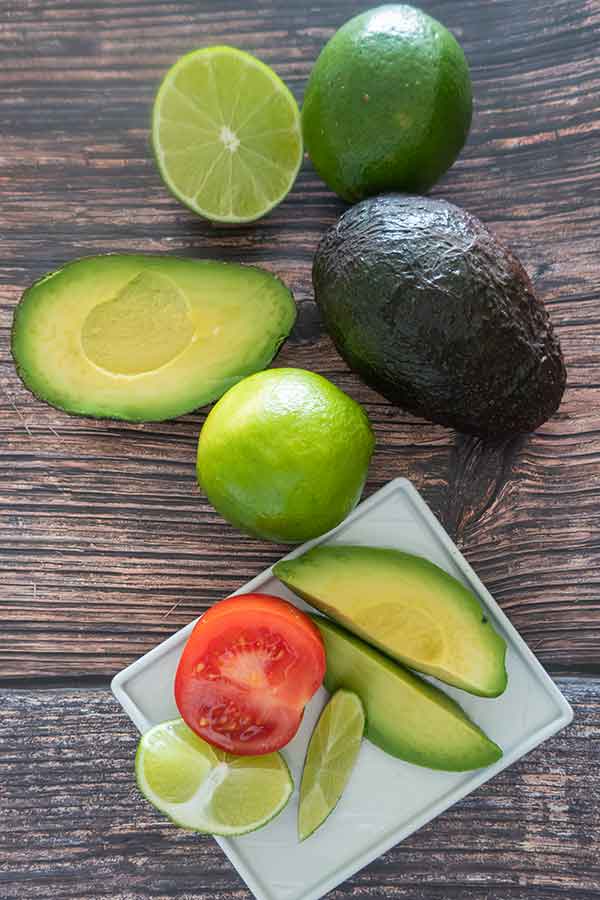 toppings for Tex-Mex soup…
This Tex-Mex soup recipe is made with ground beef, black beans, tomatoes and rice. To add freshness to this taco-flavoured soup, I love to add fresh toppings.
Some of my favourite fresh toppings are avocado slices, fresh tomatoes, cilantro, a drizzle of lime juice, sour cream or yogurt and often cheddar cheese.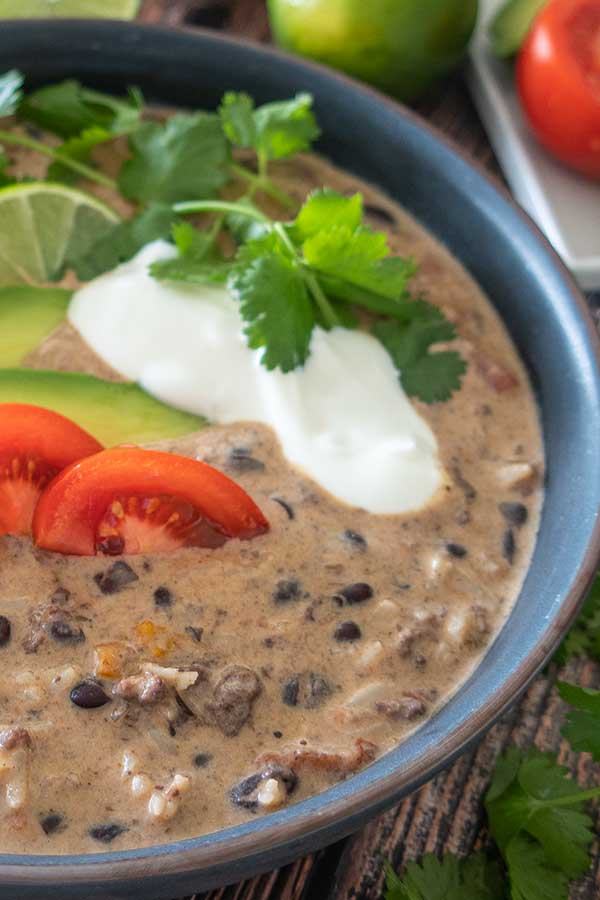 This super simple naturally gluten-free recipe is a perfect savoury and insanely flavourful Tex-Mex soup. Finish each bowl off with fresh toppings, a drizzle of fresh lime juice, sour cream and if you wish a crusty gluten-free bread. Enjoy!
30-Minute Creamy Tex-Mex Soup Recipe
Published on Jun 17, 2021
by
Kristina Stosek
Instructions
1.

Heat olive oil over medium-high heat in a large soup pot. Add onions and garlic and cook until they start to soften. About 3 minutes

2.

Add beef and cook, breaking up the meat until no longer pink and lightly browned

3.

Stir in bell pepper, spices, tomatoes and cream cheese until combined, and the cheese has melted

4.

Add beans, rice, parmesan rind, lime juice, 5 cups of water and salt. Cover and simmer for 15 minutes. If the soup gets too thick, add extra water until you reach desired consistency

5.

Remove parmesan rind and ladle soup into bowls and top with desired toppings

6.

Note; the soup thickens over time; add extra water or beef broth if needed to reach desired thickness. The soup tastes even better the next day as the flavours develop and will keep up to 5 days when refrigerated