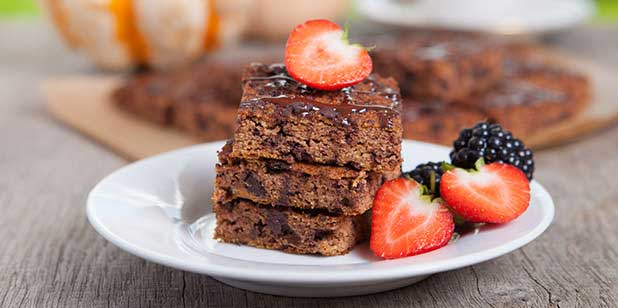 Adopting a gluten-free diet can be hard sometimes but when it comes to sweets, especially cookies or brownies, there are so many great recipes that can be done without gluten. Some of these gluten free cookies or gluten free brownies are even tastier than the normal ones.
Gluten free Cookies
Who needs gluten for having delicious cookies? Eliminating gluten from your diet doesn't mean to sacrifice your favorite treats. Cookies are everyone's favorites but they usually contain gluten.
From double chocolate walnut to carrot almond, we selected our favorite 6 cookies that are so delicious, that even those of you who are not following a gluten free diet will ask for the recipe and its ingredients, which are surprisingly gluten-free.
Gluten-Free Double Chocolate Walnut Cookies: Double chocolate cookies are always in high demand. This gluten free version is the perfect combination of chewy on the inside and crunchy on the outside.
Easy Gluten Free Chocolate and Nut Cookies: You will need just 9 ingredients to create these cookies that have the chocolate intensity combined with the nutty richness. They also have a high protein value.
Gluten-Free Espresso Chocolate Cookies: If you are looking for more than the traditional chocolate gluten free cookie recipe, you should try these cookies which are a mix of coffee and chocolate, a truly delicious sweet treat.
Gluten-Free Vanilla Shortbread Cookies: Shortbread cookies are always popular, especially during christmas season. These are the gluten free version.
Gluten-Free Carrot Almond Cookies: These gluten free cookies are perfect for kids snacks or as a treat in combination with coffee or tea. They are packed with protein, fiber, vitamin A and sweetened with healthy carrots.
Gluten Free Lemon Cookies: These lemon cookies are perfect for the festive season.
Vanilla Chia Pudding With Blueberries
This delicious vanilla chia pudding can be served as breakfast or as a dessert. Chia seed is naturally gluten... Read More
Prep Time
5 Minutes
Difficulty
Beginner
Serves
4
Gluten-Free Baked Butternut Squash Pudding
A healthy twist on traditional pudding. The butternut squash adds a little sweetness and creamy texture to this scrumptious... Read More
Prep Time
15 Minutes
Difficulty
Easy
Cook Time
40 Minutes
Serves
6
Easy Gluten Free Chocolate and Nut Cookies
These cookies have the chocolate intensity that balances with their nutty richness. You can easily call them power cookies,... Read More
Prep Time
10 Minutes
Difficulty
Beginner
Cook Time
10 Minutes
Gluten Free Brownies
Chocolate lovers, are you ready for some delicious gluten free brownie recipes? Gluten free brownies can be baked with almost any texture. There is always a gluten free brownie perfect for each person, some people prefer rich chocolate brownies which are fudgy, some others prefer just plain decent brownies.
These are two of our favorite gluten free brownie recipes. As a tip, adding a scoop of ice cream to your brownie always make a great combination!
Gluten Free Chewy Coconut Brownies: You can enjoy these coconut brownies without feeling guilty as they are still chewy and delicious as the normal brownies but they don't have any added fats and obviously they are gluten free! To make them special, you can add a bit of rum to the recipe!
Easy Paleo Brownie Recipe: These paleo brownies are really easy to make and they turn out light and chocolaty. Walnuts are optional but they are great healthy fats and proteins.
Gluten free donut recipe
Making delicious gluten free cinnamon donuts from scratch can seem difficult but we have developed an easy recipe which takes just 15 minutes in preparation. These donuts are the perfect treat for special occasions like birthday parties. You can add some toppings such as chocolate glaze or maple syrup!
If you want see more gluten free cookie or brownie recipes, head to our healthy snacks or dessert sections.
4 Layer Gluten Free Trifle Recipe
Traditionally trifle is a dessert made up of layers of creams, cakes and fruits. This gluten-free trifle is made... Read More
Prep Time
30 Minutes
Difficulty
Intermediate
Cook Time
20 Minutes
Serves
8
4-Ingredient Gluten Free Chocolate Hazelnut Clusters
Here you have the simplest gluten-free chocolate dessert recipe! The chocolate hazelnut clusters are made with only 4 ingredients... Read More
Prep Time
15 Minutes
Difficulty
Beginner
Cook Time
5 Minutes
Serves
12
Apple Cinnamon Chips – Easy Recipe
This is a healthy snack for your kids, it is also one of my favourite healthy treats to snack on.... Read More
Prep Time
10 Minutes
Difficulty
Easy