Gluten free Cookies and Brownies
Adopting a gluten-free diet can be hard sometimes but when it comes to sweets, especially cookies or brownies, there are so many great recipes that can be done without gluten. Some of these gluten free cookies or gluten free brownies are even tastier than the normal ones.
Gluten free Cookies
Who needs gluten for having delicious cookies? Eliminating gluten from your diet doesn't mean to sacrifice your favorite treats. Cookies are everyone's favorites but they usually contain gluten.
From double chocolate walnut to healthy morning cookie, we selected our favourite 6 cookies that are so delicious, that even those of you who are not following a gluten free diet will ask for the recipe and its ingredients, which are surprisingly gluten-free.
Gluten-Free Double Chocolate Walnut Cookies: Double chocolate cookies are always in high demand. This gluten free version is the perfect combination of chewy on the inside and crunchy on the outside.
Easy Gluten-Free Oreo Cookie Recipe: Chocolate wafers filled with delicious vanilla cream is a cookie that every child should try at least once.
Gluten-Free Chocolate Chip Cookies: If you are looking for more than the traditional chocolate gluten free cookie recipe, you should try these. They are delicious, soft, chewy, and healthier than their gluten counterparts – they taste just like the real thing! A truly delicious sweet treat.
Gluten-Free Vanilla Shortbread Cookies: Shortbread cookies are always popular, especially during christmas season. These are the gluten free version.
Gluten-Free Peanut Butter Oatmeal Cookies: These gluten free cookies are perfect for kids snacks or as a treat in combination with coffee or tea. To make this peanut butter oatmeal cookie, all you need is six ingredients plus raisins, which are optional. The cookies are slightly crispy on the outside and softer on the inside. They are flourless, dairy-free, gluten-free and refined sugar-free.
Gluten-Free Healthy Morning Cookie – Vegan: Starting your day with a Healthy Morning Cookie…packed with seeds, unsweetened coconut, oats, dried fruit, nut butter, cocoa nibs and bananas
Gluten Free Tiramisu Recipe
Tiramisu is one of the most delicious traditional Italian desserts I know. This heavenly gluten-free dessert is oozing with... Read More
Prep Time
30 Minutes
Difficulty
Moderate
Serves
10
Gluten-Free Caribbean Rum Cake
This holiday season wouldn't be complete without a Gluten-Free Caribbean Rum Cake. This Caribbean-Style Rum Cake is a super... Read More
Prep Time
15 Minutes
Difficulty
Easy
Cook Time
60 Minutes
Serves
16 pc
Gluten-Free Apple Strudel Recipe
If you are a lover of apple desserts, this Gluten-Free Apple Strudel is a must have recipe! The filling... Read More
Prep Time
20 Minutes
Difficulty
Easy
Cook Time
55 Minutes
Serves
6
Gluten Free Brownies
Chocolate lovers, are you ready for some delicious gluten free brownie recipes? Gluten free brownies can be baked with almost any texture. There is always a gluten free brownie perfect for each person, some people prefer rich chocolate brownies which are fudgy, some others prefer just plain decent brownies.
These are two of our favorite gluten free brownie recipes. As a tip, adding a scoop of ice cream to your brownie always make a great combination!
Gluten Free Chewy Coconut Brownies: You can enjoy these coconut brownies without feeling guilty as they are still chewy and delicious as the normal brownies but they don't have any added fats and obviously they are gluten free! To make them special, you can add a bit of rum to the recipe!
Easy Paleo Brownie Recipe: These paleo brownies are really easy to make and they turn out light and chocolaty. Walnuts are optional but they are great healthy fats and proteins.
Gluten free donut recipe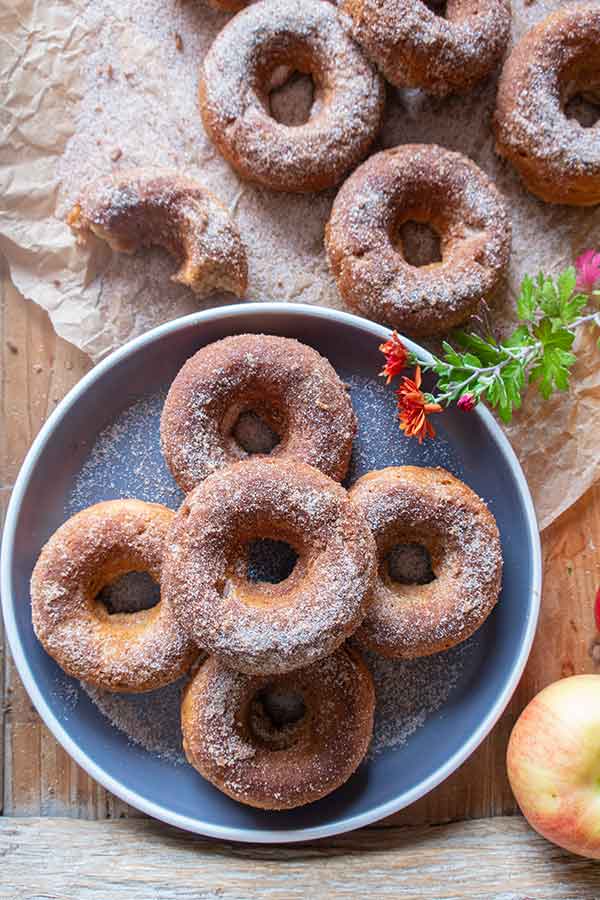 Making delicious Gluten-Free Baked Apple Cider Donuts from scratch can seem difficult but we have developed an easy recipe which takes just 15 minutes in preparation. The gluten-free sweet donuts are baked, not deep-fried, are made with apple cider, fresh apples, flaxseed, cinnamon, nutmeg and ginger.
If you want see more gluten free cookie or brownie recipes, head to our healthy snacks or dessert sections.

Gluten-Free Baked Pumpkin Mousse Cake
Pumpkin lovers…this one is for you.     There really are no words for this Gluten-Free Baked Pumpkin Mousse... Read More
Prep Time
20 Minutes
Difficulty
Easy
Cook Time
80 Minutes
Serves
10
2 Layer Grain-Free Chocolate Cake (Gluten-Free, Nut Free)
This 2 Layer Grain-Free Chocolate Cake is a chocolate lover's dream. This incredibly delicious chocolate dessert is made up... Read More
Prep Time
15 Minutes
Difficulty
Easy
Cook Time
45 Minutes
Serves
10
30-Minute Gluten-Free Chocolate Cake With Nutella Frosting
Moist and indulgent 30-Minute Gluten-Free Chocolate Cake With Nutella Frosting → this recipe would make the perfect weeknight dessert... Read More
Prep Time
18 Minutes
Difficulty
Easy
Cook Time
12 Minutes
Serves
8