Gluten-Free Breakfast Ideas
If you recently found out that your body doesn't tolerate gluten, a typical concern is always related to breakfast. A common breakfast for many people is based on gluten products such as bread, cereal, or baked goods.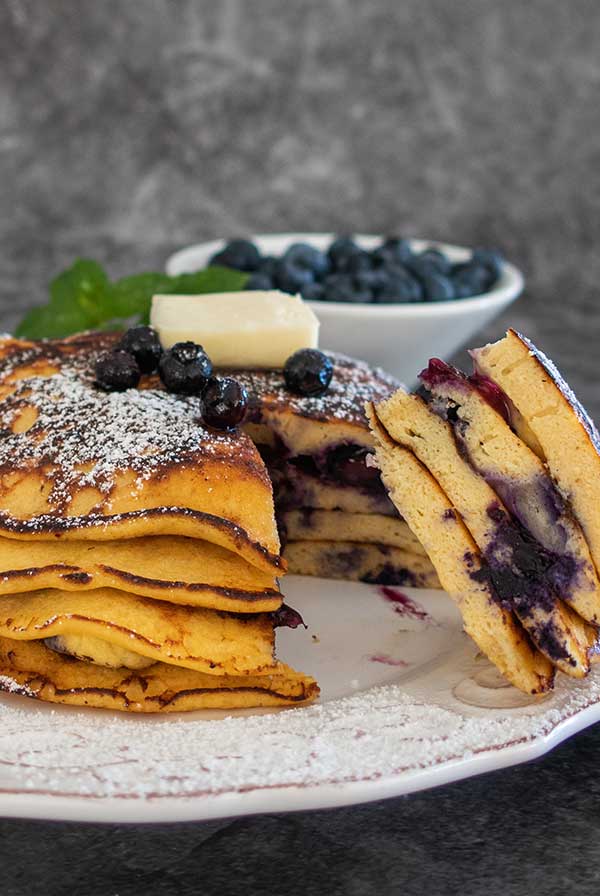 When you first eliminate gluten, you should not be scared about feeling deprived but lucky, there are tons of healthy and hearty gluten-free breakfast ideas for you.
List of Gluten-Free Breakfast Foods
This is a list of simple gluten-free breakfast products that can be used as an inspiration for an easy gluten-free breakfast:
Certified gluten-free cereal
Gluten-free toast with jam: Don't use the same toaster as everyone else because of the risk of crumbs from regular bread.
Eggs: Poached eggs, scrambled eggs, boiled eggs, fried eggs, omelet… Everyone has their favorites!
Gluten-free Waffles: If you own a waffle maker, gluten-free waffles are always a great breakfast idea.
Fruit
Gluten-free Porridge: You can buy a store-bought option or prepare your own one which is very easy and usually healthier.
For the meat-eaters, you can always have bacon, sausage…
Yogurt
Gluten free pastries
Gluten Free Rustic Bacon And Cheese Scones
These Gluten-Free Rustic Bacon And Cheese Scones are hearty and filling, with a nice balance of salty and bacon... Read More
Prep Time 15 Minutes
Difficulty Easy
Cook Time 15 Minutes
Serves 12
Vegan Apple Streusel Cake – Gluten Free
This vegan coffee cake is one of the easiest gluten-free apple streusel cake recipes! Moist with a perfect crumb,... Read More
Prep Time 20 Minutes
Difficulty Easy
Cook Time 50 Minutes
Serves 8
Healthy Gluten-Free Morning Glory Muffins
This is a Healthy Gluten-Free Morning Glory Muffin recipe packed with bananas, pumpkin seeds, apples, raisins, carrots and chia.... Read More
Prep Time 15 Minutes
Difficulty Easy
Cook Time 35 Minutes
Gluten-Free Breakfast and Brunch Recipes
Breakfast is something very personal as everyone enjoys different kinds of breakfast, some people like pastries and sweets for breakfast whereas some others enjoy savory foods.
On our website, you will find many gluten-free breakfast ideas and delicious recipes for all tastes.
We have selected some of our healthy, delicious gluten-free breakfast and brunch recipes for you to realize how diverse a gluten-free breakfast can look like:
Overnight Oats with Chia and Flax: If you are in a hurry in the morning, this breakfast is perfect for you as it can be prepared in 5 minutes the night before and you can even take it on the go! This creamy overnight oatmeal is packed with healthy nutrients such as protein, iron, fiber, and calcium.
Deluxe Yogurt Breakfast: A combination of blueberries, Greek yogurt, flax, cinnamon, and pure maple syrup make this yogurt a perfect gluten-free breakfast idea.
Gluten-Free Vegan Pistachio and Currant Muffins: Why to stick to plain oatmeal when you can indulge in these tasty and healthy gluten-free pistachio and currant muffins. You can have them as a breakfast or snack on the go for the busy mornings
Turmeric Chia Pudding: Kids love this easy and healthy breakfast that tastes like rice pudding. The healing power of turmeric combined with chia and added fruit will make your feel great in the morning!
Gluten-Free Crepes: Crepes are a great gluten-free breakfast idea for special mornings like Sundays or birthday breakfasts! The best thing about crepes is that everyone can put their favorite toppings! We suggest you, for example, berries and yogurt, savory spinach and cheese, or chocolate syrup.
If you want more gluten-free breakfast ideas, you should visit our gluten free recipe catalogue where you will find many breakfast options for all taste buds.
Gluten Free Mini Quiche Muffins
The beauty of these Mini Quiche Muffins is its versatility – not only are they great at breakfast, but... Read More
Prep Time
10 Minutes
Difficulty
Beginner
Cook Time
15 Minutes
Serves
2
Gluten Free Rustic Bacon And Cheese Scones
These Gluten-Free Rustic Bacon And Cheese Scones are hearty and filling, with a nice balance of salty and bacon... Read More
Prep Time
15 Minutes
Difficulty
Easy
Cook Time
15 Minutes
Serves
12
Gluten-Free Cheese And Chives Scones
This is probably the easiest gluten-free cheese and chives scone recipe. And, who doesn't want a light and a... Read More
Prep Time
15 Minutes
Difficulty
Easy
Cook Time
25 Minutes
Serves
8