How To Make Gluten-Free Panko Breadcrumbs
Freshly made gluten-free Panko will give your fried or baked food that final crispy coating. For gluten-free chicken schnitzels, fish or macaroni and cheese topped with a crisp topping of breadcrumbs or roasted vegetables topped with Panko and herb seasoning.
You can't beat homemade breadcrumbs. And why not make gluten-free Panko at home. The breadcrumbs are so simple to make—no need to buy dry gluten-free breadcrumbs in a box lacking flavour and freshness. Or if you prefer, try our gluten-free shake and bake recipe.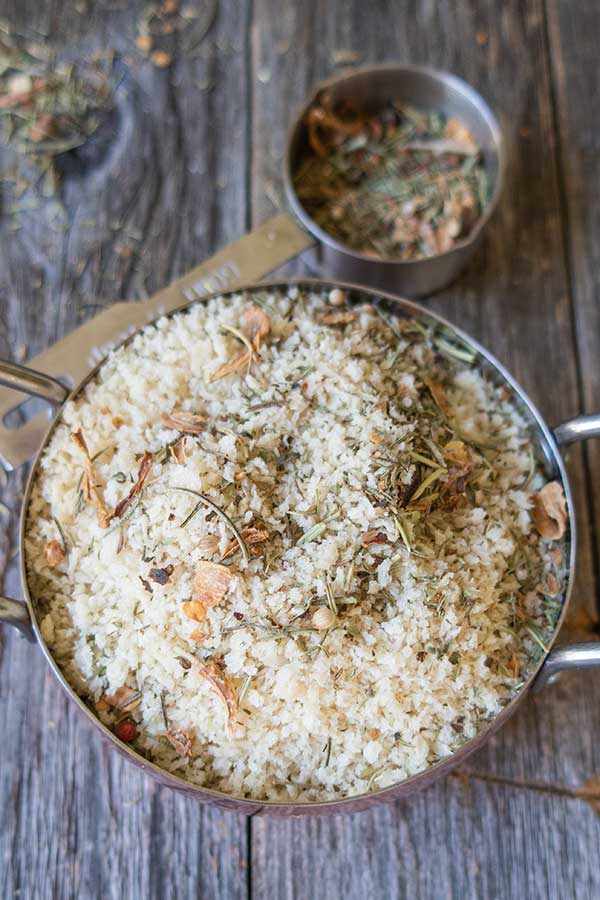 Gluten-Free Breadcrumbs vs Gluten-Free Panko
Breadcrumbs is a term used for any dried bread that is crumbled and is uniformed in size. The small flake breadcrumbs are typically used as coating deep fried food or as a binder in meatballs and meatloaf.
Panko is Japanese-style breadcrumbs, often with larger flakes made with crustless white bread, and the bread is always dried by lightly toasting it in the oven. As a result, Panko is flakier and drier, thus absorbing less oil and keeping the food crispier longer.
Gluten-free Panko makes excellent crispy topping for deep fried vegetables, chicken and fish. In addition, the Japanese-style breadcrumbs make the fried food lighter and crunchier.
To make light, flaky, fresh-tasting gluten-free Panko at home, you will need only one ingredient – gluten-free white bread. The bread can be stale, frozen or fresh as long as it is gluten-free.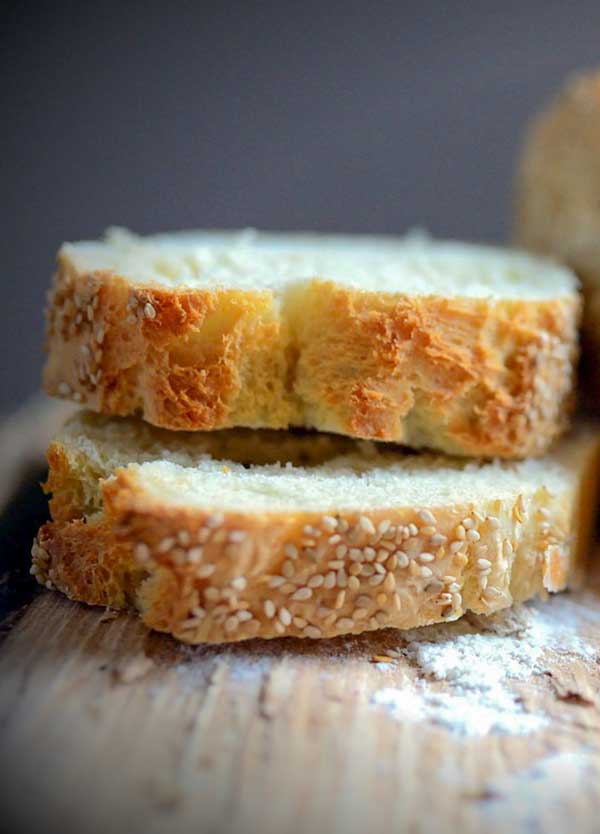 The best bread for Panko!
Gluten-free white sandwich bread is the best bread for gluten-free Panko. Most gluten-free white bread is made with a lot of starch because the bread is rice flour based and is often made with tapioca or arrowroot flour.
These two ingredients are perfect for making Panko because the starch will add an exceptionally good crunch to dried breadcrumbs. I have also used our gluten-free French bread with the light crust because it makes good panko crumbs!
Which is healthier, store-bought or homemade gluten-free Panko?
Homemade Panko is typically lower in fat, calories, sodium and unwanted additives. This makes it a healthier alternative to boxed Panko breadcrumbs.
How to use gluten-free Panko?
For best results, lightly dust the food with rice flour. You can also use other gluten-free flour, but the rice flour adds to crispiness. Then dip in a beaten egg and coat with Panko. Using your fingers, gently press the Panko on the food, and shake off any excess crumbs.
How to make plain gluten-free Panko?
Remove the crust
Cut the bread into cubes or large chunks
Place the bread in a food processor and pulse until you reach the desired size of a flake. Smaller flakes are typically used as a binder or bulking patties and meatballs. Coarser crumbs are great for macaroni and cheese topping, casserole topping or as a crispy coating for fried food.
Place the crumbs on a large rimmed baking sheet in a 250 F oven and toast until well dried. Depending on how dry the bread is, anywhere between 10 – 20 minutes
Turn them frequently for an even drying process and to avoid browning.
Once fully cooled, store in an airtight container in the freezer for up to three months. You can also store Panko at room temperature. However, I found that storing gluten-free Panko in the freezer keeps them fresh-tasting longer. And, you can use the breadcrumbs straight out of the freezer.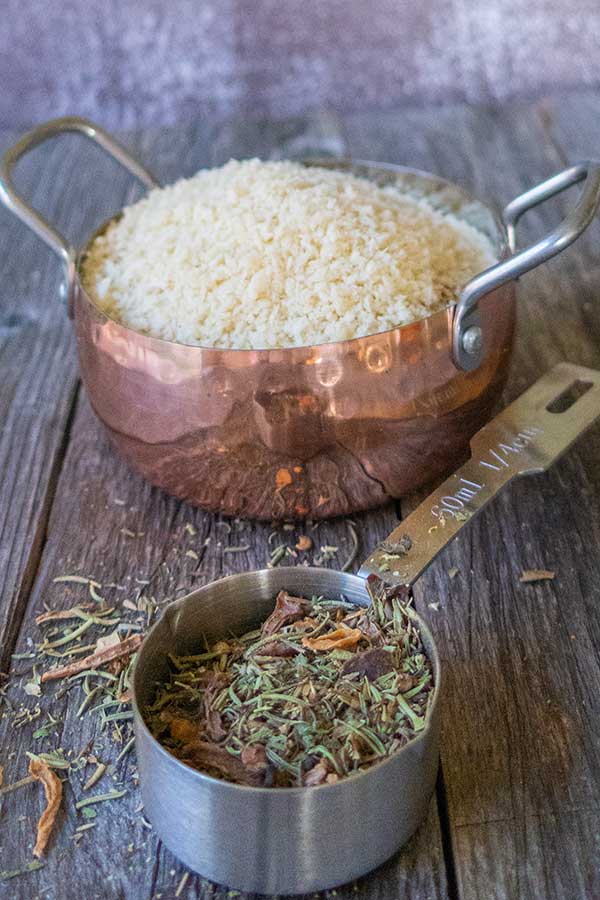 3 Seasoned Panko Breadcrumbs Recipes
Per 4 cups of Panko
Italian:
1 tsp. GF garlic powder
1 tsp. GF dried oregano
1 tsp. GF dried basil
1/2 tsp. GF paprika
Seafood:
1 Tbsp. GF dried parsley
1 tsp. GF dried dill
1 tsp. GF dried chives
1/2 tsp. GF ground black pepper
Roasted veggies or casseroles
1 tsp. GF dried thyme
1 tsp. GF sage
1/2 tsp. GF garlic powder
1/2 tsp. paprika
1/2 tsp. GF ground black pepper
To use Panko topping for veggies or casseroles, lightly drizzle the seasoned panko breadcrumbs with extra virgin olive oil, melted butter or melted coconut oil before baking.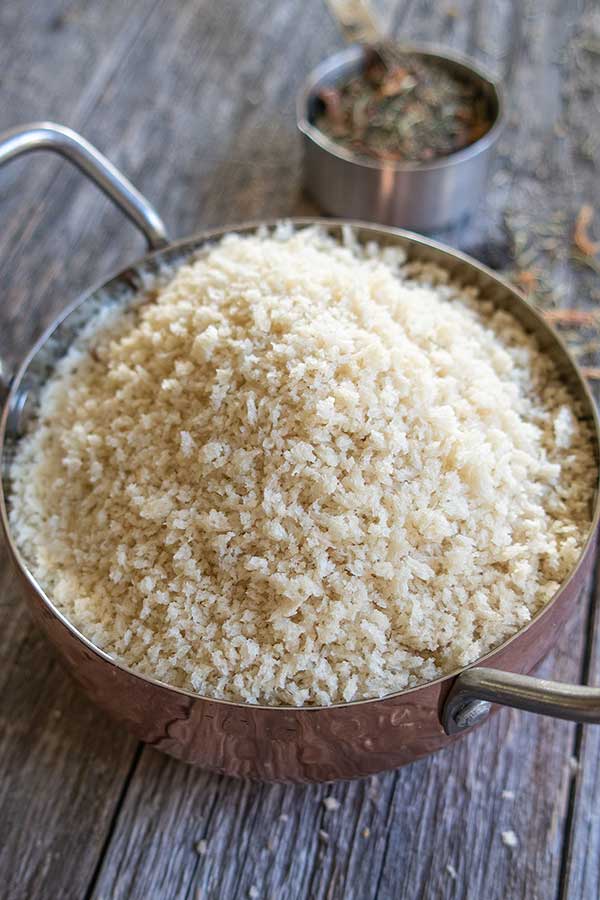 How many slices of bread make one cup of breadcrumbs.
You will need four slices of gluten-free bread to make one cup of Panko. Remove the crusts, cut into chunks, pulse in a food processor and toast in the oven until dry but not browned. Store cooled in an airtight container.
If you haven't enjoyed gluten-free Panko, now is the time to try them. The breadcrumbs are lighter, absorb less oil and are crunchier. The best part is they are easy to make, and you can use leftover stale gluten-free bread to make the breadcrumbs. Enjoy!