Gluten-Free Shake and Bake Recipe
Published on Apr 29, 2021
by
Kristina Stosek
Prep Time:

5 minutes
Cook Time:

15 minutes
Serves:

3 1/2 cups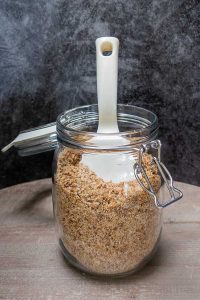 ​This post may contain affiliate links, please see our
privacy policy
for details
Who doesn't love tender, juicy chicken with a crispy, well-seasoned bread crumb coating? This Gluten-Free Shake and Bake Recipe will bring back those nostalgic childhood memories of enjoying the shake and bake crispy chicken with mashed potatoes.
What is shake and bake?
Shake and bake is a bread crumb mixture seasoned with herbs and spices. A splash of oil is also added, which is what makes the crumb coating extra crispy.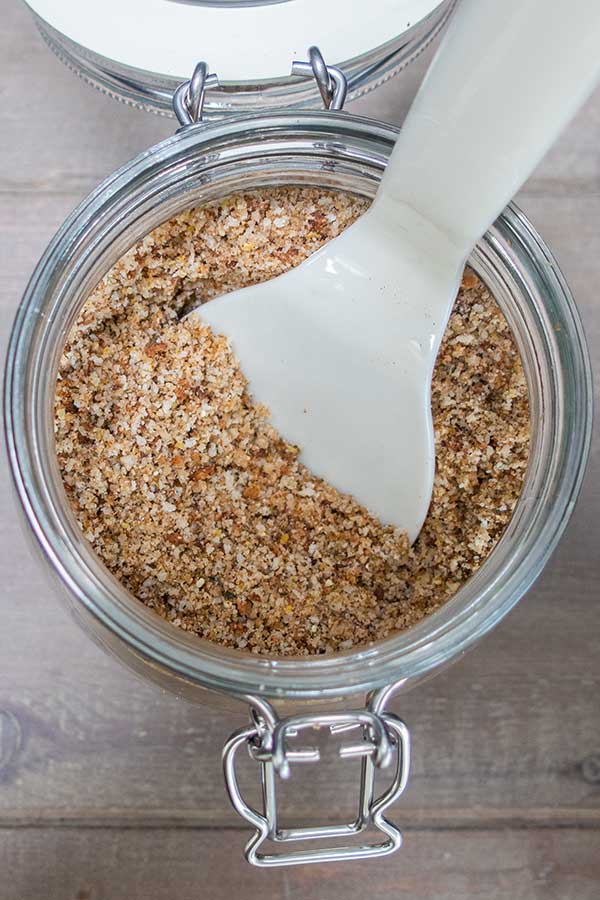 shake and bake recipes
Typically the seasoned crumbs are used to coat chicken or pork before baking. The shake and bake coating will give the chicken or pork a tasty, crispy coating that we love so much.
Or, use the gluten-free bread crumb mixture as a topping for mac and cheese or savoury casseroles. The shake and bake mix will add flavour to savoury dishes and a crispy, tasty topping.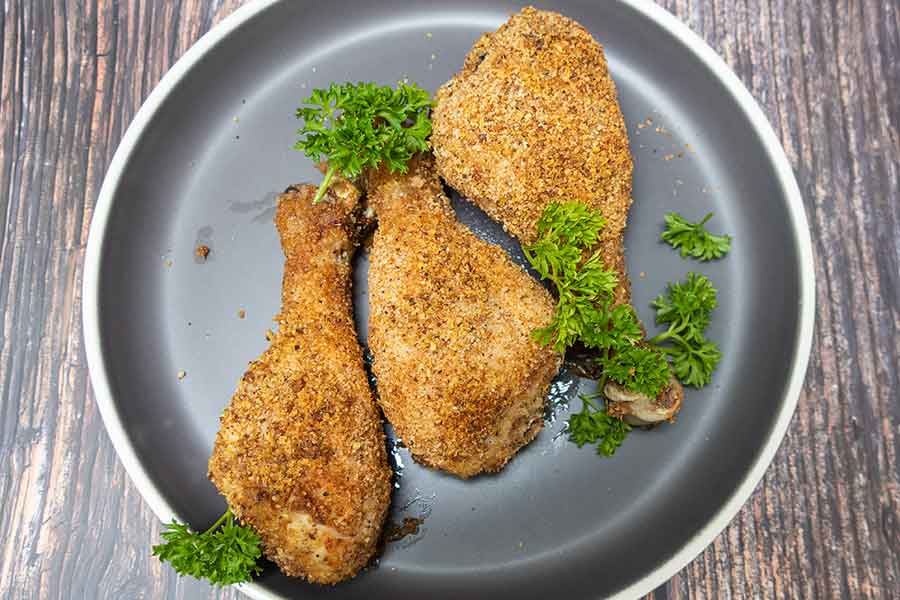 Why are the gluten-free seasoned breadcrumbs so popular?
Who doesn't love an easy dinner recipe that you know your family will love. Shake and bake mix is perfect for that last minute dinner when you are short on time. Shake the chicken or pork in a plastic bag with the seasoned crumbs and bake. Nothing to it…and no mess 🙂
There is nothing easier. The chicken is juicy and tastes just like fried chicken but without the extra work and clean up. Nothing beats a homemade meal.
When I was growing up, shake and bake chicken was probably one of my favourite chicken dinners. The baked tender chicken coated in a deliciously flavoured crispy crumb topping was sooo good!
When I started the gluten-free diet, one dish I missed was the baked chicken with a crispy bread crumb topping. Sure, you can buy gluten-free bread crumbs, add some seasoning and hope for the best. But trust me…the store-bought gluten-free bread crumbs don't come even close to the texture and flavour like the freshly made ones at home.
gluten-free shake and bake recipe details
This gluten-free shake and bake recipe is super easy. However, you will need light textured gluten-free sandwich bread. Here is a recipe for our most popular gluten-free sandwich bread recipe, or you can buy light gluten-free sandwich bread. They will both work.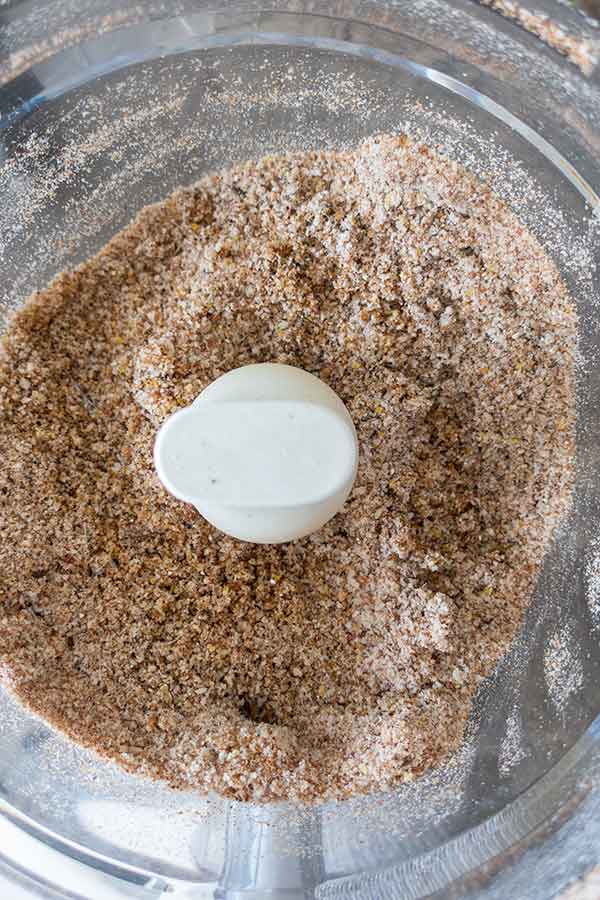 To start, the bread slices are cubed and toasted in the oven. The toasted bread cubes will be the base for the shake and bake mix. Once the bread cubes are toasted, place them in a food processor and process them to create bread crumbs.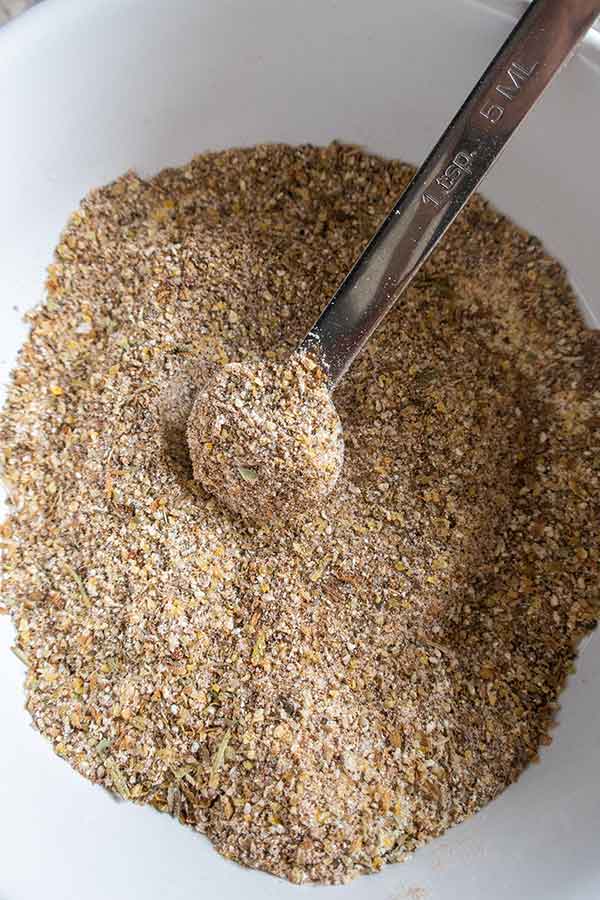 seasoning for shake and bake bread crumbs
Shake and bake wouldn't be so good without the complex seasoning. If you have a well-stocked gluten-free pantry, you probably already have all the herbs and spices. If not, I highly recommend stocking up with gluten-free herbs and spices. You will always use them; they are the key to tasty soups, stews and casseroles.
Are store bought dried herbs and spices gluten free?
You may have noticed that I said GLUTEN-FREE herbs and spices. I know all herbs and spices are naturally gluten-free. However, when packaged in the same factory as one that processes various flours with gluten, cross-contamination may happen. This creates a serious risk of having the herbs and spices glutened. You can find more information on gluten-free spices here →
I recommend buying gluten-free herbs and spices whenever possible or organic. Most organic seasoning is gluten-free. But always check with the manufacturer to be sure.
So now we have the freshly made gluten-free bread crumbs and the herbs and spices. To make the coating extra crispy, I added cornmeal, starch and oil. These three ingredients will help the shake and bake mix adhere to the chicken or pork and give the coating that extra crispy texture.
How to use shake and bake?
If you are coating chicken or pork, I recommend wetting the meat with water first. The moisture helps the coating to stick better. Place the crumbs in a plastic ziplock bag, add the chicken and shake to coat. Done!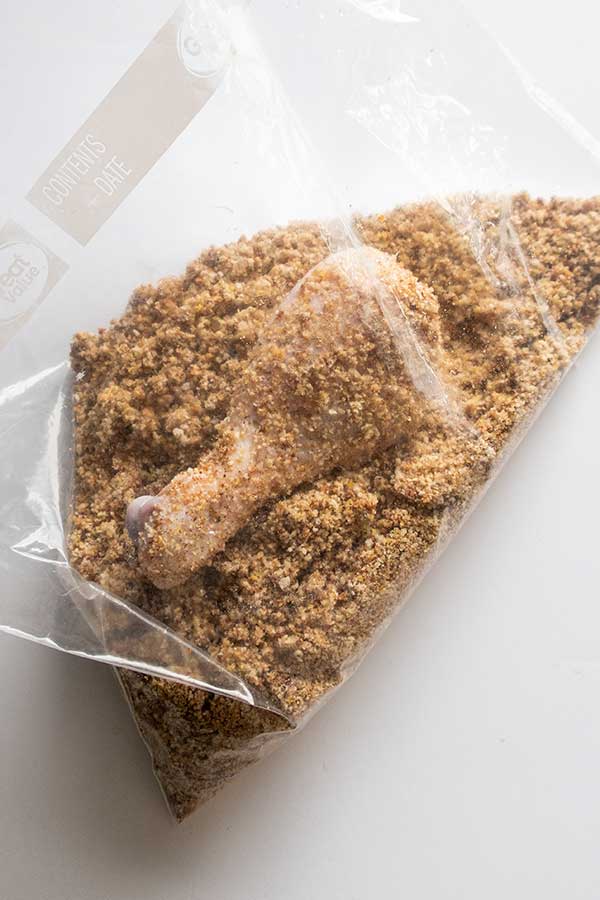 As a tasty topping for Mac and cheese or a casserole, sprinkle the bread crumbs over the top about halfway through baking. If you add the crumbs at the beginning, they may brown too quickly.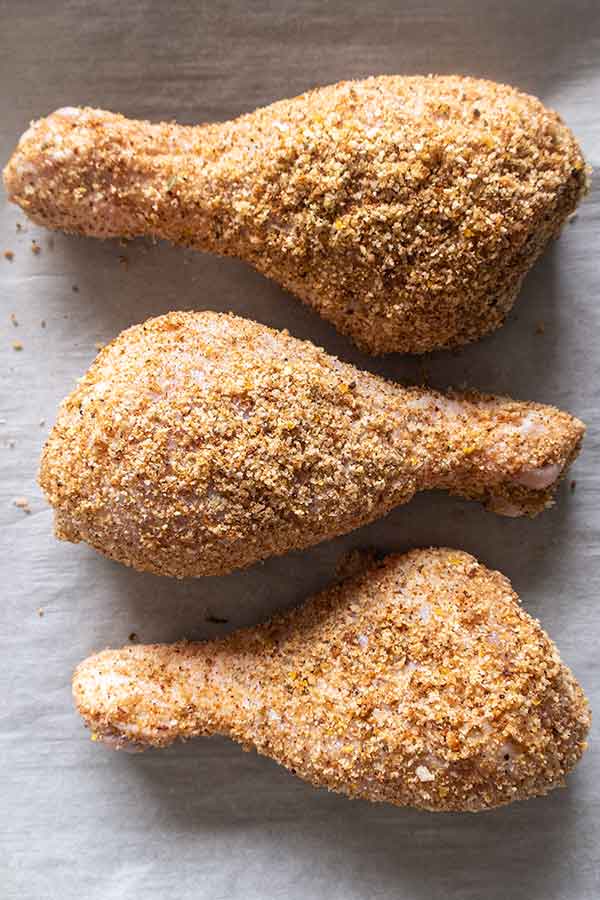 I hope you enjoy this gluten-free shake and bake recipe! I am super excited that I finally got the seasoning just right. Now when my family craves crispy fried chicken, I make it in the oven with shake and bake.
takeaways
The crumb coating is freshly made, and nothing beats freshness. The gluten-free recipe is easy and can be whipped up in minutes. And, you can store the shake and bake mix for up to three months in the freezer.
However, you will need various gluten-free herbs and spices. But once you have them, you can use the seasoning in so many other gluten-free recipes. Enjoy!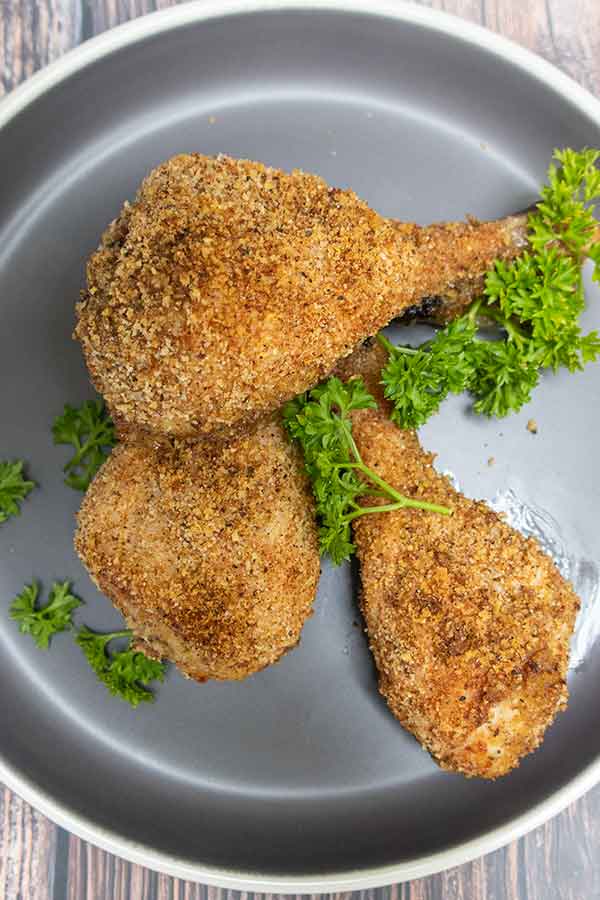 Let's Connect!
Be sure to FOLLOW US on FACEBOOK and PINTEREST.
Many thanks!
Kristina xx
Gluten-Free Shake and Bake Recipe
Published on Apr 29, 2021
by
Kristina Stosek
Instructions
1.

Scatter bread cubes on a large baking sheet lined with parchment paper. Bake for 10 - 20 minutes at 400 F until well toasted. The baking time will depend on the type of gluten-free bread you are using. The bread should be dry and toasted.

2.

Place toasted bread cubes into a food processor and process until it resembles small flakes. Add remaining ingredients and process just until combined. Do not over-process into a powder.

3.

Divide into 3 freezer bags and place them in the freezer until ready to use. Each bag should coat between 4 - 6 pieces of chicken or pork pieces. The shake and bake mixture will keep up to 3 months in the freezer, or 3 weeks in the refrigerator