Roasted Vegetable Salad with Tamari Ginger Dressing
Prep Time
15 min Minutes
Difficulty
Easy
Cook Time
13 Minutes
Serves
2 - 4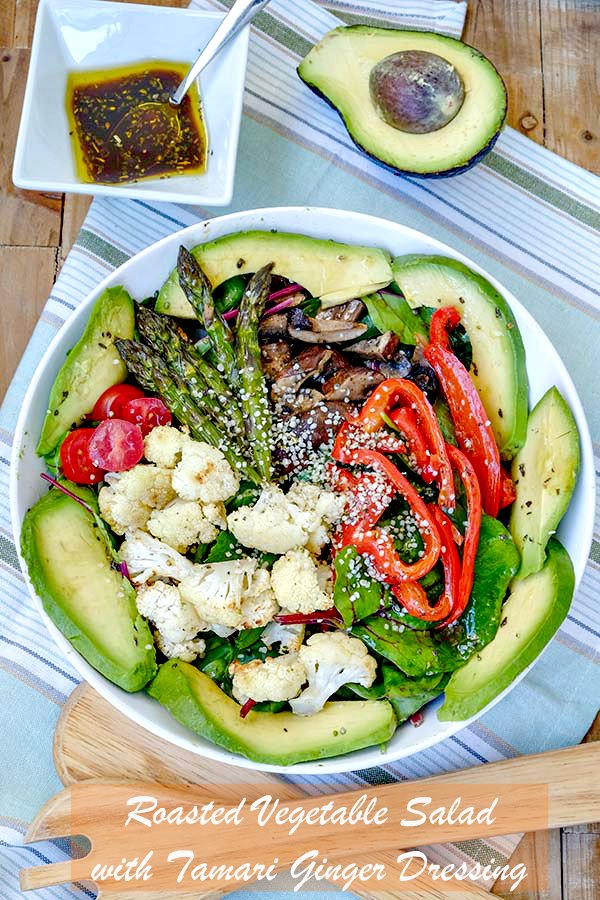 In this roasted vegetable salad, it is the tamari ginger dressing that ties everything together.The veggies are slightly caramelized bringing out their delicate flavour in this hearty vegan salad. Serve this super healthy salad as a main or side. Enjoy!
Ingredients
DRESSING
2 Tbsp. extra virgin olive oil
1 Tbsp. raw apple cider vinegar
1 Tbsp. GF tamari sauce
2 tsp. minced fresh ginger
1 tsp. agave nectar
¼ tsp. GF dried basil leaves
¼ tsp. fish oil
1/8 tsp. roasted sesame oil
SALAD
1 red bell pepper, sliced into ½-inch thick strips
½ small cauliflower head, separated into small florets
8 asparagus spears, cut into 2-inch long pieces
8 button mushrooms, quartered
1 Tbsp. extra virgin olive oil
Sea salt and GF coarsely ground black pepper to taste
8 oz. mixed greens
6 oz. cherry tomatoes, halved
1 large avocado, sliced
3 Tbsp. GF hemp seeds
Instructions
In a small bowl whisk together the dressing ingredients and set aside
Preheat oven to 425 F and line a rimmed baking sheet with parchment paper
In a large bowl toss vegetables with olive oil salt and pepper. The vegetables need very little oil to caramelize. Transfer to prepared baking sheet and roast for 12 minutes
Place mixed greens in a serving bowl. Arrange roasted veggies, tomatoes and avocado over the top
Drizzle with tamari ginger dressing and sprinkle with hemp seeds. Toss just before serving
Similar Recipes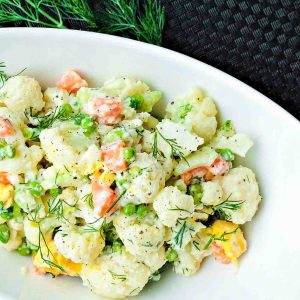 Gluten Free Cauliflower Salad
This cauliflower salad is certainly different from the usual potato salad. For a cookout, this creamy cauliflower salad can add a bit of zing to grilled meats or fish and is also diet friendly. Feeling adventurous? Substitute curry powder for dill to kick it up a notch. Healthy and delicious it doesn't get any better! Read More
Prep Time
15 Minutes
Difficulty
Easy
Cook Time
10 Minutes
Serves
6 - 8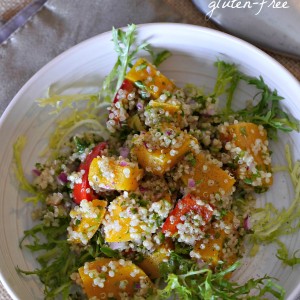 Roasted Butternut Squash Quinoa Salad
This robust gluten-free salad is easy to make and makes a delicious lunch or a side. The roasted squash and roasted pepper with garlic adds a refreshing flavour to this dish and the dressing is light with a hint of maple flavour. This healthy salad is even better the next day and will keep up […] Read More
Prep Time
20 Minutes
Difficulty
Easy
Cook Time
30 Minutes
Serves
6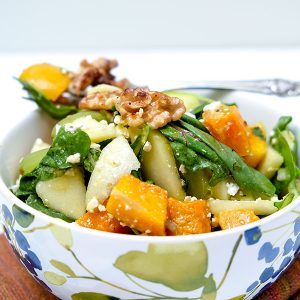 Roasted Butternut Squash Salad
Meet your new power salad, vibrant and nutritious with just a touch of citrusy vinaigrette. The robust flavours of butternut squash and goat cheese combine especially well with apples, grapes and walnuts. This salad is ideal for the diet savvy and vegetarians Read More
Prep Time
15 Minutes
Difficulty
Easy
Cook Time
20 Minutes
Serves
4
© Copyright 2017 Only Gluten Free Recipes. All Rights Reserved.