Pahadi Chicken – Gluten Free
Prep Time
15 Minutes
Difficulty
Easy
Cook Time
20 Minutes
Serves
4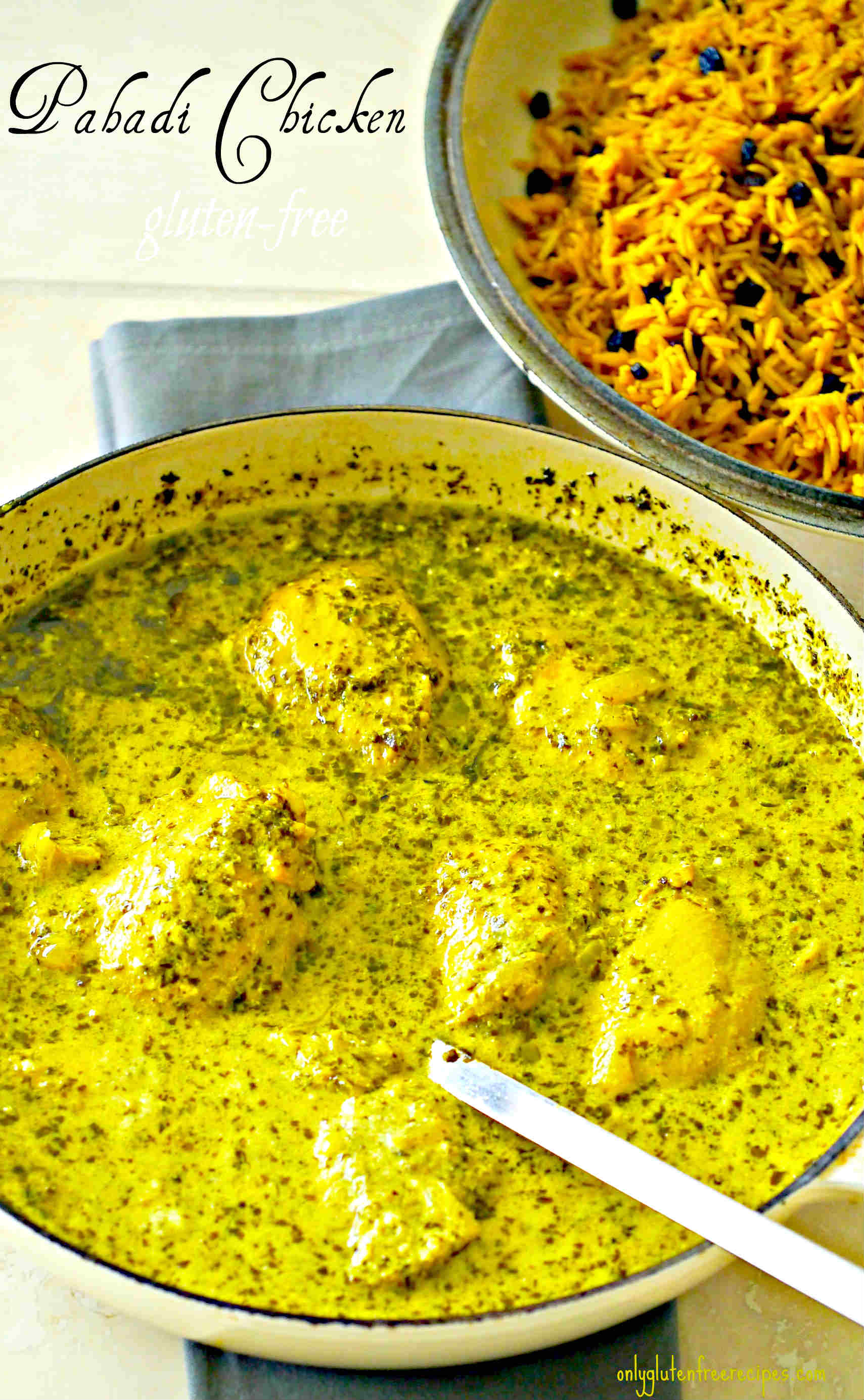 Average Rating: 5 | Rated By: 2 users
This is a modern version of Indian pahadi (Pahari) chicken. The term pahadi originates from pahad meaning mountain. Food in India varies depending on the region. This chicken recipe is truly outstanding, not your typical curry recipe. Serve with one of our rice dishes.
Ingredients
1 bunch organic cilantro, roughly chopped
½ cup organic fresh mint leaves
2 cups organic, full fat yogurt
1 green chili pepper or to taste, remove seeds and roughly chopp
2 tbsp. freshly grated ginger
2 tbsp. freshly squeezed lime juice
1 tbsp. raw honey
1 tsp. organic, gluten-free ground cardamom
1 tsp. sea salt or to taste
1 tsp. organic, gluten-free garam marsala
½ tsp. organic, gluten-free turmeric
½ tsp. organic, gluten-free nutmeg
½ tsp. organic, gluten-free freshly ground black pepper
8 large, organic, bone-in skinless chicken thighs
2 tbsp. coconut oil or ghee (clarified butter)
1 large organic onion finely chopped
1 tsp. organic, gluten-free cumin seeds
½ cup water
Instructions
Place first thirteen ingredients into a food processor or blender and process until you create a thick paste
With a fork prick the chicken few times and then rub in the paste, cover and refrigerate for minimum four hours or for best results overnight
Heat coconut oil in a large saucepan and then add onions, sauté for five minutes on medium heat, and then stir in cumin seeds. Give it a good stir.
Add the chicken and sear on both sides, about two minutes each side
Add ½ cup of water in the remaining paste and pour over the chicken
Cover and cook on low heat for 15 – 20 minutes or until chicken is fully cooked
Turn off the heat and stir in 1 cup of yogurt. Enjoy!
Similar Recipes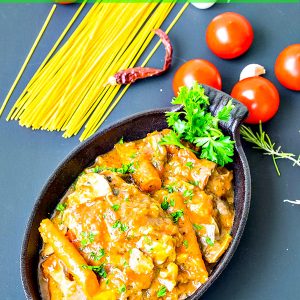 Chicken Cacciatore with Roasted Tomatoes
A crisp chill in the air is always an indication to cook comfort food. The aromas of simmering vegetables, herbs and spices are welcome any time of the year. This chicken cacciatore is a gourmet version of the classic Italian dish When it comes to gourmet chicken cacciatore, it is all about the sauce. You […] Read More
Prep Time
15 Minutes
Difficulty
Easy
Cook Time
60 Minutes
Serves
4 - 6
Chicken Alla Calabrese – Gluten-Free
Calabrese sauce originates in southern Italy and gives this chicken dish exceptional flavour. The chicken is layered with ham, tomatoes and buffalo mozzarella and is smothered in a delicious red pepper sauce then baked to perfection. Serve it up with gluten-free pasta, parsley rice or mashed potatoes. Read More
Prep Time
15 Minutes
Difficulty
Easy
Cook Time
40 Minutes
Serves
4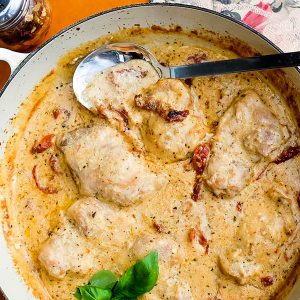 Chicken With Sundried Tomatoes in Cream Sauce
Discover a simple way to cook gourmet chicken in a flavourful Asiago cream sauce. Stumbling on this amazing dish through my travels in northern Italy, I have decided to include it in my favourite dinner recipes. The tender chicken soaks up a mildly flavoured cheese sauce infused with sundried tomatoes, and seasoned with Italian herbs, […] Read More
Prep Time
10 Minutes
Difficulty
Easy
Cook Time
35 Minutes
Serves
4