Gluten Free Vegan Lemon Loaf
Prep Time
15 Minutes
Difficulty
Easy
Cook Time
60 Minutes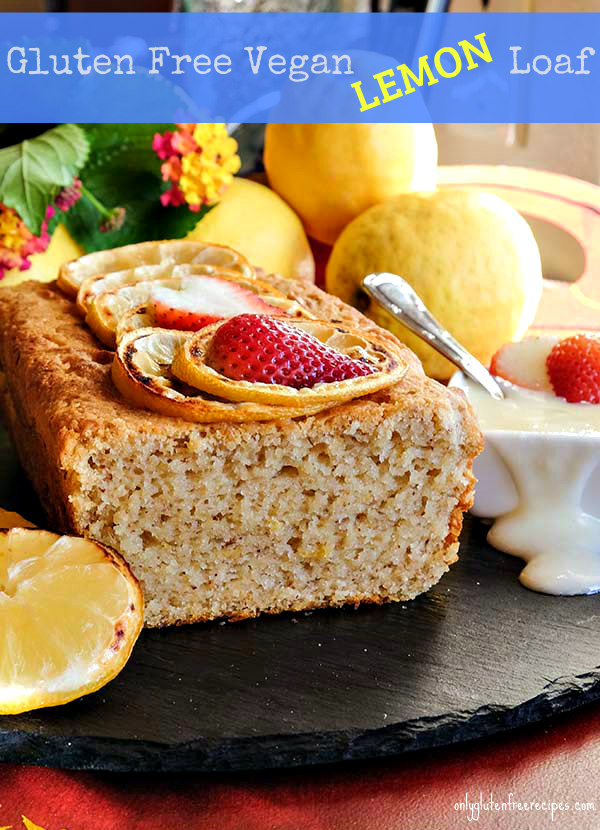 When it comes to lemon loaf, it should be moist, and you should taste the fresh lemon flavour. This loaf is deliciously flavoured with plenty of fresh lemon juice and finished with grilled lemon slices. The lemon topping infuses the loaf with stunning grilled lemon taste.
This award winning gluten free vegan lemon loaf recipe should be included in everyone's recipe box. I have added lemon icing recipe if you so desire. Enjoy this vitamin C packed lemon loaf for breakfast, snack or a dessert.
Ingredients
1 cup all purpose gluten free flour blend
½ cup GF white rice flour
½ cup almond flour
1 Tbsp. + 1 tsp. GF aluminum free baking powder
½ tsp. sea salt
¾ cup cashew or almond milk
¾ cup raw turbinado sugar or coconut sugar
½ cup extra virgin olive oil
½ cup fresh lemon juice
1 tsp. pure vanilla extract
Zest of 2 lemons
LEMON TOPPING
1 large lemon thinly sliced
1 Tbsp. pure maple syrup
LEMON ICING (optional) not vegan
1/3 cup icing sugar
2 Tbsp. low-fat cream cheese, room temperature
1 Tbsp. fresh lemon juice
Instructions
Preheat oven to 350 F and line the bottom of an 8 x 4-inch loaf pan with parchment paper
In a large bowl, combine flour, baking powder, xanthan gum and salt
In a separate bowl mix milk, turbinado sugar, olive oil, lemon juice, vanilla extract and lemon zest. Add to dry ingredients and thoroughly mix
Pour batter into prepared loaf pan and bake for 45 - 50 minutes until golden
Rest in the pan for 15 minutes before transferring to a rack to cool
LEMON TOPPING
Place lemon slices on a baking sheet lined with foil paper and brush with maple syrup. Broil at high heat for 10 - 15 minutes until the lemon slices start to brown. Remove slices from the oven and immediately top the lemon loaf
LEMON ICING
In a small bowl whisk the ingredients together. Keep the icing refrigerated until ready to ice the loaf
Similar Recipes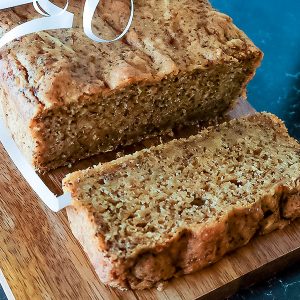 Gluten Free Lemon Poppy Seed Loaf
This gluten free lemon poppy seed loaf will compliment most diets. It is gluten free, egg free, dairy free and nut free. This incredibly moist loaf has a subtle lemon flavour and a delicate crumb texture making it very popular. Poppy seeds are a good source of minerals, so enjoy! Read More
Prep Time
15 Minutes
Difficulty
Easy
Cook Time
45 Minutes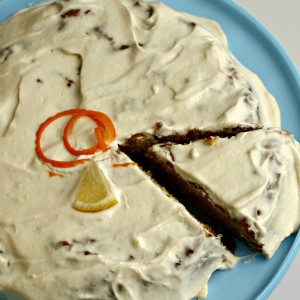 Gluten-Free Deluxe Carrot Cake
This is a deluxe version of traditional carrot cake. It is delectably moist and flavourful with light lemon cream icing. You can serve it up after dinner, for breakfast or just as an anytime snack. Read More
Prep Time
20 Minutes
Difficulty
Moderate
Cook Time
40 Minutes
Serves
8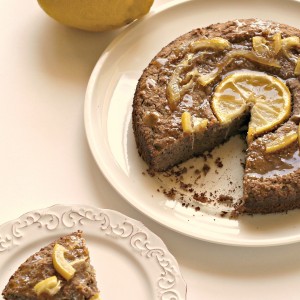 Gluten-Free Lemon Pecan Cake
This is a gluten-free, grain-free and dairy-free cake. This lemon pecan cake is infused with fresh lemon juice making it a moist and fluffy dessert that is finished with a zesty glaze. Because of the healthy ingredients used in this cake, you can also serve it for breakfast or anytime snack. Read More
Prep Time
20 Minutes
Difficulty
Easy
Cook Time
45 Minutes
© Copyright 2017 Only Gluten Free Recipes. All Rights Reserved.