Gluten Free Pumpkin Pie with Walnut Crust
Prep Time
15 Minutes
Difficulty
Easy
Cook Time
60 Minutes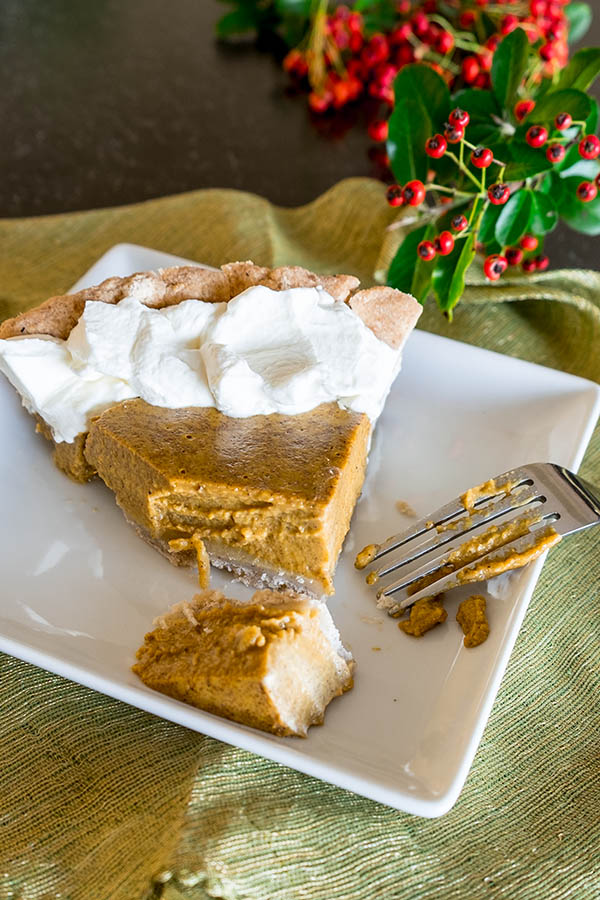 Average Rating: 5 | Rated By: 1 users
It is hard to imagine Thanksgiving without a freshly baked pumpkin pie. Making a pumpkin pie is like baking custard in a pie shell. This scrumptious gluten free pumpkin pie has the right balance of spices, cream and maple syrup nestled in a delicious walnut crust. This holiday season surprise everyone with this easy to make creamy pumpkin pie, they will never know it is gluten free. Enjoy!
Ingredients
Walnut Crust
2 ½ cups walnuts
3 Tbsp. unsalted butter, room temperature
3 Tbsp. agave nectar or pure maple syrup
1 Tbsp. buckwheat flour
¼ tsp. Mediterranean pink salt
Filling
1 ½ cup (15 oz.) pumpkin puree
½ cup pure maple syrup
½ cup cream
1 Tbsp. ground cinnamon
1 tsp. pure vanilla
½ tsp. ground ginger
¼ tsp. ground nutmeg
1/8 tsp. Mediterranean pink salt
Instructions
WALNUT CRUST
Place walnuts in a food processor and pulse until finely ground.
Add balance of ingredients and blend until mixture comes together into soft dough. Wrap and refrigerate for 2 hours
Press the dough into a 9-inch pie dish all the way up the sides of the dish and poke several holes with a fork and freeze for 30 minutes
Preheat oven to 375 F and bake for 12 minutes. Cool before adding pumpkin filling
FILLING
Whisk all the ingredients together until evenly blended. Place the pie dish on a baking sheet and pour in the pumpkin filling
Bake for 20 minutes at 375 F, then reduce the oven temperature to 350 F and bake the pie for 40 more minutes
Cool, the pie to room temperature and then refrigerate for at least 3 hours before serving. Serve with whipping cream
Similar Recipes

Gluten Free Apple And Plum Pie
Relish the flavours of summer in this delightful gluten free apple and plum pie. When it comes to comfort food, fruit pies top the list! Read More
Prep Time
15 Minutes
Difficulty
Moderate
Cook Time
60 Minutes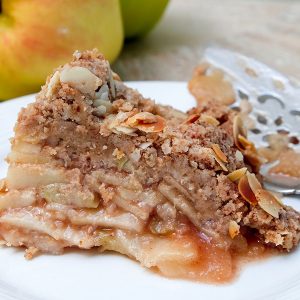 Gluten Free Apple Pie Without a Crust
This gluten free apple pie is a true classic, but without the added crust, how wonderful. The greatest effort goes into making the crust, but with this pie, there is not crust, making it an easy recipe. Now imagine loads of delicious apples combined with cinnamon and oats. Spectacular! This scrumptious apple pie recipe should […] Read More
Prep Time
15 Minutes
Difficulty
Easy
Cook Time
65 Minutes
Serves
6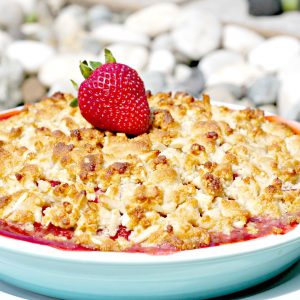 Paleo Strawberry Pie
Here is a dessert that is healthy and explosively delicious. Using only a few ingredients this naturally gluten free strawberry pie is simple to prepare. I call this pie simplicity at it's best! Serve as is or with coconut ice cream. Read More
Prep Time
15 Minutes
Difficulty
Easy
Cook Time
45 Minutes