Gluten Free Vegetarian Light Curry Soup
Prep Time
15 Minutes
Difficulty
Beginner
Cook Time
30 Minutes
Serves
6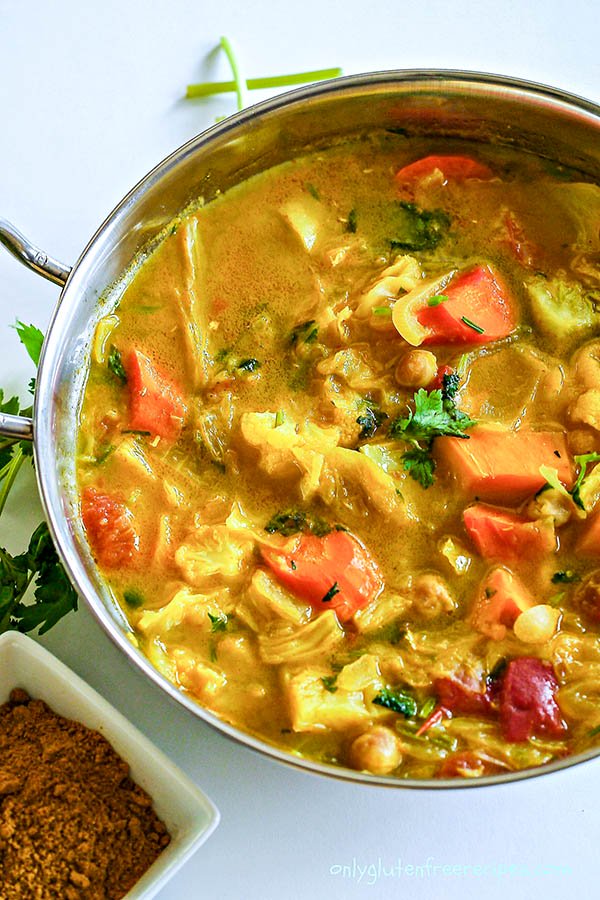 This is a naturally gluten free veggie forward recipe with remarkable flavour. Herbs, spices and fresh vegetables simmered in a delicate coconut broth give this vegetarian curry soup delicious Indian flavour.
Ingredients
1 Tbsp. coconut oil
1 medium onion, chopped
2 garlic cloves, chopped
1 Tbsp. minced ginger
1 Tbsp. organic gluten-free curry powder
1 large organic tomato, diced
4 cups gluten free vegetable stock or (chicken if not vegetarian)
1 13 oz. can coconut milk
2 organic carrots, diced
2 cups organic green cabbage cut to bite size pieces
1 small sweet potato or yam cut to bite size
2 cups organic cauliflower florets
1 13 oz. can organic chickpeas drain and rinse well
1 Tbsp. fresh lime juice
Sea salt to taste
1 bunch organic cilantro, roughly chopped.
Instructions
Heat coconut oil over medium heat in a large soup pot. Add onions and sauté until soft about 3 – 5 minutes. Then stir in garlic, ginger and curry powder until fragrant
Add tomatoes and cook while stirring for 3 minutes
Add balance of ingredients except for cilantro. Reduce heat to low, cover and cook for 30 minutes. If you like spicy, add cayenne pepper to taste
Stir in cilantro just before serving
Similar Recipes
Cauliflower and Chickpeas In Light Curry Sauce
This tasty curry dish takes only minutes to make. The combination of cauliflower and chickpeas with the addition of yams and red peppers creates a delicate flavour which compliments the coconut milk infused with curry. Incorporating vegetables in our diet will promote good health and this is a delicious way to eat them. Enjoy! Read More
Prep Time
20 Minutes
Difficulty
Easy
Cook Time
20 Minutes
Serves
4
Cauliflower, Sweet Potato And Chicken In A Red Curry Sauce
I love making ethnic food, the different spices, garlic and ginger create a delicious flavour. I have used organic GF curry powder to make this an easy recipe but you can do your own mix using cardamom, cumin, turmeric, coriander and cayenne. By using vegetables, lean chicken breast and just a tbsp. of coconut oil […] Read More
Prep Time
15 Minutes
Difficulty
Easy
Cook Time
25 Minutes
Serves
4
Super Easy Chicken Curry On A Budget
This is quick and easy, delicious chicken curry recipe, just serve over basmati rice or quinoa Serves 4 Read More
Prep Time
20 Minutes
Difficulty
Easy
Cook Time
40 Minutes
Serves
4
© Copyright 2017 Only Gluten Free Recipes. All Rights Reserved.