Gluten Free Apple Pie Without a Crust
Prep Time
15 Minutes
Difficulty
Easy
Cook Time
65 Minutes
Serves
6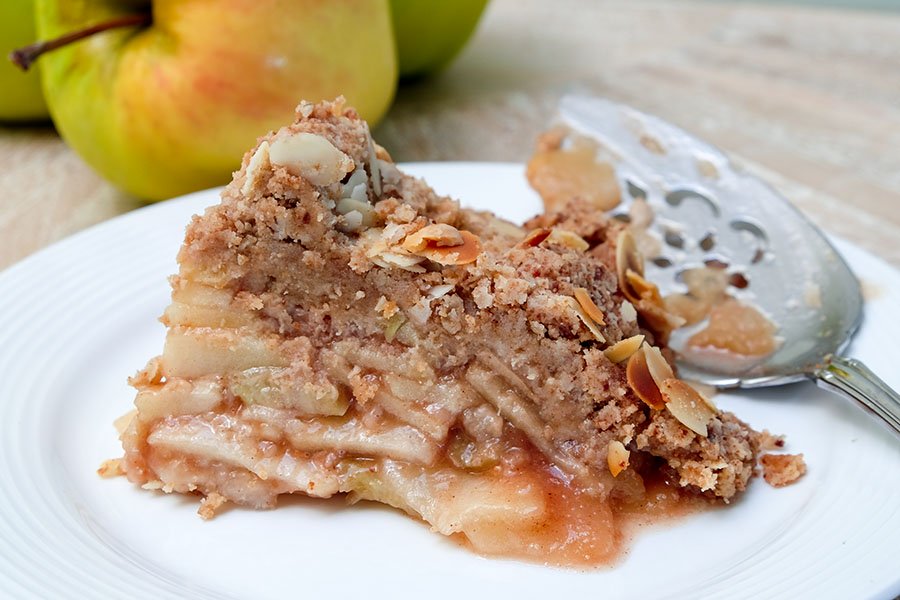 This gluten free apple pie is a true classic, but without the added crust, how wonderful. The greatest effort goes into making the crust, but with this pie, there is not crust, making it an easy recipe. Now imagine loads of delicious apples combined with cinnamon and oats. Spectacular! This scrumptious apple pie recipe should be on everyone's favourite recipe list
Ingredients
5 cups peeled and thinly sliced apples, such as Granny Smith, Spartan or Honey Crisp
2 Tbsp. lemon juice
Zest of 1 lemon
1/2 cup agave nectar or pure maple syrup
1 tsp. ground cinnamon
3 Tbsp. certified gluten free rolled oats
2 Tbsp. butter, cut in small pieces
2 Tbsp. all-purpose gluten free flour
TOPPING
3/4 cup all-purpose gluten free flour
1/3 cup certified gluten free rolled oats
1/3 cup coconut sugar
½ tsp. ground cinnamon
¼ tsp. Mediterranean pink salt
5 Tbsp. cool unsalted butter cut in small pieces
1 tsp. pure vanilla extract
1/2 cup slivered almonds or chopped walnuts
Instructions
Preheat oven to 375 F and line a baking sheet with foil
Toss apple slices with lemon juice, lemon zest, agave and cinnamon. Add oats, butter pieces and flour and gently mix. Set aside
TOPPING
Combine flour, oats, sugar, cinnamon and salt
Cut in the butter with vanilla, until the mixture becomes crumbly texture or use your hands
Spoon apples into a lightly greased deep 8-inch pie dish and slightly press the apples down
Sprinkle with the topping and then spread almonds over the top.
Bake the pie on prepared baking sheet for 20 minutes. Reduce the oven temperature to 350 F and bake 45 minutes more
Cool the pie completely before slicing and serve cold
Similar Recipes
Gluten Free Berry Cobbler
The blueberries and strawberries make a winning combination of this grain-free berry cobbler. If you don't have time to make a pie but crave the taste, make this gluten free berry cobbler. The freshness of the berries finished off with a light biscuit-like topping brings this berry cobbler to another level. Serve with vanilla bean […] Read More
Prep Time
15 Minutes
Difficulty
Easy
Cook Time
35 Minutes
Serves
6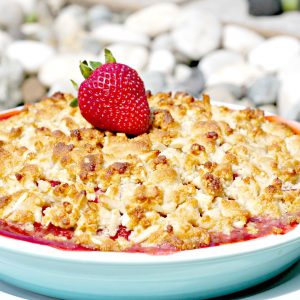 Paleo Strawberry Pie
Here is a dessert that is healthy and explosively delicious. Using only a few ingredients this naturally gluten free strawberry pie is simple to prepare. I call this pie simplicity at it's best! Serve as is or with coconut ice cream. Read More
Prep Time
15 Minutes
Difficulty
Easy
Cook Time
45 Minutes
Strawberry Rhubarb Pie – The Healthy Version
The sweetness of ripe strawberries and the slightly tart rhubarb with pecan crust, some maple syrup and a crunchy quinoa topping describes this scrumptious pie. Makes one 9 inch pie or serves 8 Read More
Prep Time
20 Minutes
Difficulty
Intermediate
Cook Time
40 Minutes
© Copyright 2017 Only Gluten Free Recipes. All Rights Reserved.