Collard Greens Tomato and Garlic Rice
Prep Time
10 Minutes
Difficulty
Easy
Cook Time
25 Minutes
Serves
4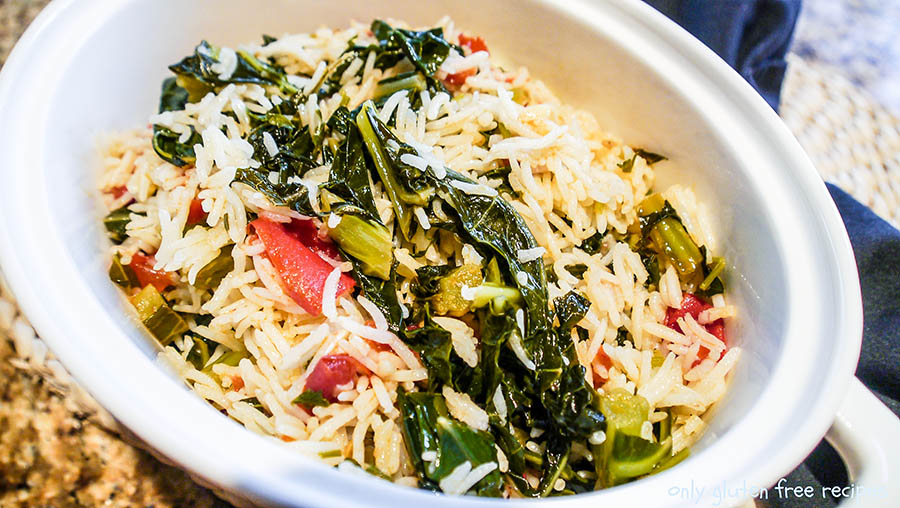 Stay on top of tasty rice delights with healthy collard greens, tomatoes, and garlic. This vegetarian side is loaded with super nutrients such as vitamin A, K, C, Calcium and is also high in fiber. Collard greens make a nice change to kale or cabbage
Ingredients
½ cup gluten-free basmati rice (white or brown)
1 cup water for white rice or 1 ½ cup water brown rice
1 tbsp. + 1 tsp. extra virgin olive oil
2 tbsp. organic fresh parsley, chopped
1 organic GF bay leaf
2 garlic cloves, crushed
2 organic tomatoes, diced
1-bunch organic collard greens, wash well, dry and cut into 1-inch strips
Sea salt to taste
Instructions
Add rice, water, 1 tsp. olive oil, parsley, bay leaf and a pinch of sea salt into a small pot, bring to boil and cover with a lid. Reduce heat to low and cook 15 minutes for white rice or 25 minutes brown rice or until rice is cooked. Fluff with a fork once done and cover with lid.
Add 1 tbsp. olive oil in a large sauce pan, add garlic and cook on low heat until just fragrant about a minute, then add tomatoes and cook while stirring for two minutes.
Stir in collard greens until well coated with tomatoes, cover and cook on low heat for 10 minutes, stir couple of times while cooking
Place cooked rice in a serving bow and mix in collard greens. Enjoy.
Similar Recipes
Gluten Free Vegetable Biryani Rice
I love experiencing with different herbs and spices especially when it comes to ethnic food. When I created this gluten-free rice recipe it topped them all. This rice dish is so flavourful it can be served as a main. Serve with yogurt or raita (yogurt and finely chopped cucumber) Read More
Prep Time
20 Minutes
Difficulty
Moderate
Cook Time
30 Minutes
Serves
4
Easy Classic Chicken Fried Rice – Revised Recipe
This is an easy way to cook chicken fried rice. I used chicken from my soup but you can use left over roast chicken just remove the skin or you can use fresh chicken thinly sliced, just add about 5 minutes extra cooking time. It is always a good time to have bowl of […] Read More
Prep Time
15 Minutes
Difficulty
Easy
Cook Time
15 Minutes
Serves
4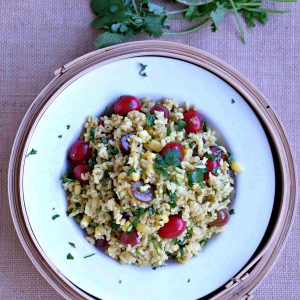 Gluten Free Curried Rice Salad
Perfectly seasoned rice, with added fruit and veggies with lots of exotic spices makes this one of our most favourite side dishes for a barbecue or large gathering. This dish is particularly sought after in the hot summer months when salads are popular Read More
Prep Time
15 Minutes
Difficulty
Easy
Cook Time
20 Minutes
Serves
6 - 8
© Copyright 2017 Only Gluten Free Recipes. All Rights Reserved.