Best Gluten Free Banana Apple Muffins
Prep Time
15 Minutes
Difficulty
Easy
Cook Time
35 Minutes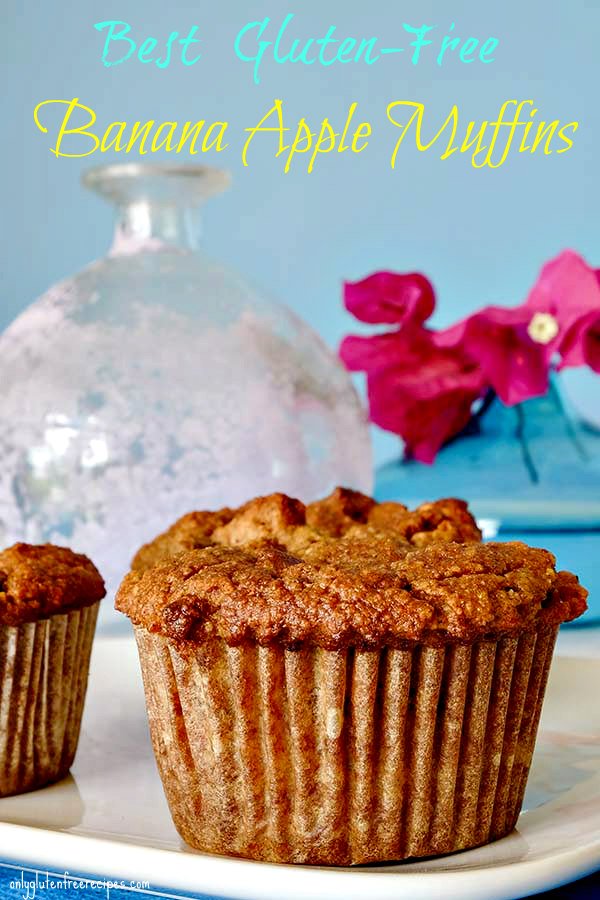 Start your day with moist and delicious gluten free banana apple muffins. These dairy free muffins are sweetened mostly with fruit, and are high in protein and fiber. I promise you these muffins will melt in your mouth and your family will never know these banana apple muffins are gluten free.
This recipe is a wonderful way to use up very ripe bananas or those apples that no one wants to eat anymore. The best part is all you need is a food processor or an electric mixer and one bowl to make this recipe. Vegan option included
Ingredients
1 ½ cup almond flour
½ cup sweet sorghum flour
1 tsp. GF aluminum free baking powder
1 tsp. GF baking soda
2 tsp. GF ground cinnamon
¼ tsp. sea salt
1 cup roughly chopped walnuts (optional)
3 very ripe bananas
2 medium size apples, cored and quartered
½ cup raw organic turbinado sugar
¼ cup extra virgin olive oil
2 tsp. pure vanilla extract
2 large eggs, room temperature (for vegan option use flax eggs)
Instructions
Preheat oven to 350 F. Line a muffin pan with paper liners
In a food processor add bananas and process until creamy. Add apples and chop into small pieces. Add sugar, olive oil, vanilla and eggs and process to combine. (If you do not have a food processor, mash the bananas with a fork and grate the apples. Then use an electric mixer to combine the wet ingredients together)
Add wet ingredients into dry and mix to combine
Pour batter into prepared muffin pan and bake for 35 minutes. The muffins should be slightly golden and firm to touch
Cool the muffins completely in the muffin pan
Similar Recipes
Banana, Carrot, Apple and Walnut Muffins
Having fruit in the morning is always nice, this muffin recipe has a selection of fruits with nuts which is made into a healthy muffin, there is no sugar or dairy added, making it a super nutritious low fat, low calorie delicious muffin. Read More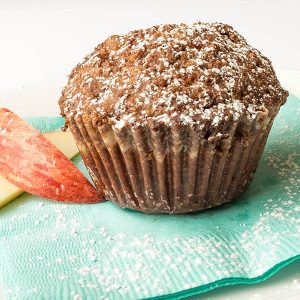 Gluten Free Apple Streusel Muffins
Discover a gluten free muffin recipe that is moist and deliciously flavoured with apples and cinnamon. You would never know that this is a gluten free muffin. The muffin has apples throughout with a delicious cinnamon streusel topping. When it comes to fall baking, this gluten free apple streusel muffin recipe should be on top […] Read More
Prep Time
15 Minutes
Difficulty
Easy
Cook Time
35 Minutes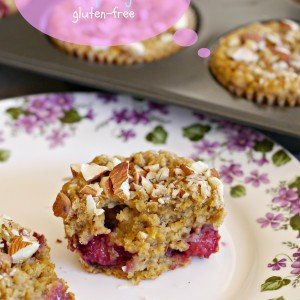 Gluten Free Oatmeal Raspberry Muffins
This is possibly my all-time favourite muffin recipe. There is no added fat, refined sugar, dairy or eggs. The muffin is moist with a zesty flavour and subtle texture. Why serve plain oatmeal when you can have this wholesome gluten free oatmeal raspberry muffin that is high in protein, rich in fiber and vitamin C. […] Read More
Prep Time
30 Minutes
Difficulty
Easy
Cook Time
25 - 30 Minutes
© Copyright 2017 Only Gluten Free Recipes. All Rights Reserved.