Basil and Lime Chicken Ramen Soup
Prep Time
15 Minutes
Difficulty
Easy
Cook Time
15 Minutes
Serves
4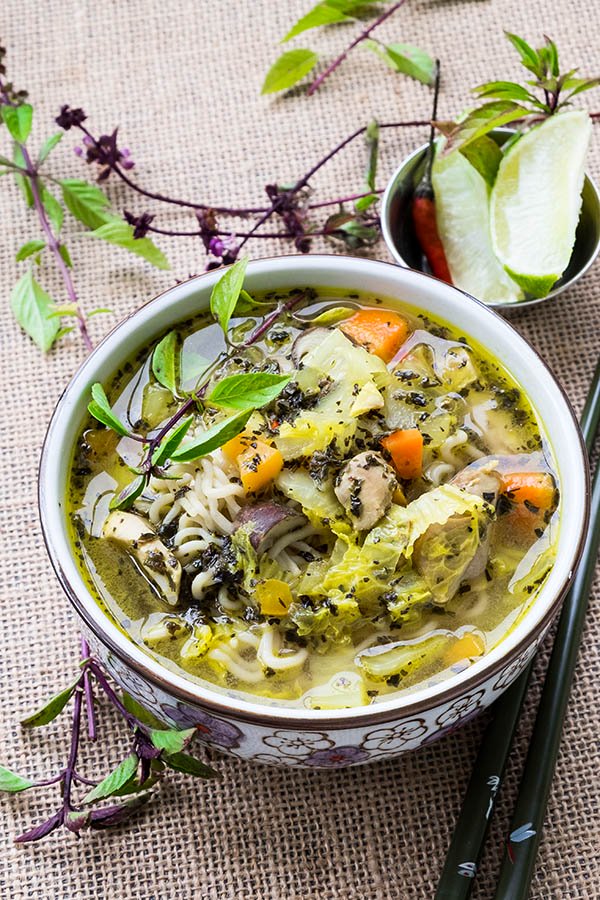 Vietnamese Pho meets classic chicken soup. This gluten free soup is light and nourishing filled with light veggies and tender chicken.
This is the kind of clean, uncomplicated chicken soup you long for in cold winter months. This soup relies on basil and fresh lime juice to bring out the ultimate flavour
Ingredients
2 tsp. coconut oil
½ small onion, finely chopped
1 garlic clove, minced
1 bell pepper, thinly sliced (red, orange or green)
1 red hot chili pepper, minced (optional)
1 Tbsp. dried basil leaves
1 tsp. turmeric
4 cups gluten free chicken stock + 1 cup of water
2 boneless skinless chicken thighs, thinly sliced
1 cup sliced mushrooms
2 carrots, diced
1 cup thinly sliced Napa cabbage
1 Tbsp. gluten free fish sauce
1 tsp. toasted sesame oil (optional, but adds amazing flavour)
1 Tbsp. fresh lime juice
Gluten free ramen noodles for 4 (if you can't get ramen you can use gluten free buckwheat noodles)
Handful of fresh Thai basil and lime wedges for garnish
Instructions
In a large pot heat coconut oil over medium heat, add onion, garlic, bell pepper and chili pepper and sauté for 3 minutes
Stir in basil and turmeric, add chicken stock, water, chicken, mushrooms and carrots and cook over medium heat for 10 minutes
Stir in cabbage, fish sauce, sesame oil and lime juice. Bring to boil, cover and remove from the heat. Set aside while you cook the noodles
Cook the noodles according to package instructions
To serve, arrange noodles in 4 bowls and pour hot soup over the top. Garnish with basil and lime wedges
Similar Recipes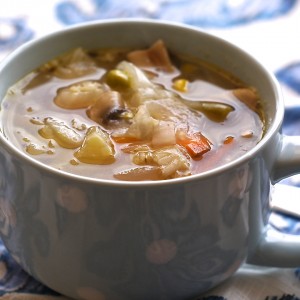 Chicken Gumbo Soup
This is a hearty and delicious soup loaded with healthy nutrients. Serves 6 Read More
Prep Time
15 Minutes
Difficulty
Easy
Cook Time
25 Minutes
Serves
6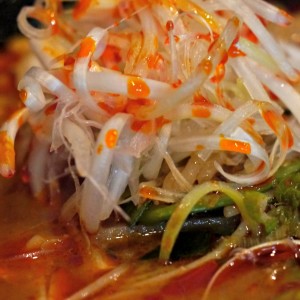 Easy Spicy Chicken Ramen Soup
This is a hearty noodle soup served in Japan often as a main course. Ramen is a staple noodle in Japanese cuisine. This is an easy beginner ramen recipe and you can make it as spicy as you like. Read More
Prep Time
15 Minutes
Difficulty
Moderate
Serves
4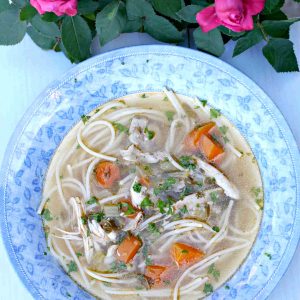 Gluten Free Classic Chicken Noodle Soup
Nothing beats homemade chicken noodle soup when it comes to comfort food during cold and flu season. Homemade chicken noodle soup is low in calories and rich in essential nutrients. Chicken broth is known to help with sickness symptoms and has many other health benefits. A good home made chicken soup is rich in protein, calcium, […] Read More
Difficulty
Easy
Serves
6
© Copyright 2017 Only Gluten Free Recipes. All Rights Reserved.