Chicken Ramen Soup with Basil and Lime
Published on Oct 15, 2016
by
Kristina Stosek
Prep Time:

15 minutes
Cook Time:

15 minutes
Serves:

4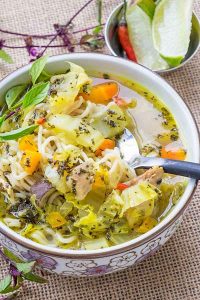 ​This post may contain affiliate links, please see our
privacy policy
for details
Chicken Ramen Soup with Basil and Lime is a magical food. In this ramen recipe, Vietnamese Pho meets classic chicken soup. The soup is light and nourishing, filled with healthy veggies cooked to tender-crisp with juicy chicken. I added gluten-free ramen noodles keeping the soup gluten-free.
♥

Nourishing chicken ramen soup for comfort.

This nourishing soup is the kind of clean, uncomplicated chicken soup you long for when you need comfort and nutrition. In this ramen recipe, I used veggies such as Nappa cabbage, mushrooms, carrots, bell peppers, onions and garlic. For the flavour, I used basil, turmeric, fish sauce, toasted sesame oil and chicken. For some spice, I added hot chilli pepper. This soup relies on basil and fresh lime juice to tie everything together beautifully. You can vary the vegetables depending on what you have on hand. However, the veggies have to be thinly sliced so that they cook very quickly. At home, there is a lot of leeways to experiment and extend this recipe to your liking.

Have you ever used a wok when cooking stir-frys?

Using a wok is relatively easy. Make sure it is well heated – best done over a medium flame heat for one or two minutes. Then turn the heat up and add the oil, quickly followed by the ingredients you are cooking. In this recipe I used a wok, it is not necessary, but I love using it, the wok makes everything easier. Most homes don't have a wok, so using a soup pot works just as well.

When making stir-fries, using a wok is an incredibly quick way to cook, and the short time means all the ingredients retain most of their flavour, nutrients and texture. The idea when using a wok is to toss the ingredients continually. Whenever you are making stir-fries, preparation is key to cooking the food. The reason I am mentioning the stir-fry cooking method is that this gluten-free chicken ramen soup starts with stir-frying the veggies.

For healthy and nourishing meals, check out our cooking light section using gluten-free ingredients.
Chicken Ramen Soup with Basil and Lime
Published on Oct 15, 2016
by
Kristina Stosek
Instructions
1.

In a large soup pot or wok heat coconut oil over medium heat, add onion, garlic, bell pepper and chili pepper and stir-fry for 3 minutes

2.

Add basil and turmeric and stir to combine. The the chicken stock, water, chicken, mushrooms and carrots and cook over medium heat for 10 minutes

3.

Stir in cabbage, fish sauce, sesame oil and lime juice. Bring to boil, cover and remove from the heat. Set aside while you cook the noodles according to package directions

4.

To serve, arrange noodles in 4 bowls and pour hot soup over the top. Garnish with basil and lime wedges