Winter Garden Soup – Naturally Gluten Free
Prep Time
15 Minutes
Difficulty
Easy
Cook Time
10 Minutes
Serves
4
Average Rating: 5 | Rated By: 2 users
This light winter garden soup is full of delicious flavours and healthy nutrients. It takes only a few minutes to prepare, making it an easy last minute soup for lunch or dinner.
Ingredients
1 Tbsp. extra virgin olive oil
½ yellow onion, sliced
1 garlic clove, crushed
1 Tbsp. GF dry basil leaves
1 Tbsp. freshly minced ginger
4 cups GF chicken stock (or vegetable stock if making vegetarian)
2 carrots, diced
½ red or orange bell pepper, thinly sliced
1 cup sliced mushrooms
2 cups thinly sliced Napa cabbage
1 Tbsp. freshly squeezed lime juice
Fresh basil leaves, roughly chopped
8 oz. GF rice vermicelli, cooked per package directions (optional)
Season with sea salt and organic GF freshly ground pepper to taste.
Instructions
Saute garlic and onion in olive oil for 2 minutes. Add dry basil and ginger and stir to combine
Add chicken stock, carrots, red pepper, mushrooms, Napa cabbage and lime juice bring. Bring to boil and reduce heat to low. Cover and cook for 3 minutes
Season with salt and pepper to taste
To serve, pour hot soup over noodles or just serve as is with fresh basil
Similar Recipes
Basil and Lime Chicken Ramen Soup
Vietnamese Pho meets classic chicken soup. This gluten free soup is light and nourishing filled with light veggies and tender chicken. This is the kind of clean, uncomplicated chicken soup you long for in cold winter months. This soup relies on basil and fresh lime juice to bring out the delicious flavour Read More
Prep Time
15 Minutes
Difficulty
Easy
Cook Time
15 Minutes
Serves
4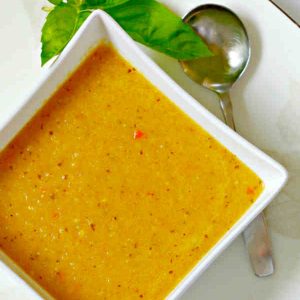 Vegan Curried Zucchini Coconut Soup
This delicious zucchini coconut soup is seasoned with curry and lime juice and cooked in coconut milk. Zucchini is low in carbs and calories making this a diet friendly soup Read More
Prep Time
10 Minutes
Difficulty
Beginner
Cook Time
10 Minutes
Serves
4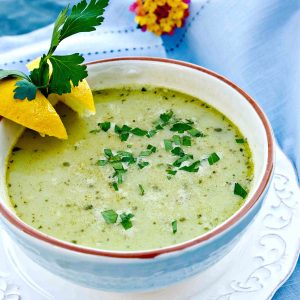 Detox Chickpea and Parsley Soup
This is another gluten free recipe for detox hearty, comforting soup. The combination of chickpeas, parsley and fresh lemon juice create a rich and satisfying soup. These simple ingredients deliver powerful detox benefits to your body. Parsley boosts the productivity of one of our liver's enzymes that detoxes our bodies. This delicate herb has powerful anti-inflammatory […] Read More
Prep Time
10 Minutes
Difficulty
Easy
Cook Time
90 Minutes