Creamy Thai Vegetable Soup
Published on Jan 01, 2020
by
Kristina Stosek
Prep Time:

15 minutes
Cook Time:

30 minutes
Serves:

6-8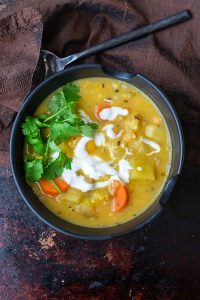 ​This post may contain affiliate links, please see our
privacy policy
for details
This Creamy Thai Vegetable Soup is only the beginning of healthier than ever recipes in the new year! I am super excited because starting the year with delicious healthy gluten-free recipes will keep us energized, build our immune system and may even help to shed a couple of pounds some of us gained over the holidays. Myself included.
The recipes will include healthy nutrient-packed soups and protein packed salads, easy on sweetener and fats baking, quick and easy skillet dinners and healthier gluten-free pizzas. Doesn't all of this sound good! Healthy food equals a stronger immune system, more energy and a healthier body.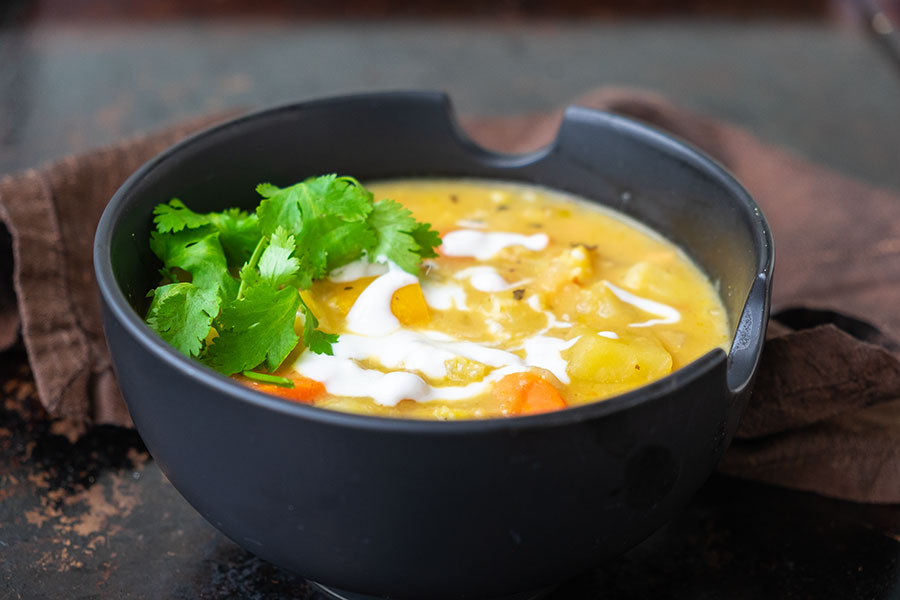 It's time to curl up with a hot bowl of creamy Thai soup
Depending on where you live, January is typically a cold month. A hot creamy Thai vegetable soup is one of those meals you can curl up with and feel warm all over. This soup is made with a wide selection of vegetables, garlic, ginger, lime juice, Thai flavours and light coconut milk.
I used some of my favourite vegetables in this soup, such as sweet potato and cauliflower. But there are many more vegetables that create fusion of flavours. I also wanted to add protein without adding meat. So I added earthy chickpeas.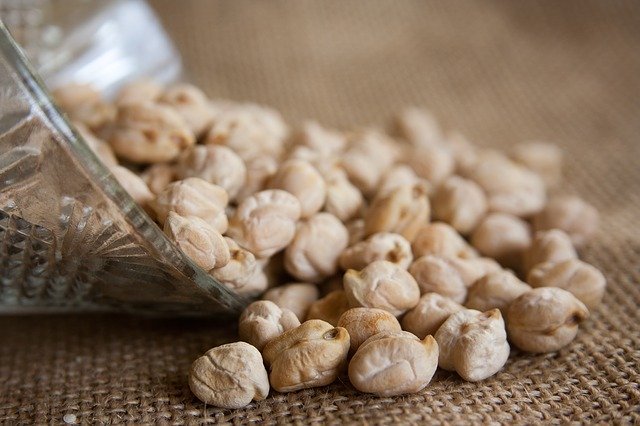 Chickpeas, also known as garbanzo beans, have a nutty buttery flavour and creamy texture and are nutritionally rich.
To make the soup extra tasty, I like to add fresh cilantro and swirls of yogurt or coconut cream and lime juice. The warming soup is thick and creamy with chunks of veggies throughout.
This Thai creamy vegetable soup is a meal on its own, but you can also serve it as a starter or add some healthy low-carb, keto nut-free pumpkin seed bread and serve it as a main.
Creamy Thai Vegetable Soup
Published on Jan 01, 2020
by
Kristina Stosek
Instructions
1.

Using a large pot heat oil over medium heat. Add onions and garlic and sauté until soft. About 4 - 5 minutes

2.

Stir in curry paste and ginger until combined

3.

Add broth, carrots, potatoes, bell pepper, chickpeas and lime juice. Season with salt and cayenne pepper. Bring to boil, cover and reduce heat to simmer. Cook for 15 minutes

4.

Add cauliflower and coconut milk and cook over medium heat for 10 more minutes

5.

Transfer 4 cups of soup to a blender and blend until creamy. Return to the pot and reheat

6.

Serve hot with desired toppings