Vegan Buckwheat Fresh Cranberry Christmas Cake
Published on Dec 18, 2021
by
Kristina Stosek
Prep Time:

20 minutes
Cook Time:

80 minutes
Serves:

8 - 10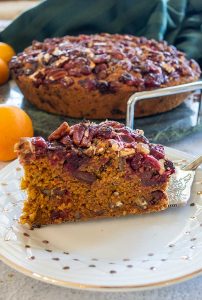 ​This post may contain affiliate links, please see our
privacy policy
for details
Today, I am excited to share this Vegan Buckwheat Fresh Cranberry Christmas Cake recipe. Not only is this naturally gluten-free recipe and delicious, but it's also healthy-ish and simple to make.
This wintery buckwheat cake is warming, filled with dates and pecans, and topped with caramelized cranberries. If anything screams festive, this gluten-free, vegan cake recipe is it!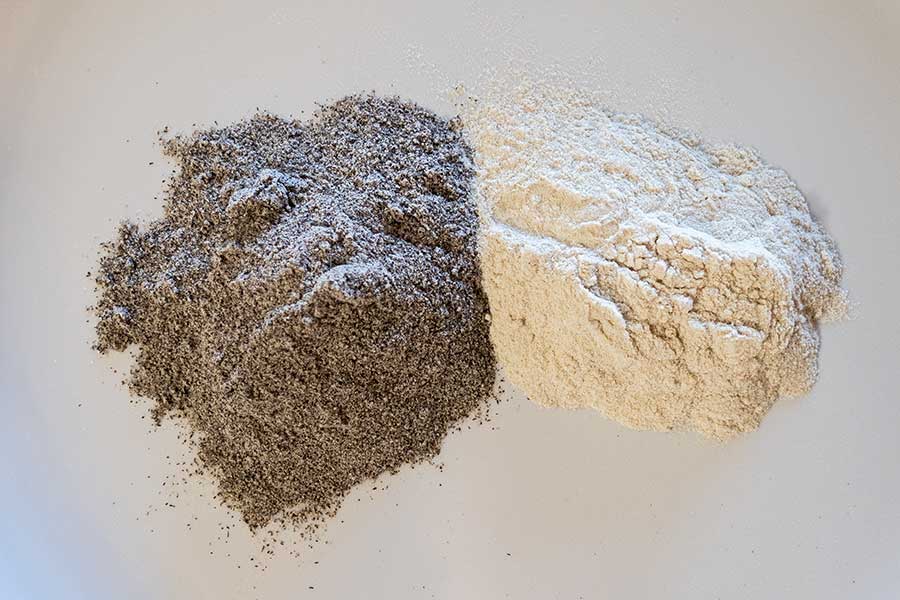 different shades of buckwheat flour,
Have you ever made buckwheat bread, and it was super dark? Yes, this will happen if you use the unhulled buckwheat flour.
Dark buckwheat flour is made by milling whole buckwheat, while light buckwheat flour is milled from just the groat with the hull removed. The more hull present, the darker the flour.
Buckwheat naturally contains no gluten, has an earthy, nutty flavour and mixes well with other flours. Although most often seen as white with tiny dark brown/black speckles.
Which buckwheat flour is healthier?
Unhulled ground buckwheat is slightly more nutritious. Buckwheat hulls contain amino acid lysine and have slightly better protein.
which buckwheat flour is best for Cranberry Christmas Cake
When it comes to bread, I always use dark buckwheat flour. It is healthier and has a rich nutty flavour. And yes, the buckwheat bread comes out pretty dark, but ever so good! I always use the lighter version when baking desserts, just like I used in this recipe.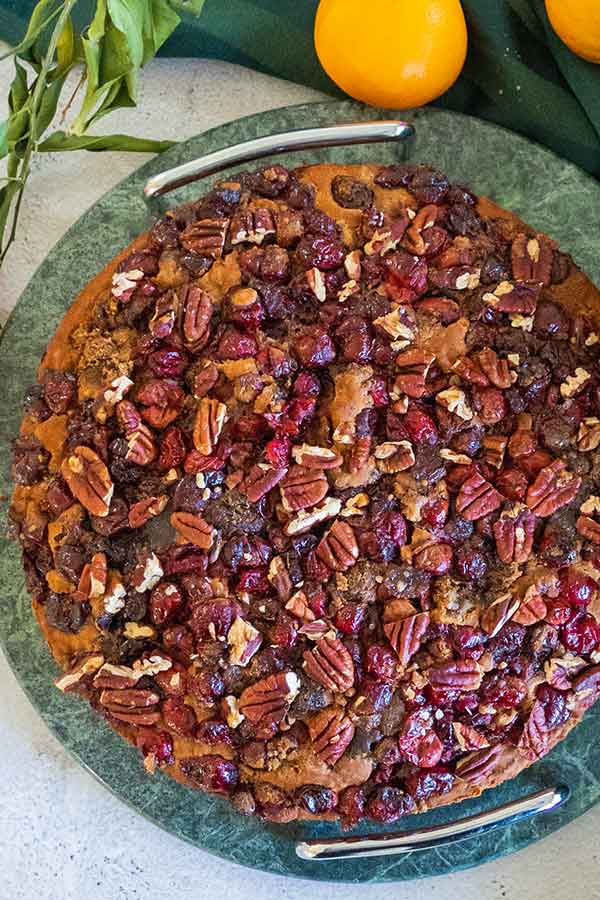 Buckwheat Cranberry Christmas Cake Recipe Overview
The first step is the caramelized cranberry topping. Yes, this vegan buckwheat cranberry cake is about cranberries.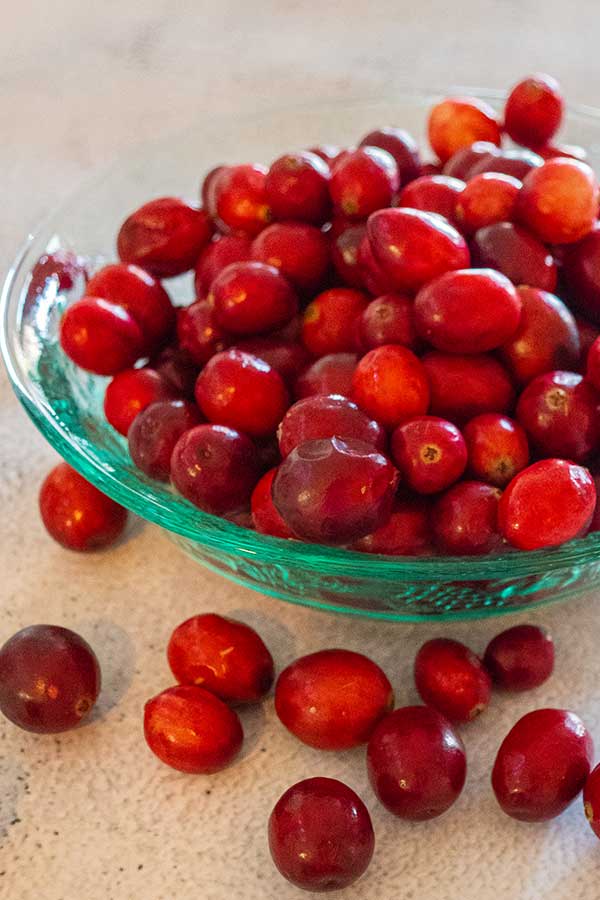 This Christmas cake is made with fresh cranberries. The small crimson red berries are baked with brown sugar and cinnamon. The berries soften and are coated with insanely yummy thick caramel syrup hinted with cinnamon.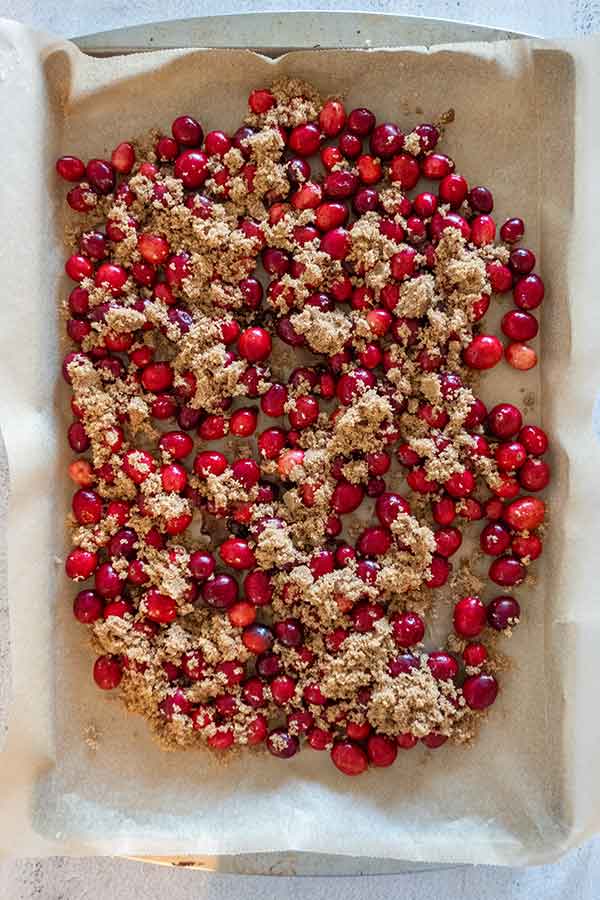 buckwheat cake batter
Next comes the naturally gluten-free batter. The cake batter is made with basic pantry ingredients and chia seeds.
For the dry ingredients, you will need nutrient-packed buckwheat four, grain-free tapioca flour, baking powder, baking soda, and sea salt. I also added brown sugar to give this buckwheat Christmas cake flavour from the molasses in brown sugar.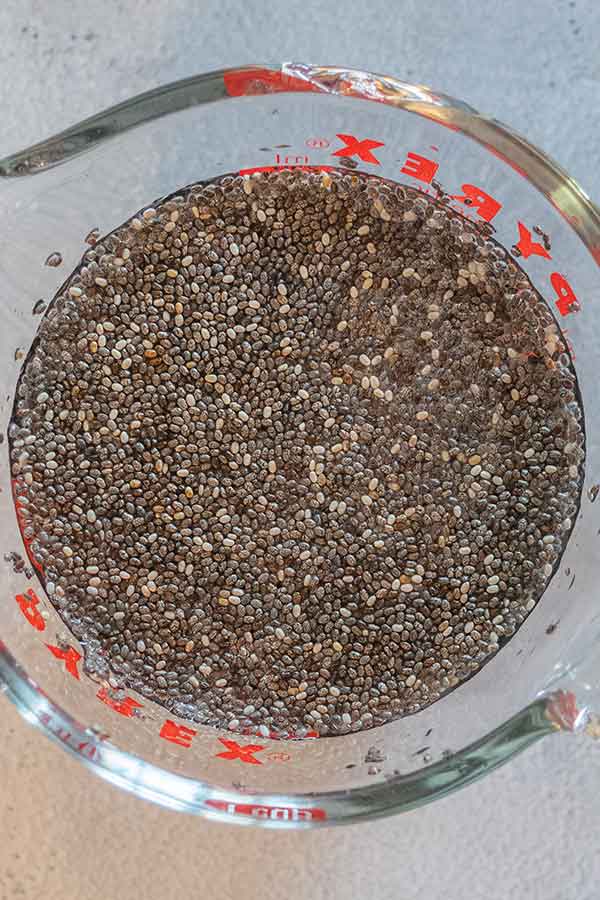 soak the chia seeds
To add moisture and healthiness to this Christmas cake, start with super food chia seeds. These tiny seeds are soaked in water until they become egg-like jelly. Yes, the chia is replacing the eggs.
The remainder of the wet ingredients is heart-healthy olive oil, date syrup, orange juice, vanilla and water. Nothing complicated.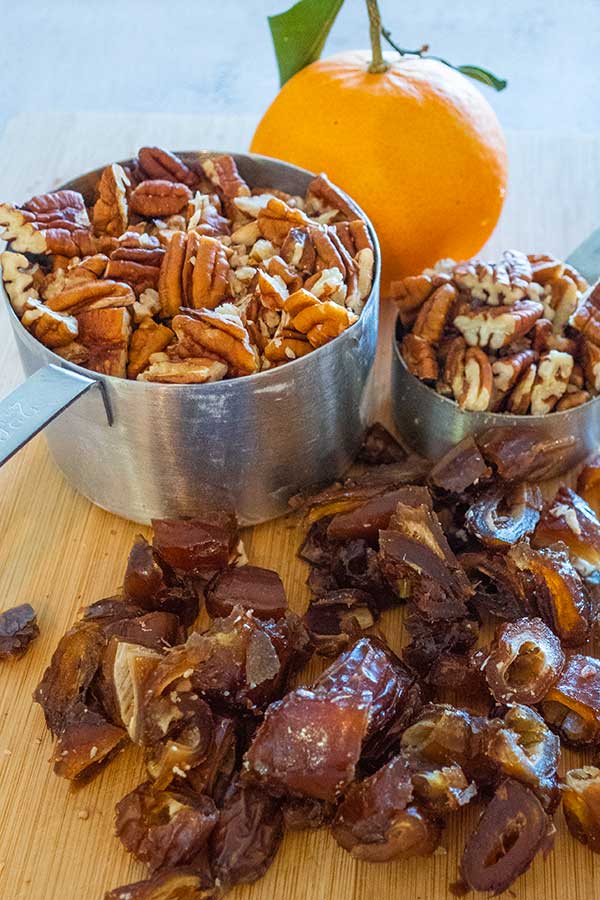 to flavour the Christmas cake add dates, orange zest and pecans
To enhance the flavour and texture the recipe includes dates, orange zest and pecans. The sweetness from the dates beautifully complements the pecans. And the zest adds a citrusy, tangy flavour.
Cranberry Christmas Cake tastes best with vegan butter rum syrup!
End with something extra special…vegan butter rum syrup! It's perfect for finishing this glute-free Christmas cake and adds just the right amount of flavour and sweetness. Syrup recipe below.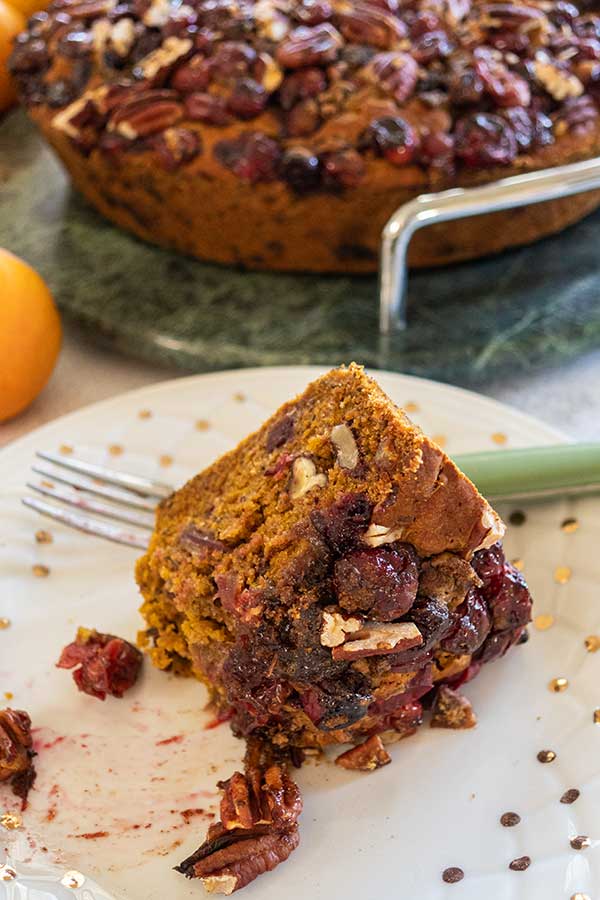 Serving suggestions for gluten free vegan buckwheat cranberry Christmas cake.
This gluten-free cake is not too sweet, making it a perfect morning slice of little sweetness to go with a cup of hot chocolate or coffee.
Another way I like to serve this buckwheat cranberry cake is with slices of extra old cheddar cheese, smoked gouda or brie—a great addition to your appetizer platter.
And to make this festive cake into the most amazing vegan dessert, add the butter rum syrup, heat the cake for a few seconds in the microwave and slatter it with either whipped cream or vanilla bean ice cream. Too delicious for words.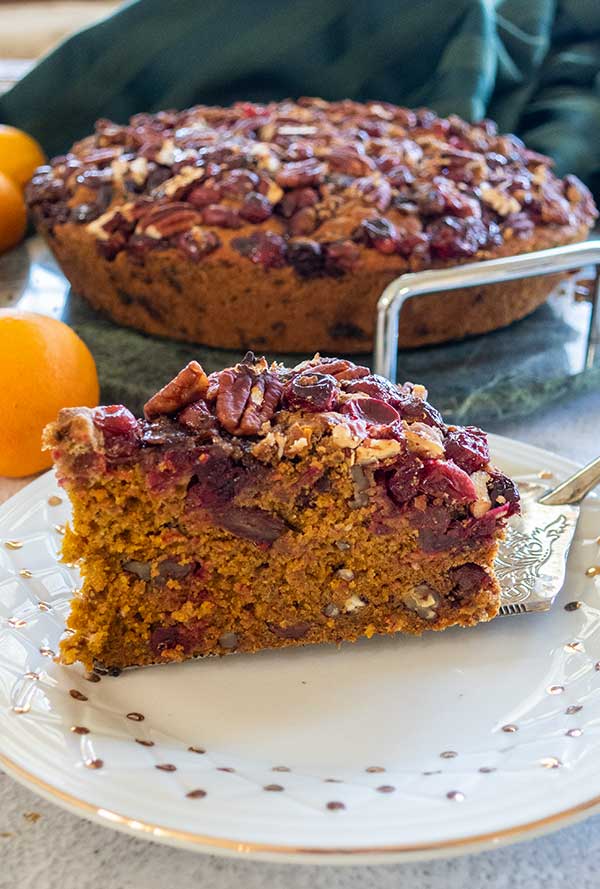 I've also gifted this vegan Buckwheat Cranberry Christmas cake to my friends as a thank you gift because it is a low-allergen dessert recipe.
VEGAN BUTTER RUM SYRUP (optional)
1/2 cup unsalted vegan butter
2 Tbsp. water
1/2 cup date syrup or pure maple syrup
1/2 cup GF rum (not flavoured rum)
While the cake is cooling, prepare the butter rum syrup. In a medium saucepan, combine butter, water and date syrup Bring to a boil, then reduce to simmer and cook for 5 minutes without stirring. Remove from the heat and stir in rum
While the cake is in the skillet/baking dish, using a skewer, poke holes in the cake and pour 1/4 cup of syrup at a time over the cake until the cake absorbs the syrup. Repeat until syrup is used
Loosely cover the cake with plastic wrap and rest overnight at room temperature.
Using a knife, loosen the cake's edges and invert onto a plate to remove the cake. Then, place a serving platter on top and invert again. Or, you can slice the cake inside the skillet.
Looking for more Christmas recipes? Check out some of these Gluten-Free Christmas Recipe Classics.
Vegan Buckwheat Fresh Cranberry Christmas Cake
Published on Dec 18, 2021
by
Kristina Stosek
Instructions
1.

Preheat oven to 400 F and line a rimmed baking sheet with parchment paper

2.

In a medium bowl, mix chia seeds with 1 cup of water. Set aside for 20 minutes. The mixture will become like jelly 

3.

Place the fresh cranberries in an even layer on the baking sheet and sprinkle with 1/2 cup of brown sugar and 1 teaspoon of cinnamon. Bake for 15 minutes, then cool on the baking sheet.

4.

Reduce oven temperature to 350 F

5.

In a large bowl, whisk together buckwheat flour, tapioca flour, baking powder, baking soda and salt

6.

Add 2/3 cup water, date syrup, olive oil, orange juice, orange zest, vanilla, and remaining 1/2 cup brown sugar to the chia jelly mixture. Whisk to combine

7.

Add wet mixture to dry ingredients and use a spatula to combine. Stir in dates and 1 cup of pecans. Do not over mix.

8.

Rub an 8-inch cast-iron skillet or equal-sized baking dish with coconut oil or olive oil. Spread the batter into the skillet

9.

Spoon the cooked cranberries evenly on top of the batter and press them partially into the batter using the back of the spoon. Scatter the remaining 1/3 cup pecans over the cranberries and bake for 65 - 70 minutes. Until a toothpick comes out clean. Cool completely in the skillet

10.

Using a sharp knife, loosen the cake's edges and invert onto a plate. Then, place a serving platter on top and invert again. Or, you can slice the cake inside the skillet.