Thai Vegan Bok Choy Rice Bowl
Prep Time
15 Minutes
Difficulty
Easy
Cook Time
20 Minutes
Serves
2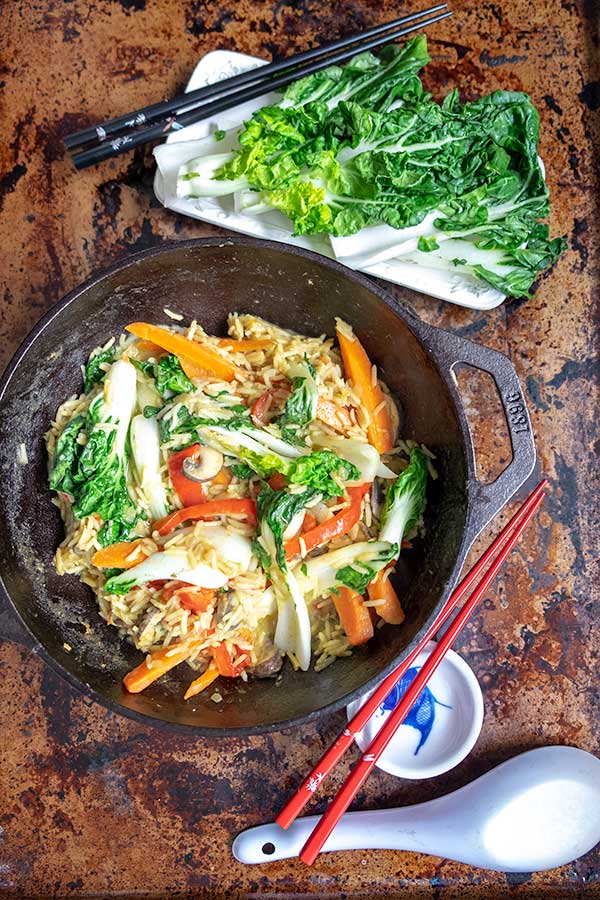 Average Rating: 4.5 | Rated By: 2 users
Thai Vegan Bok Choy Rice Bowl recipe made in minutes. This vegan recipe is a rice bowl, lightly flavoured with coconut milk and Thai spices featuring fresh vegetables such as healthy bok choy, bell peppers, carrots, and mushrooms. The flavours come from Thai spices, garlic, shallots, ginger, fresh lime juice, and coconut milk's creaminess.  This rice bowl is also naturally gluten-free 🙂
There is nothing fancy about this light plant based meal, except the healthy veggies. Think of it as steamed veggies in a lightly flavoured Thai coconut sauce with rice. Rice bowls are often favoured because they feature an array of veggies and are easy to prepare.
A delicate cabbage such as bok choy is considered a powerhouse among vegetables. This Chinese leaf vegetable is low in calories and an excellent source of vitamin A, C, calcium, magnesium, potassium and iron.
Ingredients
13.5 oz. can coconut milk
1/4 cup GF vegetable broth
2 Tbsp. GF Thai green curry paste
1 shallot, chopped
2 tsp. Minced ginger
1 garlic clove, minced
1 tsp. pure maple syrup or sweetener of choice
1 red bell pepper, sliced
2 carrots, diced
1 cup sliced mushrooms (button or shitake)
2 tsp. Fresh lime juice
Pure sea salt to taste
2 cups cooked basmati rice, at room temperature
1/2 lb. baby bok choy, halved
*As an Amazon Associate and member of other affiliate programs, I earn from qualifying purchases. Please check out my sponsorship and disclosure policy page for more details
Instructions
Add coconut milk, broth, curry paste, shallots, ginger, garlic and honey in a large saucepan. Bring to boil, reduce heat to simmer and cook for 10 minutes
Add bell pepper, carrots, mushrooms, lime juice and season with salt. Cook for 8 more minutes
While the veggies are cooking quick blanch the bok choy. To cook bok choy bring a large pot of salted water to boil, add the bok choy, and cook for 30 seconds. Drain and place on a plate. The bok choy will keep cooking to perfection
Add rice and bok choy to the veggie broth and stir to combine until heated through. Enjoy!
Similar Recipes
Buddha Bowl with Garlic Lemon Cream Sauce
This naturally gluten free vegetarian dish is a veggie forward recipe with remarkable tasty garlic lemon cream sauce. It is all about the sauce! Just imagine a rainbow of healthy steamed vegetables smothered with the best garlic lemon cream sauce you have ever tasted To optimize your diet include brightly coloured vegetables. These vegetables contain […] Read More
Prep Time
15 Minutes
Difficulty
Easy
Cook Time
10 Minutes
Serves
4
Quick Korean Beef and Broccoli Rice Bowl
For an easy weeknight meal try this quick Korean Beef and Broccoli Rice Bowl. This is a super easy dinner recipe packed with flavour, healthy broccoli and makes a nice change to simple burgers. For keto and paleo diet serve with cauliflower rice. Read More
Prep Time
10 Minutes
Difficulty
Beginner
Cook Time
15 Minutes
Serves
4
Vegan Power Buddha Bowl – Easy Recipe
Buddha bowls are healthy hearty dishes made with a variety of raw or cooked ingredients layered in one bowl. In this vegan power Buddha bowl, the selection of vegetables will provide you with lasting energy and keep you full for hours. The light tamari dressing adds plenty of flavour without the extra calories, making this […] Read More
Prep Time
15 Minutes
Difficulty
Easy
Serves
2