Spicy Thai Chicken Coconut Soup
Published on Apr 06, 2015
by
Kristina Stosek
Prep Time:

10 minutes
Cook Time:

20 minutes
Serves:

4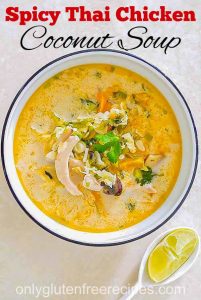 ​This post may contain affiliate links, please see our
privacy policy
for details
A Spicy Thai Chicken Coconut Soup to warm your soul. This soup is a classic Thai recipe made with lemongrass, ginger, garlic, coconut milk, tender chicken, fresh lime juice and plenty of fresh cilantro.
Thai chicken coconut soup with plenty of fresh vegetables
The fresh vegetables in this a nutrient-dense soup are savoy cabbage, mushrooms, green onions, and bell peppers. So much healthiness in a bowl of warming soup!
Thai soup is all about freshness!
This delicious soup is all about freshness. Thai food is well known for its fresh, healthy ingredients. Everything in this chicken coconut soup is cooked briefly, keeping the vegetables tender but firm to the bite.
the flavour in Thai chicken coconut soup
The Thai flavours are lemongrass, garlic, fish sauce, ginger, and the classic Thai ingredient, coconut milk. The generous amount of fresh cilantro and lime juice set this soup apart from traditional coconut soups.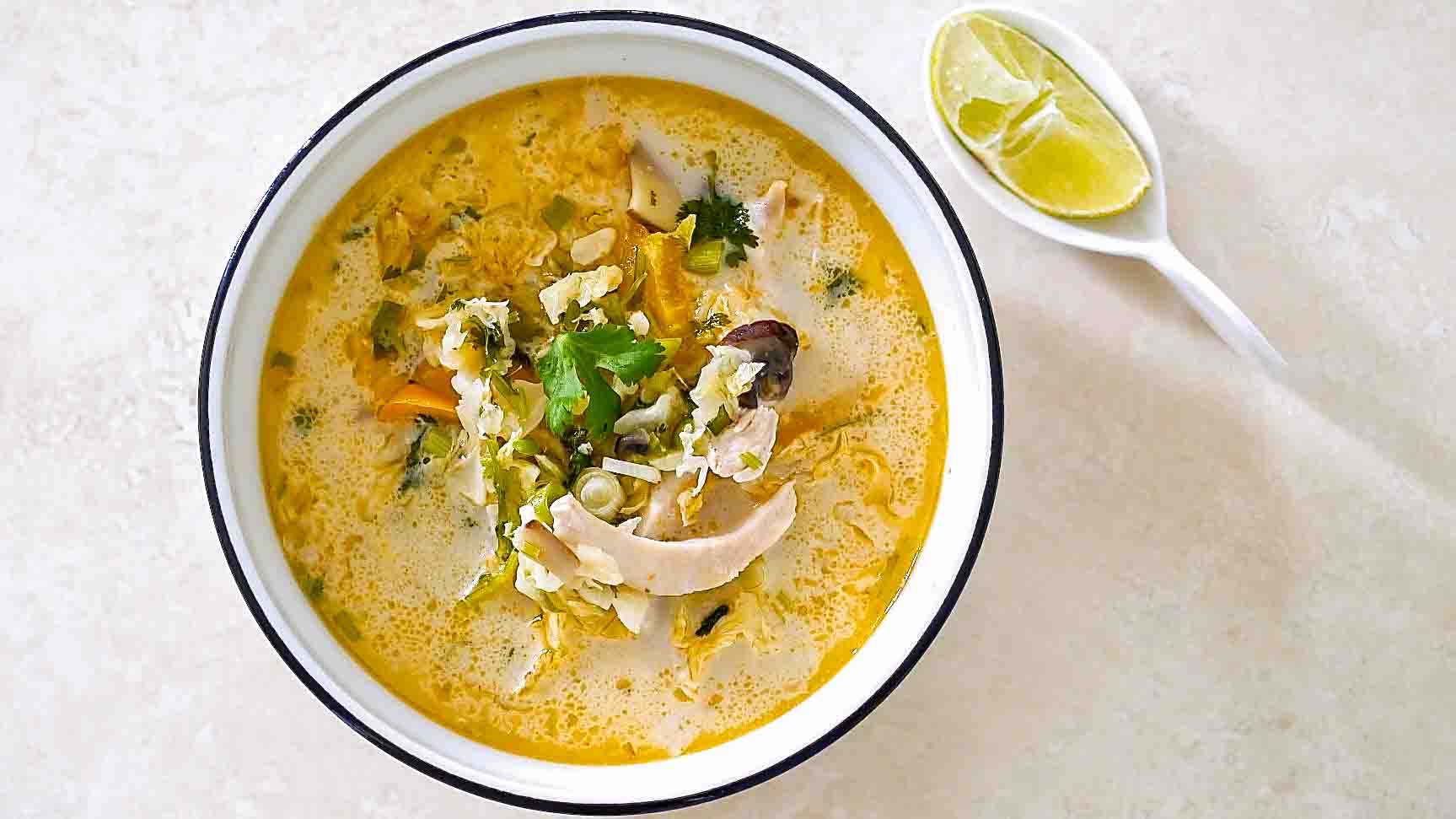 this is a diet friendly Thai soup recipe
If you are on the hunt for ethnic flavours, this diet-friendly, naturally gluten-free soup is a must try recipe. Quick and easy to prepare for light lunch or a starter for dinner.
What we love about this spicy Thai chicken coconut soup is you can have a fresh, delicious soup on the table in thirty minutes. Enjoy!
Love Thai food? You must check out our list of gluten-free Thai recipes. These recipes are gluten-free, delicious and super easy to prepare! Our favourite recipe is the Salmon with Thai Coconut Cream Sauce.
Let's connect
Meet Kristina. Passionate about creating delicious, innovative gluten free recipes, and author of two gluten free cookbooks, "Entertaining The Gluten Free Way" and "Small Bites The Gluten Free Way".
Be sure to FOLLOW US on FACEBOOK or, check us out on PINTEREST. And don't forget to sign up for our newsletter. We always have something new and exciting for you!
Many thanks!
Kristina x
Spicy Thai Chicken Coconut Soup
Published on Apr 06, 2015
by
Kristina Stosek
Instructions
1.

In a medium pot saute garlic and ginger in coconut oil over low heat for 1 minute

2.

Stir in mushrooms, bell pepper and cayenne pepper and cook for 3 minutes

3.

Add chicken broth, lemongrass, fish sauce, agave and chicken and simmer for 15 minutes

4.

Add savoy cabbage and cook for 2 more minutes

5.

Add balance of ingredients, bring to boil and remove from the heat

6.

Remove lemon grass and serve
Leave a Comment
Kristina
thank you Rebecca for sharing, Kristina xx
I love this recipe so much. We have done it the way it's written and with variations on the veggies. I find its so easy just to add a bag of frozen veggies. It's the best most flavorful soup that can be done in 30 minutes.