Rustic Spaghetti Squash Medley
Prep Time
15 Minutes
Difficulty
Intermediate
Cook Time
60 Minutes
Serves
4
Average Rating: 4.5 | Rated By: 7 users
A wonderful vegan dish that is low in carbs and calories is always popular. In this recipe, the spaghetti-like squash is cooked briefly with olive oil, garlic, tomatoes, mushrooms, and fresh parsley making this a delicious, healthy meal. If you are following a low-carb diet this naturally gluten-free dish is for you! Enjoy as a vegan main or a side
Ingredients
1 medium size spaghetti squash
2 Tbsp. extra virgin olive oil
4 garlic cloves, crushed
1 cup chopped fresh parsley
1 Tbsp. GF paprika
2 medium size tomatoes, roughly chopped
½ lb. button mushrooms, quartered
½ tsp. sea salt
Pinch of cayenne pepper (optional)
1 Tbsp. fresh lemon juice
*As an Amazon Associate and member of other affiliate programs, I earn from qualifying purchases. Please check out my sponsorship and disclosure policy page for more details
Instructions
To prepare squash, wash and pierce a few times with a knife. Place on the middle rack of the oven and bake at 375 F for 45 minutes. Cool for 15 minutes. Cut in half and remove the seeds. Using a fork scoop out the spaghetti strands and set aside.
In a large non-stick frying pan, heat olive oil over medium heat. Add garlic, parsley and paprika, and stir-fry for 2 minutes
Add tomatoes, mushrooms, salt and cayenne pepper and cook for 5 more minutes, stirring frequently
Add spaghetti squash and lemon juice, and mix until well combined. Enjoy!
Similar Recipes
4-Ingredient Double Stuffed Butternut Squash
This 4 Ingredient Double Stuffed Butternut Squash is incredibly tasty, cheesy and super easy to make. This is a gluten-free vegetarian butternut squash dish, made with only four ingredients plus spices. The stuffing is made with yogurt, cheddar cheese, and green onions. For flavour I used turmeric, a spice with powerful antioxidants. The reason I […] Read More
Prep Time
10 Minutes
Difficulty
Easy
Cook Time
50 Minutes
Serves
4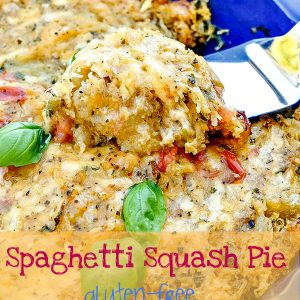 Gluten Free Spaghetti Squash Pie
This spaghetti squash pie is a tasty savoury vegetarian dish made with spaghetti squash, Italian herbs, fresh tomatoes and mozzarella cheese. This delicious squash is lower carb alternative to pasta or other squash. If you are following a paleo diet, this tasty gluten free spaghetti squash pie is for you! Serve as lunch with a […] Read More
Prep Time
10 Minutes
Difficulty
Easy
Cook Time
40 Minutes
Serves
6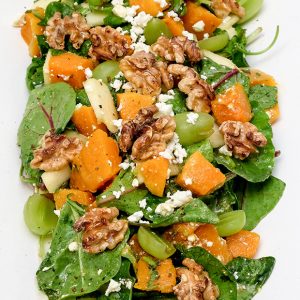 Roasted Butternut Squash Salad
Meet your new power salad, vibrant and nutritious with just a touch of citrusy vinaigrette. The robust flavours of butternut squash and goat cheese combine especially well with apples, grapes and walnuts. This salad is ideal for the diet savvy and vegetarians Read More
Prep Time
15 Minutes
Difficulty
Easy
Cook Time
20 Minutes
Serves
4