Paleo Apple Cinnamon Muffins {Grain-Free, Gluten-Free, Dairy-Free, Nut-Free}
Prep Time
10 Minutes
Difficulty
Easy
Cook Time
15 Minutes
Serves
12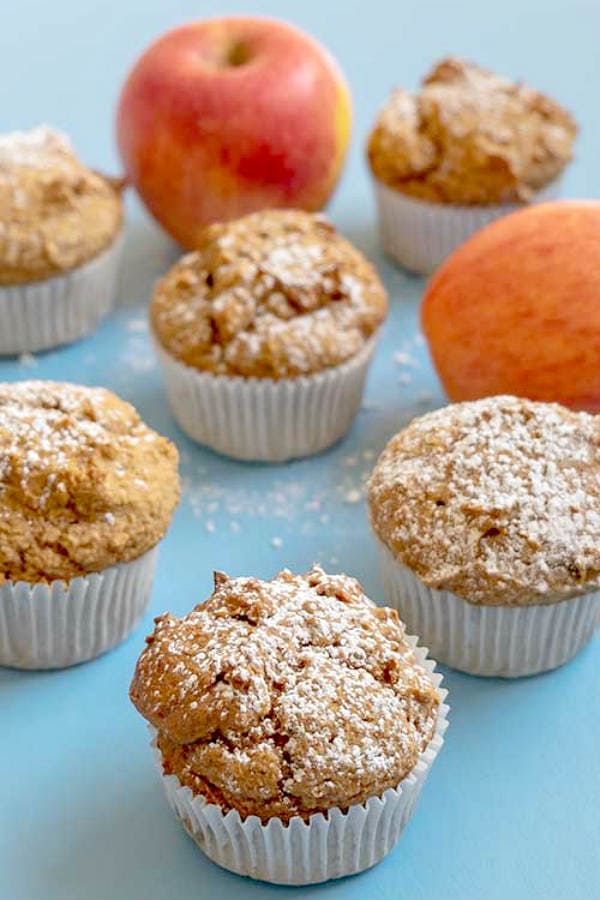 Average Rating: 5 | Rated By: 3 users
Healthy allergy-friendly Paleo Apple Cinnamon Muffins. This muffin recipe will accommodate most diets. The apple cinnamon muffin is made by using healthy ingredients such as coconut flour, eggs, olive oil, fresh apples, a hint of cinnamon and as a sweetener, a splash of pure maple syrup.
I love a nutritionally balanced breakfast muffin that is this delicious. The paleo muffin is packed with protein and fiber and will give you lasting energy when needed. I refer to this apple cinnamon muffin as a healthy breakfast on the go.
The muffin recipe is simple to make without grains, dairy, nuts and gluten. This is why this paleo apple cinnamon muffin is an allergy-friendly muffin.
♥

Why is this paleo apple cinnamon muffin healthier?

Baking fresh muffins at home have many benefits. Besides tasting fresh and delicious, you control the salt, sugar and unhealthy fats. Some store bought gluten-free muffins are made with mostly starches and sometimes unhealthy additives and colours. Starches, mainly GMO corn starch, are nutrient-poor ingredients and are best to be avoided. In this paleo muffin recipe, I used nutrient-packed coconut flour. Coconut flour is rich in fiber and MCTs, and it may promote stable blood sugar and is good for digestion. For fats, I used healthy olive oil and as a sweetener pure maple syrup, making this a healthier muffin recipe.

However, the best part about these tasty muffins is, kids love them. The muffin is made with apples and cinnamon, a combination of flavours that kids love, and even the pickiest eaters will enjoy!

If you are following a paleo-friendly diet, check out our complete list of paleo recipes, especially the Paleo Chocolate Pecan Pie 🙂
Ingredients
5 large eggs, at room temperature
1/4 cup pure maple syrup
1/4 cup extra virgin olive oil
1 tsp. pure vanilla extract
1 cup finely grated apple (about 1 large apple)
1 Tbsp. GF ground cinnamon
1 tsp. baking soda
Pinch of Himalayan salt
*As an Amazon Associate and member of other affiliate programs, I earn from qualifying purchases. Please check out my sponsorship and disclosure policy page for more details
Instructions
Preheat oven to 400 F and line a muffin pan with parchment paper cups or grease well with coconut oil
In a medium bowl using an electric mixer whisk together eggs, maple syrup, olive oil, and vanilla for about 1 minute
Add apples, coconut flour, cinnamon, baking soda and salt, and mix until blended. Set aside for 10 minutes. The muffin batter will thicken because the coconut flour will absorb the liquids
Scoop the batter evenly into 12 muffin cups, about 1/3 cup per muffin and bake for 13 - 15 minutes, until the muffins become golden brown
Similar Recipes
Best Gluten Free Banana Apple Muffins
For an exceptional treat, these Gluten-Free Banana Apple Muffins with their moist, light and tender texture brimming with apples and sweetened with bananas are not to be missed. Is there anything more tantalizing than sweet muffins spiced with cinnamon? Most sweet snacks are full of sugar and butter, but this dairy-free muffin is packed with […] Read More
Prep Time
15 Minutes
Difficulty
Easy
Cook Time
35 Minutes
Best Gluten Free Blueberry Apple Muffins
This plant-based recipe is the Best Gluten-Free Blueberry Apple Muffin because it checks all the boxes. The muffin is healthy, plant-based, made with heart-healthy olive oil and superfoods such as blueberries and apples. How does the blueberry apple muffin taste? This gluten-free muffin has a tender, moist crumb and bursts with blueberries, apples, and a […] Read More
Prep Time
15 Minutes
Difficulty
Easy
Cook Time
35 Minutes