Gluten Free Mini Quiche Muffins
Published on Feb 26, 2014
by
Kristina Stosek
Prep Time:

10 minutes
Cook Time:

15 minutes
Serves:

2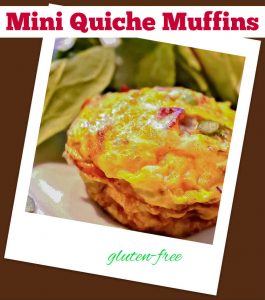 ​This post may contain affiliate links, please see our
privacy policy
for details
The beauty of these Mini Quiche Muffins is its versatility – not only are they great at breakfast, but it's one of those foods that are delicious at any time of the day. After a long day in the kitchen creating recipes, I consider a quiche muffin a go-to dinner, especially after a long, tiring day.
♥

What is a quiche muffin?

Quiche muffin is probably one of the easiest muffins to make. It is almost like an omelet in a cup. The best part is, the possibilities are endless. The quiche can be made with just veggies or a combination of meat and veggies. The intricate ingredient is the cheese. A quiche must have good melting cheese.

In this savoury muffin recipe, I combined ham with asparagus and green onions. For seasoning, I added thyme. I feel thyme compliments the ham and asparagus. For the cheese, I used cheddar cheese because it has more flavour than mozzarella cheese.

Another cheese that would go exceptionally well in these muffins is smoked gouda…YUM! The best part, this mini quiche muffin is made without flour, keeping the muffin naturally gluten-free and Keto.
Here is a list of foods you can use in a quiche muffin.
bacon
bell peppers
mushrooms
red onions
spinach
kale
arugula
zucchini
cherry tomatoes
prosciutto
I would use about 1/2 cup of your favourite mix-ins per muffin
Are you looking for a sweet muffin? Check out our great selection of gluten-free muffin recipes
Gluten Free Mini Quiche Muffins
Published on Feb 26, 2014
by
Kristina Stosek
Instructions
1.

2.

Add olive oil, ham/bacon, onion and asparagus into a non-stick frying pan. Stir-fry for 1 minute

3.

Pour into two silicone or parchment paper muffin cups and top with cheese

4.

Whisk together eggs, milk, thyme, salt and pepper and pour into muffin cups

5.

Bake at 400 F for 15 minutes (do not open the oven until they are done), when ready slightly cool and remove from muffin cups