Instant Pot White Bean Minestrone
Published on Feb 26, 2019
by
Kristina Stosek
Prep Time:

15 minutes
Cook Time:

95+ minutes
Serves:

6 - 8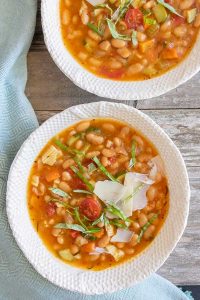 ​This post may contain affiliate links, please see our
privacy policy
for details
This Instant Pot White Bean Minestrone is a hearty soup made from scratch. The soup is so much more flavourful by using dried beans, and the beans have a better texture than canned beans. Sure, by using canned beans, you can make this soup probably in 20 minutes, but the flavours and texture don't compare.
Easy white bean minestrone using an instant pot!
Minestrone is a bean soup with veggies and pasta or rice, sometimes both. I used dried cannellini beans and veggies such as celery, tomatoes, carrots, zucchini, onions, and bell peppers in this soup.
For the flavour, I used traditional Italian herbs such as basil, bay leaf, rosemary, oregano and naturally garlic. The gluten-free pasta is added at the end, so it holds its texture and does not become mushy. The broth in this white bean minestrone is so delicious!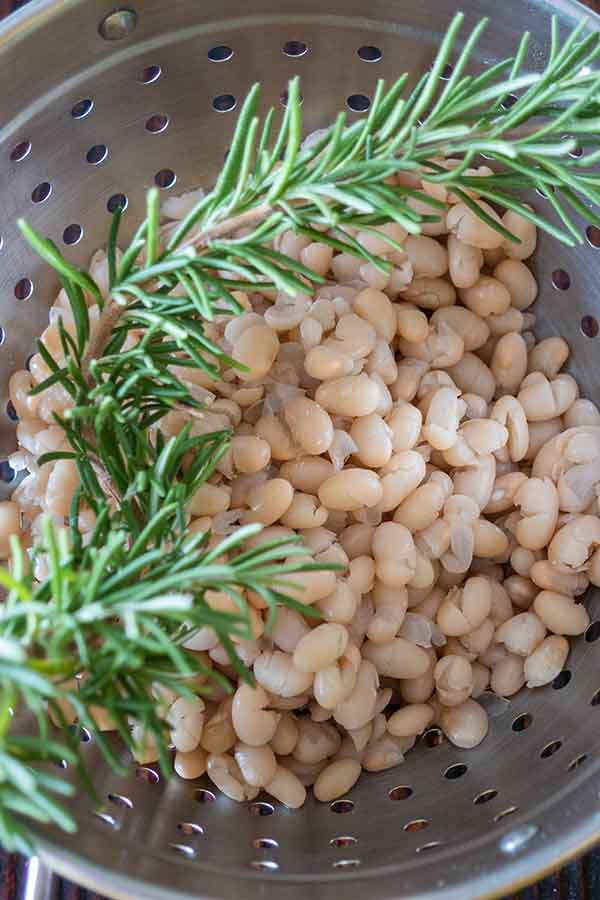 Why is it better to use dried beans vs canned beans in recipes?
Before you start using canned beans in recipes, you first need to rinse the beans. Do you know why that is? The thick liquid you find in canned beans is mostly starch and a lot of salt. So if you are using canned beans in recipes and don't rinse the liquid, the flavour will not be the same.
The texture of canned beans is also mushier than when you use dried beans. Some canned beans also have a metallic flavour, so by rinsing the beans, you may remove some of that flavour – or sometimes not.
The salt, most canned beans, have about 1000 mg of sodium per cup. After you rinse the beans, you are still left with about 700 milligrams. So a lot of salt! We should not consume more than 1,400 milligrams of sodium the entire day. This is a lot of sodium our bodies don't need.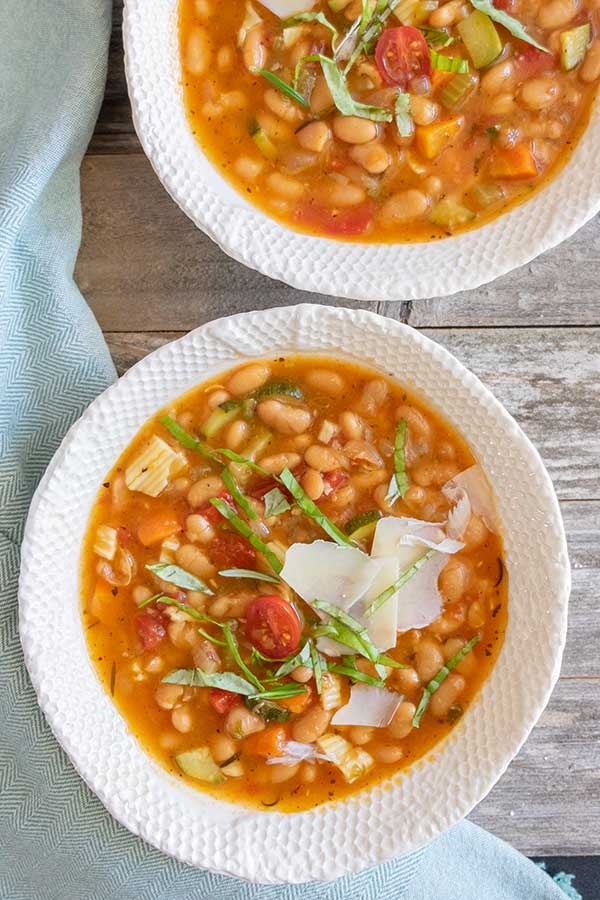 to summarize,
When cooking beans from scratch, you control the salt, the beans taste better, have a better texture, and don't taste the metallic flavour. So this is a no-brainer, cook the beans from scratch.
And this brings me to why I used the Instant Pot for this white bean minestrone -> the time. By cooking dried beans in an instant pot, you will cut the cooking time by more than half.
To finish the soup the Italian way, I topped the minestrone with plenty of fresh Parmesan cheese. This white bean soup is most certainly a nourishing meal in a bowl.
Add some delicious gluten-free garlic cheese monkey bread, and the dinner is complete. And remember, bean soups always taste better the next day. Enjoy!
Instant Pot White Bean Minestrone
Published on Feb 26, 2019
by
Kristina Stosek
Instructions
1.

Set Instant Pot to sauté. Add olive oil, once heated add onions, celery, bell pepper and garlic. Sauté stirring often for 5 minutes

2.

Stir in bay leaf, rosemary, oregano and basil until combined. Add diced tomatoes, vegetable broth, 4 cups water, dried cannelloni beans, carrots, rind of Parmesan cheese and salt. Lock the lid with the valve in the closed position. Set it to manual or soup/stews for 90 minutes

3.

When the time is up, release steam naturally for 15 minutes. After 15 minutes do a quick release to release the remaining steam and remove bay leaf and Parmesan rind

4.

Add zucchini and pasta and stir to combine. Close the lid for 10 minutes. The zucchini will soften and the pasta will heat through. Taste and add salt if needed

5.

Serve hot with Parmesan cheese and fresh herbs