Instant Pot White Bean Soup Ham and Collards
Published on Feb 16, 2020
by
Kristina Stosek
Prep Time:

15 minutes
Cook Time:

55+ minutes
Serves:

8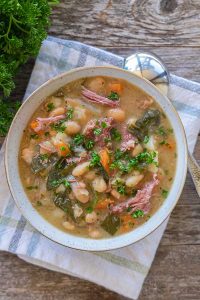 ​This post may contain affiliate links, please see our
privacy policy
for details
Instant Pot White Bean Soup, Ham and Collards… who doesn't love a hearty soup for dinner with a slice of crusty bread —> especially during the cold winter months?
The instant pot is the easiest and quickest way to cook dry beans.
Once you add everything to the pot, you can walk away and forget about it. In this instant pot ham and white bean soup recipe, I wanted to add veggies, but at the same time, I did not want them to be overcooked and mushy.
So, I cooked the ham with the beans first, then at the very end, I added potatoes, carrots and collards and cooked them very briefly, keeping the texture of the veggies perfect.
I always use a ham shank or bone-in ham for soups. This is because the bones add so much flavour to the broth.
But if you can't find a bone-in ham or ham shank, you can use a boneless ham, and both will add a delicious smoky flavour to the soup.
For seasoning, I used thyme and bay leaf, these herbs are my preference. But feel free to add your favourite herbs.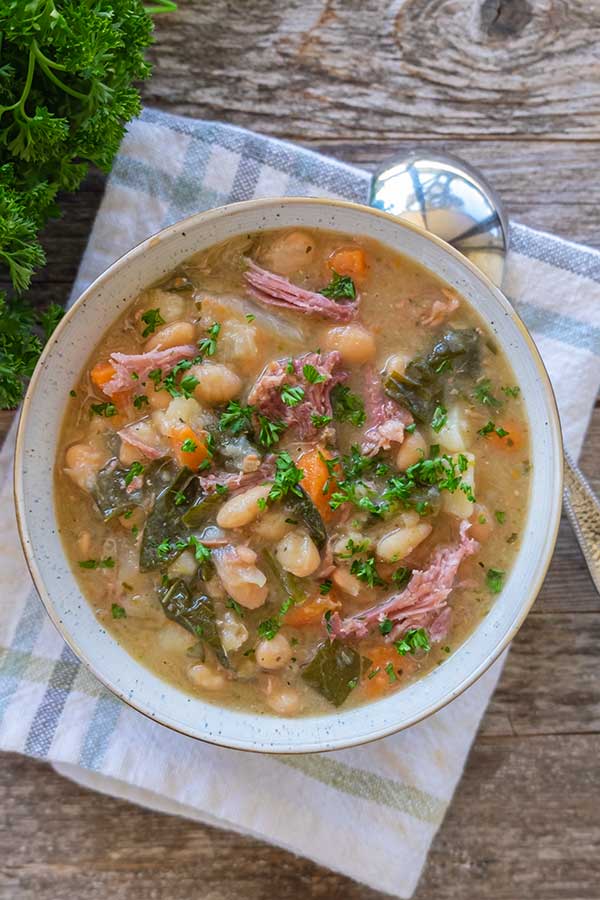 When the soup finishes cooking, it will have a brothy consistency. But the white bean soup will thicken up with standing.
The soup is best the next day, the broth is creamier, and the flavours develop even more.
If you want to eat the soup the same day and like a creamier consistency, use an immersion blender and partially blend the soup until you reach the desired thickness.
I recommend a slice of Gluten-Free Crusty French Baguette Bread to complete the meal.
Why are dry beans better to cook in an instant pot?
The instant pot is very safe when used as intended and will cook beans quickly while maintaining flavour.
The beans cook faster vs cooking them on the stovetop. You don't have to pre-soak them overnight.
They are perfectly tender, and they take very little hands-on time.
One vital point to keep in mind! When cooking foods that expand, like beans, fill the pot only halfway. Never overfill an instant pot.
Instant pot bean cook time.
Chickpeas–40 minutes on high pressure

Kidney Beans–35 minutes on high pressure
Great Northern Beans– 35 minutes on high pressure
Cannellini Beans – 35 minutes on high pressure
Navy Beans–30 minutes on high pressure
Black Beans–30 minutes on high pressure
Pinto Beans–25 minutes on high pressure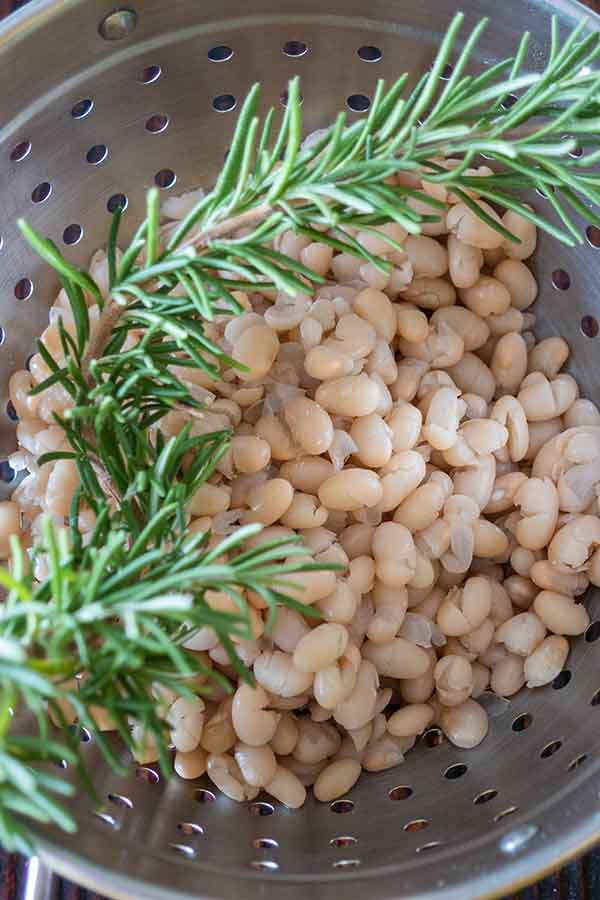 To soak or not to soak dry beans if using an Instant Pot.
If the beans are older, I recommend soaking them, or you will need to cook them longer. If you find the beans are hard for you to digest, soaking them will help.
If using the beans the same day – bring water with beans to a boil and boil rapidly for 2 minutes. Turn off the heat, cover and let the beans soak in the water for about 1 hour, not any longer. The warm temperature of the water provides growing grounds for bacteria that can cause foodborne illness.
If planning to use the beans the next day – soak the beans in cold water overnight in the refrigerator for a minimum of 12 hours. Soaking beans is essential if they are older or past their due date.
If the beans are fresh and they are not hard on your stomach there is no need to soak them when using an Instant Pot
Finally, if you find the beans are hard on your stomach, add apple cider vinegar to the soup after cooking. For more recipes made with white beans, check out these white bean soups and white bean salads recipes
Instant Pot White Bean Soup Ham and Collards
Published on Feb 16, 2020
by
Kristina Stosek
Instructions
1.

Set Instant Pot to sauté. Add olive oil, once heated, add onions and garlic. Sauté for 5 minutes. Stir in thyme and bay leaf and turn the Instant Pot off

2.

Add beans, ham, 1 teaspoon of salt and fill it with water halfway. Cover, select the manual setting and cook on high pressure for 40 minutes

3.

Once done cooking, use the quick release function and carefully release the steam

4.

Remove the ham, bay leaf and lemon. Add potatoes, carrots, collards, and 1 cup of water. Cover and cook on high pressure for 5 minutes.

5.

Use a natural release for at least 20 minutes before you open the pot. Shred the ham and add back to the soup with apple cider vinegar. Season with salt and pepper to taste

6.

The soup will thicken upon standing, but if you like to have a creamier consistency, use an immersion blender and blend to desired consistency. I partially blended the soup. You can also use a blender and blend 2 cups, then return to the soup. If you like the soup brothy leave the soup as is.

7.

To serve, top with fresh parsley or thyme.
Leave a Comment
I enjoyed this recipe. I added carrots too early, so I added more later. Spiced well and lemon with apple cider vinegar was a grand addition. I also did quick release at end and everything was VERY tender.