Grain-Free Italian Amaretto Cheesecake
Published on Feb 10, 2022
by
Kristina Stosek
Prep Time:

30 minutes
Cook Time:

60+ minutes
Serves:

12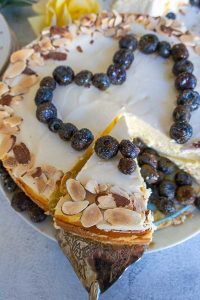 ​This post may contain affiliate links, please see our
privacy policy
for details
Creamy mousse-like Grain-Free Amaretto Cheesecake not to be missed! This Italian-style cheesecake is super light, made without a crust and is topped with sugared blueberries and sliced roasted almonds.
grain-free and crust-free amaretto cheesecake recipe
For cheesecake lovers, this grain-free dessert doesn't get any better than this. This crust-free amaretto cheesecake recipe is based on the Italian cheesecake made with ricotta cheese.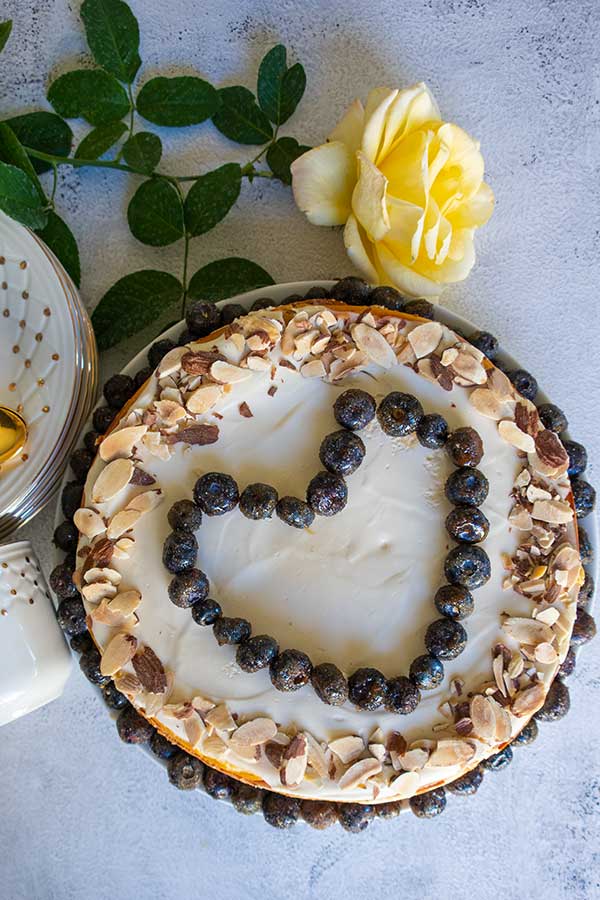 I created this fail-proof amaretto cheesecake dessert for that special occasion or holiday entertaining. The best part is anyone can make this cake—even novice cooks. The recipe is that simple.
If that special someone in your life follows a gluten-free or grain-free diet and loves a cheesecake, I promise you, they will be impressed with this dessert.
Another gluten-free cheesecake you may enjoy is our extra famous Gluten-Free Black Forest Cheesecake.
Italian cheesecake vs American cheesecake
The cheese is the main difference between a typical New York American cheesecake and Italian cheesecake. In Italy, cheesecake is made with ricotta rather than cream cheese, giving the cheesecake a lighter, creamier texture.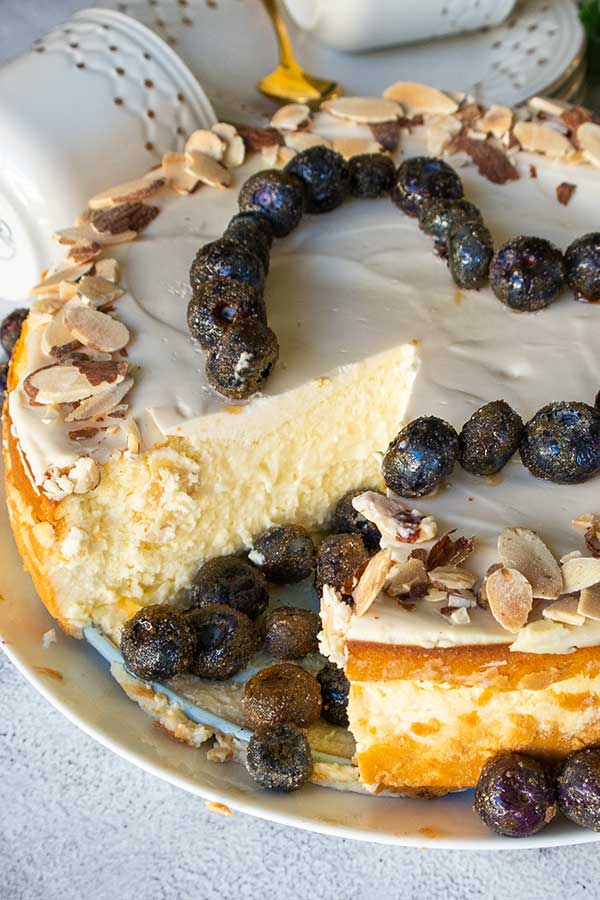 amaretto cheesecake recipe overview
First, allow yourself an extra day to make this dessert. Cheesecake has to set overnight before slicing into it for best results. Besides, it leaves you more time for other things to prepare for the day of. Which is good, right?
This Italian-style amaretto cheesecake has two layers. First, a creamy mousse-like cake layer made with a combination of ricotta and cream cheese flavoured with amaretto.
The second layer, the topping, is a lightly sweetened sour cream flavoured with amaretto. Both layers are light and deliciously flavoured.
Should you drain ricotta for a cheesecake recipe?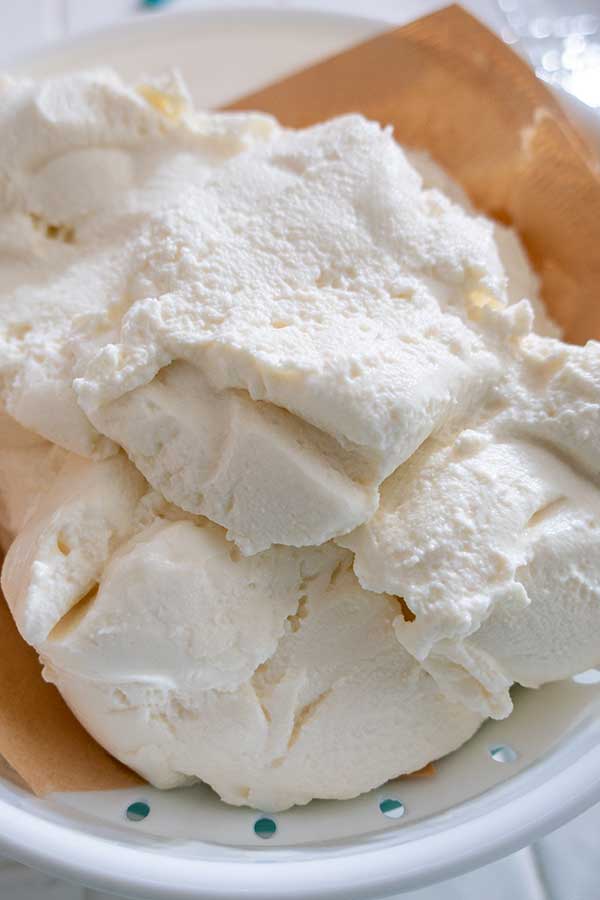 Straining ricotta is an absolute must for cheesecake because it keeps the desserrt from becoming watery.
Garnish for Italian amaretto cheesecake.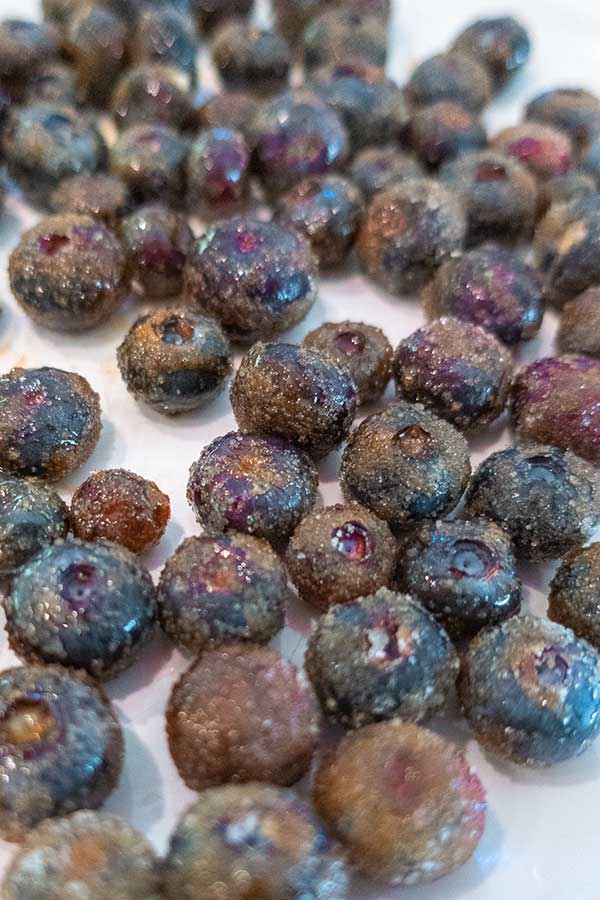 To add extra deliciousness, I made sugared blueberries and added a sprinkle of roasted sliced almonds. Almonds and amaretto are similar in taste and pair together beautifully.
What is amareto liquer made from?
Amaretto is an Italian liqueur that tastes like almonds, though it's made from apricot kernels. The bitter and sweet flavour adds a superb flavour to desserts. And keep in mind not all amaretto is gluten-free, so be sure to check the label.
Are almonds nuts?
It may surprise you! According to McGill, botanically, a nut is a dry fruit consisting of a hard shell covering a single seed. Almond plants are not nuts but are rather classified as "drupes." Drupes are fruits that are fleshy on the outside and contain a shell covering a seed on the inside, such as the almonds.
This grain-free Italian amaretto cheesecake makes a perfect dessert for Valentine, Mothers Day, Birthday or any other special celebration.
I love this gluten-free dessert because it will keep up to seven days when refrigerated in a tightly closed container. This means, you can enjoy cheesecake leftovers for a few extra days. Enjoy!
Let's Connect!
Be sure to FOLLOW US on FACEBOOK and PINTEREST.
Many thanks!
Kristina xx
Grain-Free Italian Amaretto Cheesecake
Published on Feb 10, 2022
by
Kristina Stosek
Instructions
1.

Line a strainer with 2 layers of cheesecloth or 1 coffee filter and place over a bowl. Place ricotta in the strainer and cover ricotta with plastic wrap. Refrigerate for at least 8 hours or overnight. Remove ricotta from the strainer and discard liquid in the bowl 

2.

Preheat oven to 350 F and lightly grease a 10-inch springform pan with butter

3.

In a small bowl, mix tapioca and amaretto. In a large bowl, beat cream cheese, sugar, sour cream and drained ricotta until smooth. Beat in amaretto mixture. Add eggs and beat on low speed just until blended, not whipped 

4.

Pour into the prepared springform pan, and place on a baking sheet. Bake until the center is almost set, 1 to 1-1/4 hours. Let stand 5 minutes on a wire rack. 

5.

In a small bowl, whisk topping ingredients and spread over top of cheesecake. Bake 5 minutes longer. 

6.

Cool on a wire rack, then cover with plastic wrap and refrigerate overnight

7.

Loosen sides from pan with a knife and remove rim from pan before slicing

8.

9.

Place honey in a small bowl and microwave for about 10 seconds. Add blueberries and toss to coat. Place blueberries in a bowl with sugar and toss to coat. Scatter blueberries on parchment paper, and let stand in the refrigerator until set—about an hour

10.

Garnish the top of the cheesecake with almonds and sugared blueberries