Grain-Free Muffin with Dates and Pecans
Published on Jun 04, 2019
by
Kristina Stosek
Prep Time:

15 minutes
Cook Time:

25 minutes
Serves:

12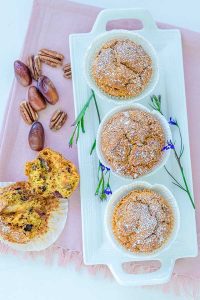 ​This post may contain affiliate links, please see our
privacy policy
for details
I am super excited to share this healthy Grain-Free Date Pecan Muffin recipe. This tasty muffin is made with coconut and arrowroot flour, keeping the muffin gluten-free, grain-free, and paleo-friendly.
♥

This grain-free muffin is more than just sugar and butter!

The date and pecan muffin is not your typical sugar and butter muffin. This wholesome muffin is made without dairy and is flavoured with cardamom and turmeric. Both of these spices are well known in Indian cuisine and add a pleasant flavour to the hearty muffin. Also, the muffin is made with pecans, adding a subtle nutty flavour with a bit of crunch. The fresh lemon juice adds a little zest complimenting the cardamom. To sweeten the muffin, I used mostly dates and a splash of maple syrup.

By using coconut flour in this recipe, I cut back on extra carbs, and the texture is better keeping the muffins moist. One of our most popular muffin recipes made with coconut flour is the grain-free blueberry buttermilk muffin. Coconut flour is often used in keto and paleo recipes. For me, Wednesday is a day to make fresh muffins because weekend baking is gone, so it is time to bake something fresh.

This muffin is packed with protein and fiber, making it an excellent choice for breakfast or a snack on the go!
Grain-Free Muffin with Dates and Pecans
Published on Jun 04, 2019
by
Kristina Stosek
Instructions
1.

2.

Using a medium size bowl combine coconut flour, arrowroot flour/starch, baking powder, baking soda, cardamom, turmeric and salt

3.

In a large bowl using an electric mixer mix eggs, milk, olive oil, maple syrup, lemon and vanilla. While the mixer is running, slowly add dry ingredients and mix until smooth. Stir in dates and pecans. Rest the batter for 15 minutes before filling the muffin pan, the coconut flour will absorb the liquids

4.

Using a large ice cream scoop or a large spoon, scoop out the batter into prepared muffin pan

5.

Bake for 25 - 30 minutes, until a toothpick inserted in the middle of the muffin, comes out clean. Transfer muffins onto a cooling rack to cool
Leave a Comment
I had opposite problem. I used 1 1/3 cup coconut flour and 2/3 cup almond flour.It was so dry I added 1 cup water that my dates were soaking in and it was still a dry batter....but used..hoping they turn out like granola bar.
Kristina
thank you so much for sharing, what a great idea!
I made your muffins with a few little tweaks (1/4 tsp added xanthan gum) and I soaked whole dates in hot water for 30 minutes with 3-4 tbsp raw honey and used that liquid instead of the maple syrup. Resting it for the 15 minutes is a definite must and it absorbed the liquid nicely to make a beautiful batter. I also added a few extra's like granola. They look and taste like a regular muffin. Thank you for a great tasting paleo/gluten free muffin.
Kristina
sorry to hear that, the coconut flour is super absorbent and should absorb any extra moisture. We tested the recipe again and the muffins were delicious. I have revised the recipe by adding "rest the batter for 15 minutes before filling the muffin pan". This allows for the coconut flour to absorb extra moisture.
Oh my goodness...way too much liquid!!! I had to add another cup of flour. Even then, way too much liquid. Dates at the bottom.