Gluten-Free Spaghetti Cake For Kids
Prep Time
15 Minutes
Difficulty
Easy
Cook Time
55 Minutes
Serves
6 - 8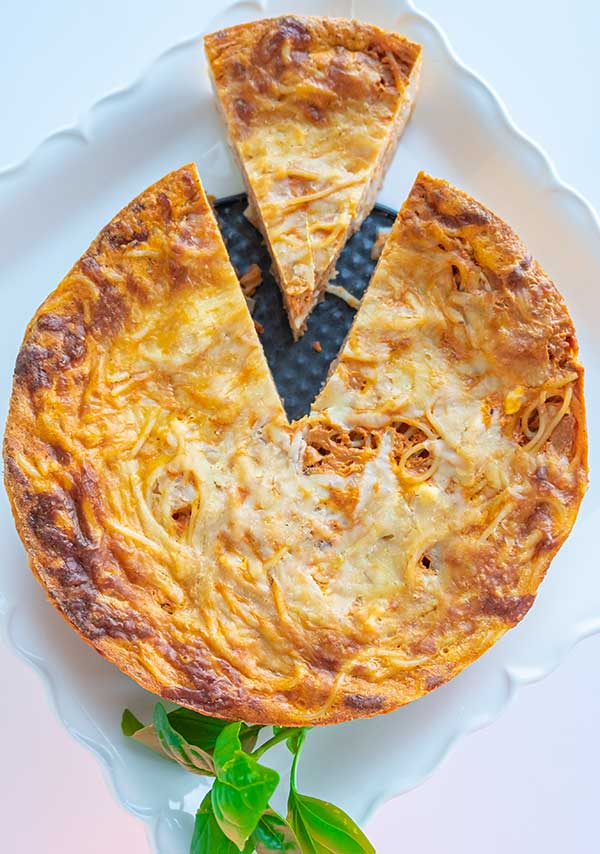 Be the first to rate this recipe.
Gluten-Free Spaghetti Cake For Kids is a great way to get your kids to eat vegetables without them even knowing it. The vegetarian gluten-free spaghetti cake is made with ingredients kids love, like spaghetti, tomato sauce, and cheese. This gluten-free spaghetti recipe for kids is healthier because of hidden carrots, zucchini, onions, garlic and eggs. We all know that sometimes it is hard to get young children to eat healthier food, and it becomes worrisome for moms. No worries, this Italian dish has healthier ingredients and is fun to eat. This spaghetti cake is also excellent as a side with our popular gluten-free southern fried chicken. If you are looking for a healthier midweek meal for your kids, this recipe is for you. Top with extra parmesan cheese and enjoy!
You will find a selection of easy to make healthy gluten-free recipes for kids here->
Ingredients
2 Tbsp. Extra virgin olive oil
1/2 small onion, finely chopped
1 garlic, chopped
1 medium carrot, finely grated
1 medium zucchini, peeled and finely grated
1 Tbsp. GF dried basil
2 cups pure tomato sauce, divided
1 GF bay leaf
2 tsp. Pure maple syrup or honey
1 tsp. Himalayan salt
1/2 cup cream cheese, roughly chopped
1 1/2 cups shredded mozzarella cheese, divided
3 large eggs, whisked
Tip; to save time, I used a food processor to chop the onions, garlic, grate the carrots and zucchini. First chop the onions and garlic, then grate the carrot and zucchini without rinsing the bowl. (1 minute)
Instructions
Preheat oven to 350 F and spray a 9-inch springform pan with cooking oil
Cook pasta per package directions, rinse with cold water, drain and cool.
Sauté onions and garlic in olive oil until soft. About 5 minutes
Stir in carrots, zucchini, basil, 1 1/4 cup of tomato sauce, bay leaf, maple syrup/honey salt and 1/4 cup of water. Cover and simmer for 5 minutes. Since the vegetables are finely grated, they will cook very quickly. Remove from the heat, discard the bay leaf and stir in cream cheese until melted
Mix 1 cup of mozzarella cheese with eggs
Stir tomato sauce with vegetables through the pasta, then add the cheese and egg mixture and mix until combined
Transfer spaghetti into prepared pan and top with remaining tomato sauce. Bake for 45 minutes, then sprinkle with remaining mozzarella cheese and bake 5 more minutes until cheese has melted
Remove from the oven and cool for 10 minutes. Then run a knife inside the edge before releasing the sides. Slice into wedges and enjoy!
Similar Recipes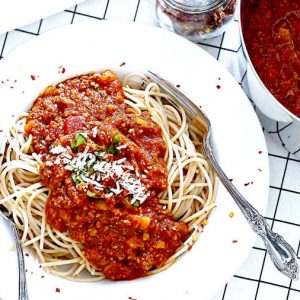 Best Gluten Free Spaghetti Bolognese Recipe
Who doesn't love spaghetti Bolognese? Spaghetti Bolognese is probably the most popular Italian dish. This tasty pasta dish originates from Bologna a northern city in Italy. There are many variations outside of Italy and this one has been the most prevalent in our home. The combination of herbs and spices used in this recipes makes for […] Read More
Prep Time
20 Minutes
Difficulty
Easy
Cook Time
65 Minutes
Serves
6 - 8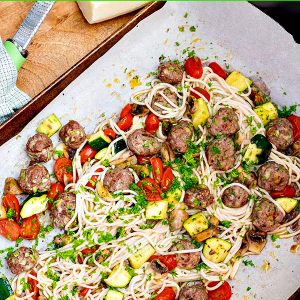 Gluten Free Sheet Pan Spaghetti and Meatballs
Plenty of garlic, fresh vegetables and spices give this sheet pan spaghetti and meatballs lovely rich flavour. This recipe is an easy gluten free weeknight meal made on one baking sheet and in less than 30 minutes. The meatballs are light, made with grated zucchini and Parmesan cheese and are moderately spiced. This dish is […] Read More
Prep Time
10 Minutes
Difficulty
Easy
Cook Time
20 Minutes
Serves
4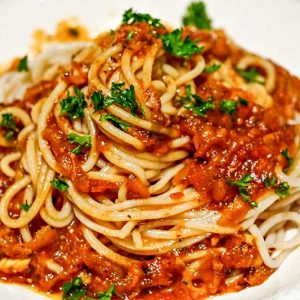 Skinny Zucchini Spaghetti Sauce – Gluten Free
This gluten-free vegan spaghetti sauce is a healthy, meatless version of classic Italian spaghetti sauce.  Whether you are following a vegan diet or looking for a meatless dinner, this skinny spaghetti sauce will satisfy your craving for Italian food every time. Serve over gluten free pasta or spaghetti squash Read More
Prep Time
15 Minutes
Difficulty
Easy
Cook Time
20 Minutes
Serves
4