Gluten-Free Spaghetti Cake For Kids
Published on Aug 05, 2019
by
Kristina Stosek
Prep Time:

15 minutes
Cook Time:

55 minutes
Serves:

6 - 8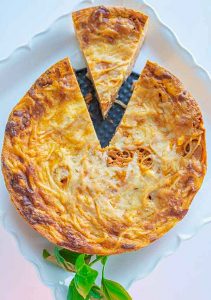 ​This post may contain affiliate links, please see our
privacy policy
for details
Gluten-Free Spaghetti Cake For Kids is a great way to get your kids to eat more vegetables without them even knowing it. The vegetarian, gluten-free spaghetti cake is made with three ingredients most kids love! Spaghetti, tomato sauce, and cheese, but there is more!
Why is this spaghetti dish healthier?
This gluten-free spaghetti recipe is healthier because of hidden vegetables such as carrots, zucchini, onions, garlic and eggs. We all know that sometimes it is hard to get children to eat healthier food, becoming worrisome for moms.
But you don't need to worry anymore. This Italian savoury pie has more veggies than just tomato sauce, making it healthier. And who doesn't like to eat spaghetti cake? It is so much fun to eat 🙂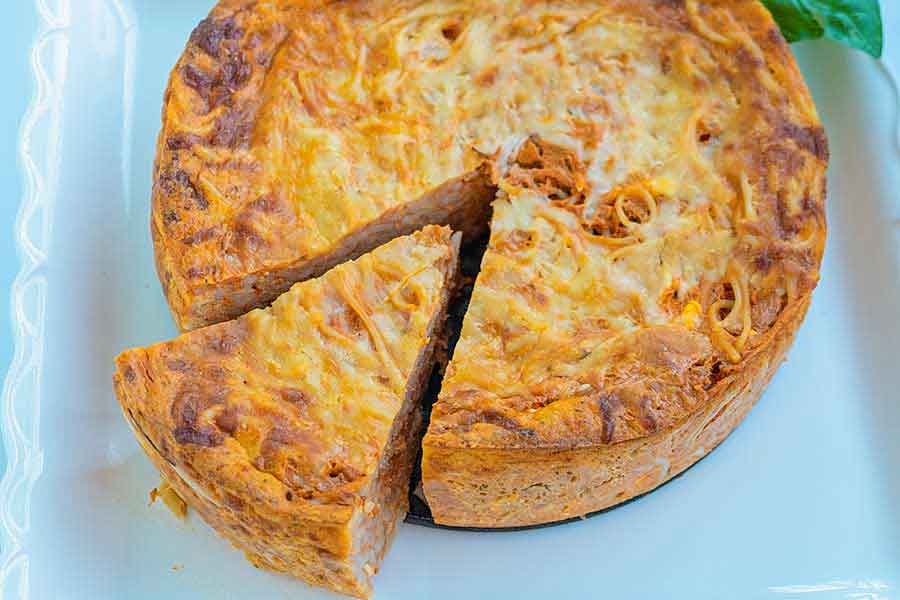 What to serve with spaghetti cake?
This spaghetti dish is hearty enough as a main meal…however, you can serve it as a side with one of the kid's favourites, such as this gluten-free southern fried chicken.
If you are looking for a healthier midweek meal that your kids will eat, try this spaghetti cake. Top with extra parmesan cheese for extra cheesiness before serving.
Need more gluten-free recipes for kids? Here is a list of our most popular healthy gluten-free recipes for kids. The recipes are made simple with flavours that kids love!
Gluten-Free Spaghetti Cake For Kids
Published on Aug 05, 2019
by
Kristina Stosek
Instructions
1.

Preheat oven to 350 F and spray a 9-inch springform pan with cooking oil

2.

Cook pasta per package directions, drain and rinse with cold water. Set aside to cool

3.

Sauté onions and garlic in olive oil until soft. About 5 minutes

4.

Add carrots, zucchini, basil, 1 1/4 cup of tomato sauce, bay leaf, maple syrup/honey and salt. Cover and simmer for 5 minutes. Remove from the heat, discard the bay leaf and stir in cream cheese until melted

5.

Combine the creamy vegetable sauce with pasta, then add 1 cup of mozzarella and eggs and gently mix until combined

6.

Pack the spaghetti into prepared pan and place on a baking tray. Top with remaining tomato sauce. Bake for 35 minutes, then sprinkle with remaining 1/2 cup of mozzarella and bake 5 more minutes until cheese has melted

7.

Remove from the oven and cool for 10 minutes. Then run a knife inside the edge of the pan before releasing the sides. Slice into wedges, sprinkle with Parmesan cheese if you wish and enjoy!