Gluten-Free Orzo With Pesto
Published on Oct 19, 2019
by
Kristina Stosek
Prep Time:

10 minutes
Cook Time:

5+15 minutes
Serves:

4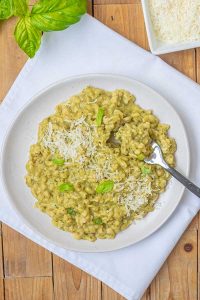 ​This post may contain affiliate links, please see our
privacy policy
for details
Freshly made Gluten-Free Orzo with Pesto under 30 minutes. This orzo recipe is one of the simplest and easiest you will make. Honestly, all you do is mix the flours, eggs a little water and grate on a box grater. For the most delicious pesto sauce, I used a little butter, a hint of garlic, gluten-free chicken broth, pesto and parmesan cheese. All of this goodness is made in one skillet and less than 30 minutes. It's creamy, savoury, garlicky and the gluten-free orzo pasta is made from scratch In this recipe, I used ready-made pesto sauce, but I often use my freshly made walnut pesto sauce in this gluten-free orzo Italian dish. 
Orzo, which means "barley" in Italian, is about the size of cooked rice or barley and can be served as a side dish or as a main. Orzo originated from Italy and is widely used in Mediterranean cuisine, especially in Greece. Orzo is also used in soups and sauces or even in pasta salads. If you are using orzo in salads, toss cooked orzo in olive oil first to avoid the orzo from sticking.
Next week I will be sharing with you my famous gluten-free beef and barley soup made with a herby orzo. You will love it because it is beyond delicious, super simple and made in an Instant Pot. A perfect hearty soup for rainy days! So, stay tuned. You don't want to miss this recipe!
Gluten-Free Orzo With Pesto
Published on Oct 19, 2019
by
Kristina Stosek
Instructions
1.

In a bowl, mix flours, xanthan gum and salt. Make a well in the middle and add the eggs and 1 tablespoon of water

2.

Mix until you form a ball of dough. If the dough is still crumbly add another tablespoon of water or as needed

3.

Turn dough onto lightly floured working surface and cut in half. Knead the dough until you form a smooth ball, about 2 minutes

4.

Cover with plastic wrap and place in the freezer for 15 minutes, not any longer

5.

Remove the dough from the freezer and using the large holes on a box grater grate the dough. (You can do this ahead of time, place the orzo on a tray and refrigerate until ready to use)

6.

Using a large skillet melt the butter. Add garlic and cook over medium heat until the butter starts to brown, about 1 minute.

7.

Add the orzo and stir to coat with the butter mixture. Add chicken broth and bring to boil. Reduce heat to simmer and cook for 5 minutes, until most of the liquid is absorbed. Stir in pesto sauce, parmesan and season with salt and pepper to taste. Serve immediately with extra parmesan cheese and fresh basil if you wish