Gluten Free Oreo Crumbl Cookie Recipe
Published on Dec 01, 2022
by
Kristina Stosek
Prep Time:

15 minutes
Cook Time:

15 minutes
Serves:

10 large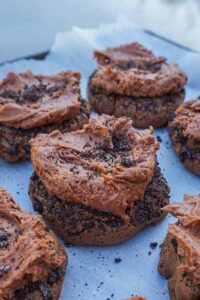 ​This post may contain affiliate links, please see our
privacy policy
for details
Today's recipe is the famous crumbl cookie but without gluten. This gluten free Oreo crumbl cookie is THE BEST cookie by far! These Oreo crumbl cookies are so good that you'll never even know they're gluten free. That's a promise! These cookies are topped with chocolate buttercream frosting and Oreo cookie crumbs. OMG, SO GOOD!
crumbl cookie is more than a cookie – it's a dessert
Crumbl cookies are perfect for those looking for a quick and easy dessert option. They can be made in advance and stored in the fridge for up to two weeks, meaning you can always have fresh cookies-dessert on hand! I have also included seven most popular variations of this much-loved crumbl cookie recipe.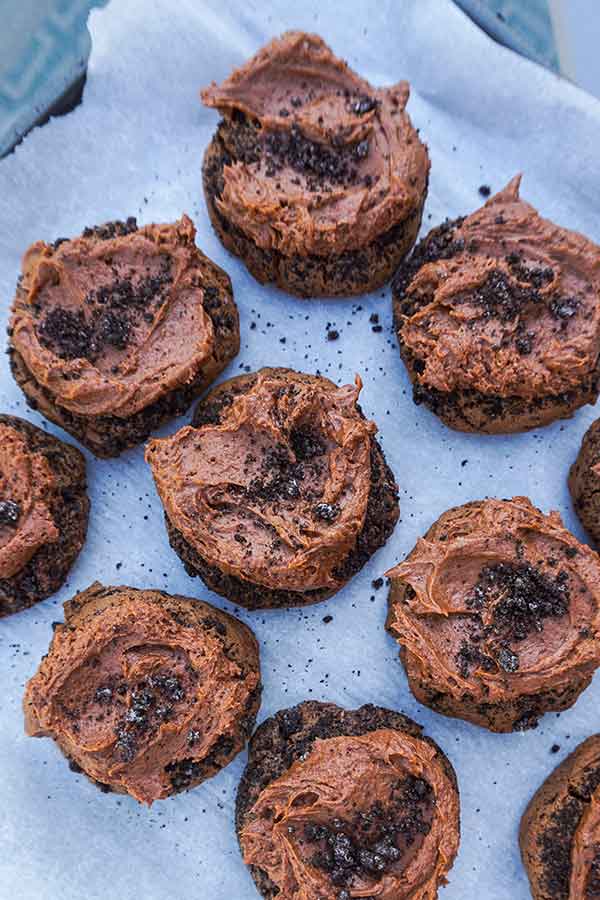 What is a crumbl cookie?
A crumbl cookie is a softer cake-like larger cookie. They are rich tasting because they are made with butter and often with frosting and other toppings.
Crumbl cookies can be flavored with vanilla, chocolate or cinnamon and are decorated with frosting, sprinkles, or other toppings.
Why is crumbl cookie one of the most popular cookies today?
The cookie is so popular because it's anything but a traditional cookie. It is bigger and better and has various toppings. It's almost like a mini frosted cake but with a soft cookie texture.
The best way to find out why the crumbl cookie is so popular is to bake a batch, and you will be convinced that they are insanely delicious.
I tried various flavors, but if you like chocolate, the Oreo cookie was the best. It tastes like a chocolate cake with buttercream frosting and chocolate cookie crumbs.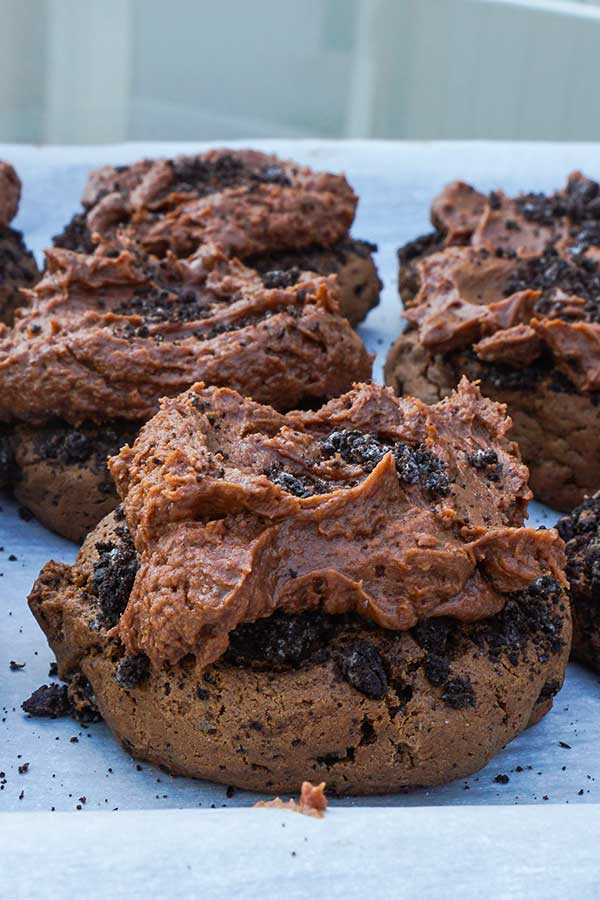 How is crumbl cookie different from other cookies?
Crumbl cookie is different from other cookies because it's bigger, softer and has a topping.
gluten free crumbl cookie recipe overview
The gluten free cookie recipe is pretty basic because all you will need is pantry ingredients. However, the ratio of butter, sugar, eggs and flour is what makes the crumbl cookie stand out.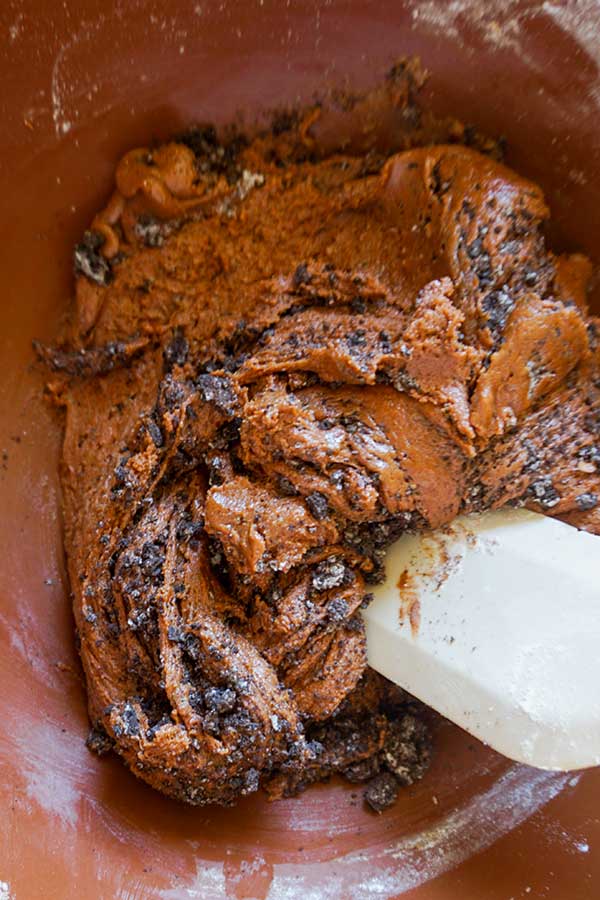 How is gluten free crumbl cookie made?
There are a few key steps to making a gluten free crumbl cookie. First, you'll need to make sure all of your ingredients are gluten free. This includes using a gluten-free flour blend and ensuring that other ingredients (like chocolate chips, powdered sugar or sprinkles) are also gluten free.
In this gluten free Oreo crumbl cookie recipe, I used coconut sugar. I will always use coconut sugar in recipes that require granulated or brown sugar simply because it is slightly better for you and adds more flavor to baked goods.
Start by adding coconut sugar and cocoa to warm melted butter. This melts the sugar, and the cocoa mixes well with the warm butter.
After the butter cools, beat in the eggs. The eggs are what give the cookie the crumbl texture.
Then blend in dry ingredients and oreo cookie crumbs. Gluten free Oreo cookies are now available in most stores. Or you can get them here →
Once the dough is formed, create small balls and dip the top half into Oreo crumbs. Press them gently on the baking sheet into disks and bake.
Since the cookies are larger and have eggs, they take a little longer to bake than traditional cookies.
The chocolate butter frosting is super easy to make. However, my favorite frosting for Oreo crumbl cookies is the homemade gluten free Nutella frosting. YUM!
Most popular crumbl cookie flavors
Milk Chocolate Chip – add cocoa powder to the batter and plenty of milk chocolate chips
Snickerdoodle – add cinnamon to the cookie batter and top with cinnamon buttercream frosting
Pink sugar – add vanilla to cookie batter, then top the cookie with pink almond frosting
Birthday Cake – vanilla-based cookie batter topped with vanilla frosting and rainbow sprinkles
Lemon crinkle – basic crumbl cookie rolled in a lemon flavored granulated sugar mixed with powdered sugar after baking
Boston cream pie – basic crumble cookie topped with vanilla custard cream and chocolate ganache
Gingerbread – add a teaspoon of ginger powder to the batter and top with cinnamon cream cheese frosting and gluten free gingerbread cookie crumbs
As you can see, once you have the basic gluten free crumbl batter, you can create any cookie flavor you like.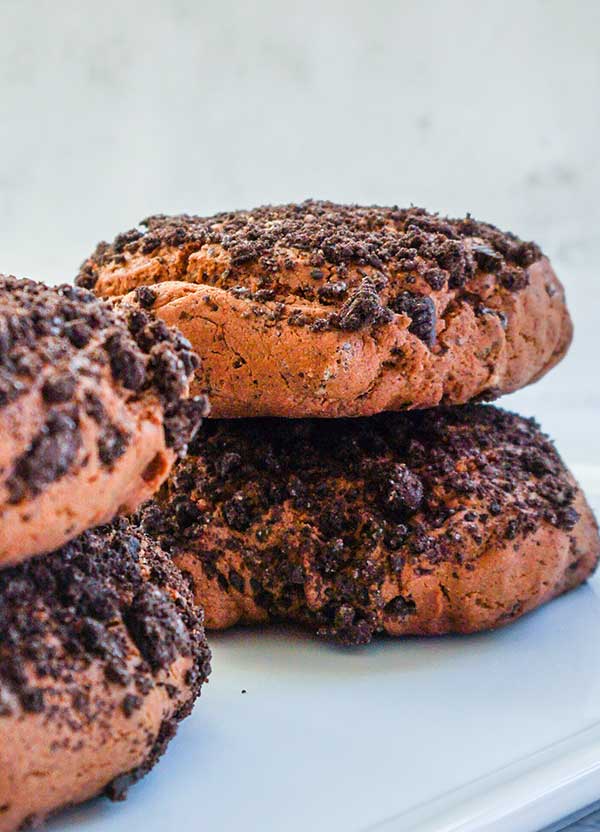 Can you make crumbl cookies dairy-free?
If you have a dairy allergy or are lactose intolerant, you can still enjoy these delicious cookies! Substitute the butter for a dairy-free version like Earth Balance, and use non-dairy milk in the frosting.
These minor changes will not affect the taste or texture of the gluten free Oreo crumbl cookies.
how to store gluten free oreo crumbl cookies
Place cookies in an airtight container and store them in a cool place. They will stay fresh for up to two days.
Otherwise, store them in the refrigerator for up to two weeks. Always bring the cookies to room temperature before serving.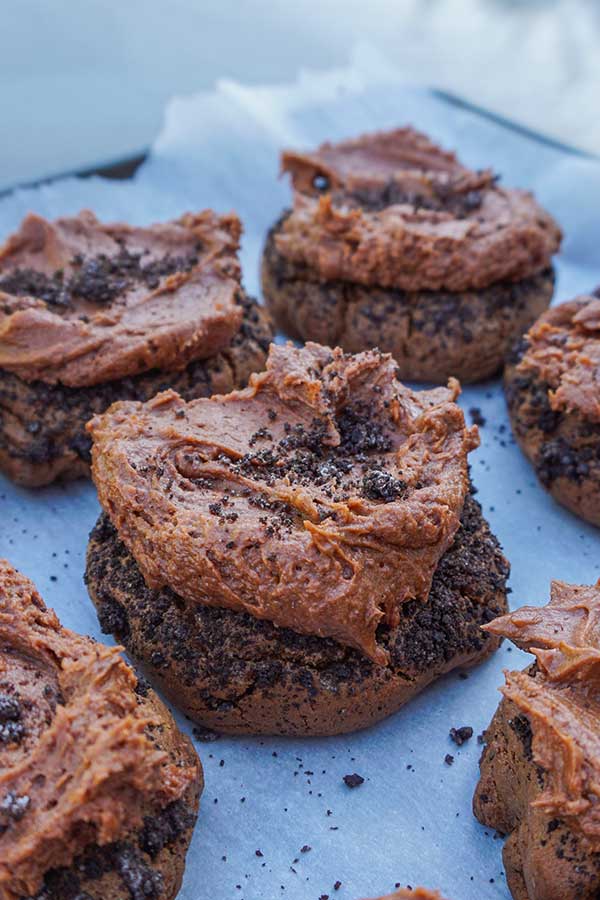 Can you freeze gluten free crumbl cookies with frosting?
Yes, you can. Place cookies on a baking sheet in the freezer for about 15 minutes or until the frosting is solid. Then, wrap them individually with a cling wrap and place them in a freezer bag. They will keep up to three months in the freezer.
To serve, place them in the refrigerator overnight, then bring them to room temperature just before serving.
You will find that these gluten free, crumbl cookies are perfect for any Oreo or chocolate cookie lover out there. I hope you enjoyed this gluten free recipe, and please feel free to share it with others.
Let's Connect!
Be sure to FOLLOW US on FACEBOOK and PINTEREST.
Many thanks!
Kristina xx
Gluten Free Oreo Crumbl Cookie Recipe
Published on Dec 01, 2022
by
Kristina Stosek
Instructions
1.

Preheat oven to 350 F and line a large baking sheet with parchment paper

2.

In a large bowl, combine warm butter, coconut sugar and cocoa powder. Set aside for 15 minutes

3.

Add one egg at a time to the butter mixture and beat until creamy

4.

Whisk dry ingredients, then blend them into the wet mixture until combined. Stir in 1/2 cup of cookie crumbs.

5.

Using a large cookie scoop or a large spoon, divide the dough into 10 balls

6.

Press the top of each ball into the remaining cookie crumbs and place the cookies crumb side facing up on the prepared baking sheet about 3 inches apart. You should have some cookie crumbs leftover to top the buttercream frosting

7.

Lightly press down each ball to create a thick disk and bake for 15 to 17 minutes. The cookie should be firm when you touch it but not cracking. Cool on the baking sheet.

8.

9.

While the cookies are cooling, using an electric mixer, blend butter with powdered sugar, then add cocoa powder and blend to combine

10.

Add vanilla and 1 tablespoon of cream at a time while mixing until you reach desired consistency

11.

Decorate cookies with buttercream frosting and top with remaining cookie crumbs