Gluten-Free Lemon Ricotta Muffins
Prep Time
15 Minutes
Difficulty
Beginner
Cook Time
30 Minutes
Serves
12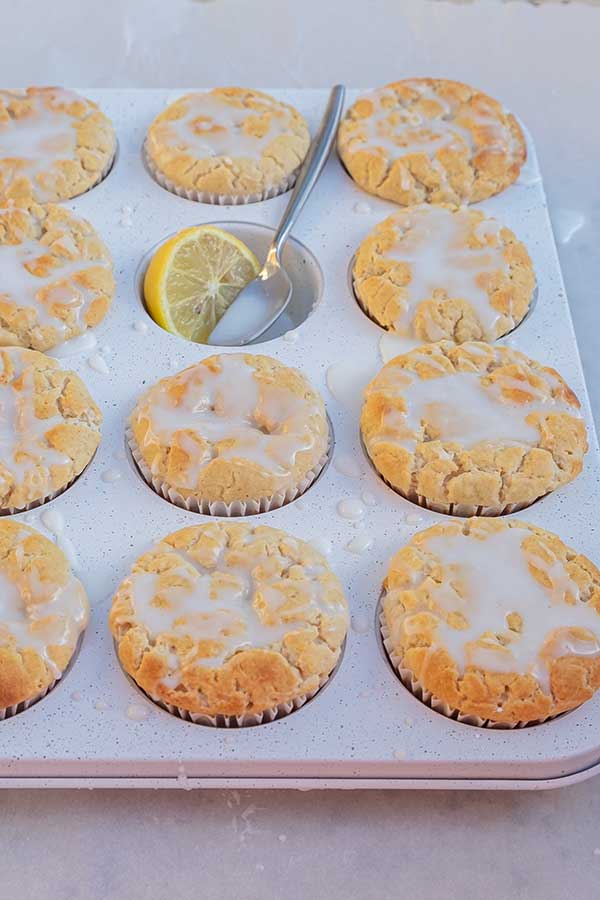 Average Rating: 4.5 | Rated By: 6 users
Delicious and super moist Gluten-Free Lemon Ricotta Muffins. These ricotta muffins are light with a zesty lemony flavour that goes exceptionally well with ricotta. To make these muffins even tastier, they are drizzled with a fresh lemon glaze.
If you struggle with gluten-free baking, you're not alone. It takes valuable time to learn what is and isn't gluten-free. These days the thought of giving up your favourite desserts and sweet snacks doesn't have to be an option.
This lemon and ricotta muffin recipe showcases that making tasty muffins doesn't have to be a struggle. There are ways to bake delicious gluten-free treats without sacrificing the taste and texture you crave.
ricotta makes these muffins extra moist,
These fresh lemon ricotta muffins fit the bill for healthy snacks and the sweet-savoury flavour that you desire. The ricotta replaces butter that many muffin recipes have as the main ingredient. Adding ricotta is what makes these muffins super moist and delicious without adding extra fats.
Best of all, it takes no time at all to make these insanely good lemon ricotta muffins. Using a gluten-free biscuit and baking mix makes this muffin recipe super easy.
There is no need to mix various flours because you will need only one, the gluten-free biscuit and baking mix. Sometimes we need to keep things super simple, such as this gluten-free muffin recipe.
lemon ricotta muffin – the ingredients…
For this muffin recipe, you will need only nine ingredients and fifteen minutes of prep time. The main ingredient is the ricotta, then gluten-free biscuit and baking mix, egg, sweetener, milk, vanilla, lemons, and baking powder.
To make these gluten-free muffins extra lemony, I used a 1/2 cup of fresh lemon juice in the recipe, and I topped the muffins with a freshly made lemon glaze. The muffins are almost like a baked pudding with a sweet and zesty sauce. YUM!
let us talk about the healthy ingredients in this muffin recipe…
fresh lemons,
Lemons have been known to keep the heart healthy for hundreds of years. Vitamin C is essential in helping your body absorb iron and maintain a proper blood clotting process, which is why it's so important to get enough of this vital vitamin from food sources. You can get enough vitamin C from these easy-to-make lemon ricotta muffins.
Beyond keeping your heart healthy, lemons are great for digestive health, a significant health benefit for adherents of a gluten-free diet. Lemons contain soluble fiber and simple sugar, with the primary one being pectin.
Soluble fiber aids and improves gut health while slowing down the digestion of sugar and starches. This attribute makes lemon juice a food ingredient that helps to reduce blood sugar levels.
In this easy gluten-free muffin recipe, you'll find fresh lemon juice and lemon zest, providing you with all the nutritional and healthy benefits of fresh lemon.
ricotta,
Ricotta, the other star ingredient in this easy gluten-free muffin recipe, provides numerous nutritional benefits for the body. It is an excellent protein source made up of all the essential amino acids in equal amounts. Protein is a vital nutrient that keeps our hair, skin, nails, and bones healthy.
This cheese is not only filled with vital protein that your body needs, but it is also a rich source of selenium. Selenium is an essential mineral that acts as an antioxidant, keeping the body protected from damage.
Calcium is also present in ricotta cheese in large amounts. Calcium helps us maintain healthy bones and keeps our muscles functioning. I could go on and on about the nutritional benefits of ricotta, but you can deduce that this is a healthy ingredient that makes this easy lemon ricotta muffins a must-try.
lemon and ricotta cheese together…
Lemon and ricotta seem like a surprising combination for making muffins, but that's what makes these healthy treats so fabulous. The fresh lemon juice and zest flavour go so well with the creamy and sweet tangy taste of the ricotta cheese. And not only do these muffins smell heavenly while baking, but they taste as good as they smell.
While the combination of lemon and ricotta may leave you wondering, the numerous benefits your body and health stand to gain from this savoury and healthy lemon glaze muffin will make you crave more again and again.
If you like ricotta, have a look at our selection of gluten-free recipes made with ricotta.
.
Ingredients
1 1/2 cups ricotta cheese
1 large egg
3/4 cup fine coconut sugar (these muffins are not meant to be too sweet, if you like sweeter muffins add more sugar)
1 cup milk
1/2 tsp pure vanilla extract
1/2 cup fresh lemon juice
1 tsp. grated lemon zest
2 Tbsp. extra virgin olive oil
1 1/2 tsp. GF baking powder (preferably aluminum free)
LEMON GLAZE
1/2 cup GF powdered sugar
1 Tbsp. milk
1 tsp. fresh lemon juice
*As an Amazon Associate and member of other affiliate programs, I earn from qualifying purchases. Please check out my sponsorship and disclosure policy page for more details
Instructions
Preheat oven to 375 F
In a large bowl, whisk together ricotta cheese, egg, sugar, milk, vanilla, lemon juice, lemon zest and olive oil
In a separate bowl mix biscuit mix and baking powder
Add cheese mixture to dry ingredients and mix to combine
Line a muffin pan with parchment paper cups and pour batter evenly into each cup. Bake for 30 -38 minutes until muffin tops are starting to turn golden colour and the muffin passes the toothpick test. You must use parchment paper muffin liners, otherwise the muffin will stick to the paper.
For the lemon glaze; add all the ingredients to a bowl and whisk until smooth. Drizzle glaze over cooled muffins
Similar Recipes
Best Gluten Free Banana Apple Muffins
For an exceptional treat, these Gluten-Free Banana Apple Muffins with their moist, light and tender texture brimming with apples and sweetened with bananas are not to be missed. Is there anything more tantalizing than sweet muffins spiced with cinnamon? Most sweet snacks are full of sugar and butter, but this dairy-free muffin is packed with […] Read More
Prep Time
15 Minutes
Difficulty
Easy
Cook Time
35 Minutes
Best Gluten Free Blueberry Apple Muffins
This plant-based recipe is the Best Gluten-Free Blueberry Apple Muffin because it checks all the boxes. The muffin is healthy, plant-based, made with heart-healthy olive oil and superfoods such as blueberries and apples. How does the blueberry apple muffin taste? This gluten-free muffin has a tender, moist crumb and bursts with blueberries, apples, and a […] Read More
Prep Time
15 Minutes
Difficulty
Easy
Cook Time
35 Minutes