Gluten-Free Jam-Bellied Flax Scones
Published on Apr 24, 2022
by
Kristina Stosek
Prep Time:

20 minutes
Cook Time:

18 minutes
Serves:

12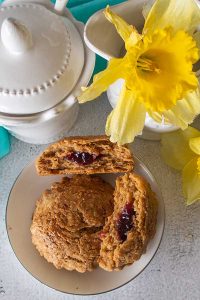 ​This post may contain affiliate links, please see our
privacy policy
for details
Today, I am super excited to share this Gluten-Free Jam-Bellied Flax Scone recipe. These scrumptious scones are buttery, filled with delicious warm jam, and made with flaxseeds. In these jam-bellied scones, I have also included ground flaxseeds for healthiness. This tiny seed added a delicious nutty flavour and a melt in your mouth scone texture.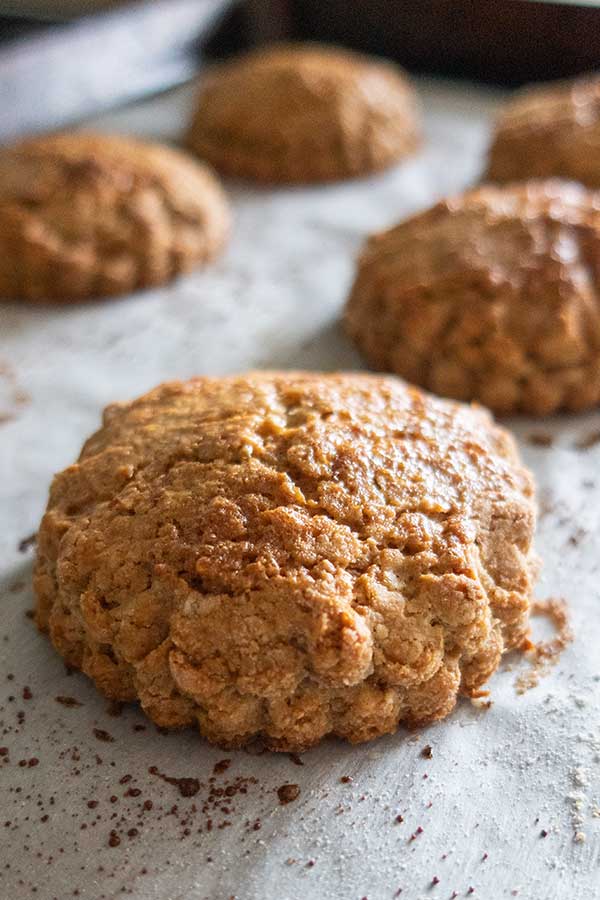 The jam added extra sweetness, making these gluten-free flax scones perfect for sweet cravings. The best part is they are healthier than the classic scone. One of our most popular scones is the Gluten-Free Zesty Blueberry Scones Recipe.
What is flaxseed?
Flaxseed is a plant-based food that provides healthful fat, antioxidants, and fiber. Flaxseed is 20 – 30 percent protein and has large doses of omega-3 fatty acids.
Research suggests that flaxseed may help prevent different types of cancer cells from growing and may help reduce breast cancer after menopause.
What is the difference between flaxseed meal and ground flaxseeds?
The primary difference between ground flaxseed and flaxseed meal is how they are ground.
With ground flaxseed, whole flax seeds are ground into a powder consistency. In contrast, flaxseed meal is usually the by-product of creating flaxseed oil.
Although whole flaxseed or ground offer the same nutritional benefits and a flour-like texture, the flaxseed meal is easier to digest.
As per Mayo Clinic, you might not completely digest whole flaxseeds. This means that your body cannot fully absorb the nutrients.
To get the full benefits, consider using ground flaxseeds.
How to make flaxseed meal at home?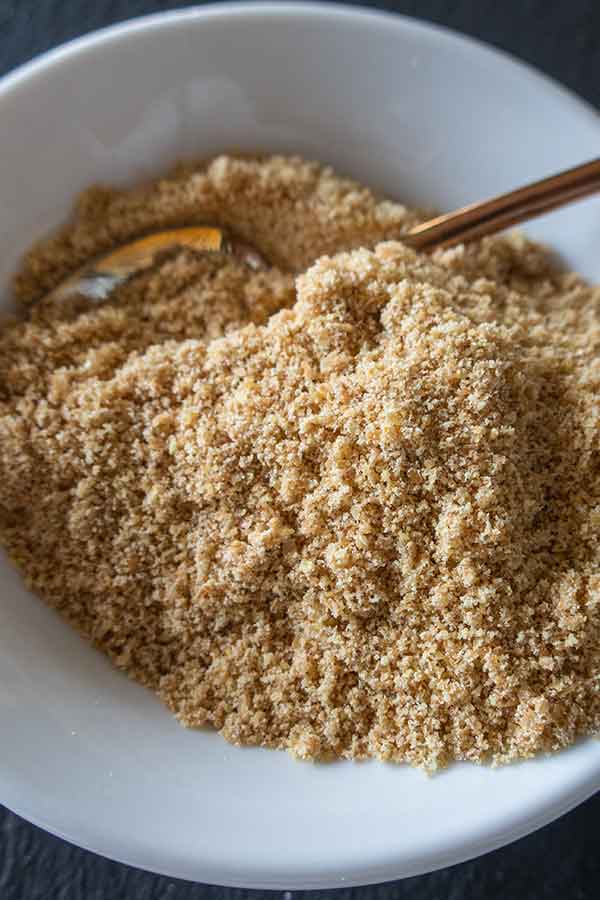 You can buy gluten-free flaxseed meal. However, if you have a coffee grinder or a blender like the bullet, you can ground whole flaxseeds into powder at home.
How to store ground flaxseed?
Store at room temperature up to ten months to preserve nutritional value and freshness.
How to use flaxseed?
You can add this tiny seed as a whole or ground to overnight oats for added nutrition. In the form of ground flaxseed, use it in baking, or add a spoonful to smoothies, stews and casseroles for extra healthiness. Or, if you are following an egg-free diet you can replace an egg with a flax egg.
Is coconut sugar healthier than white sugar?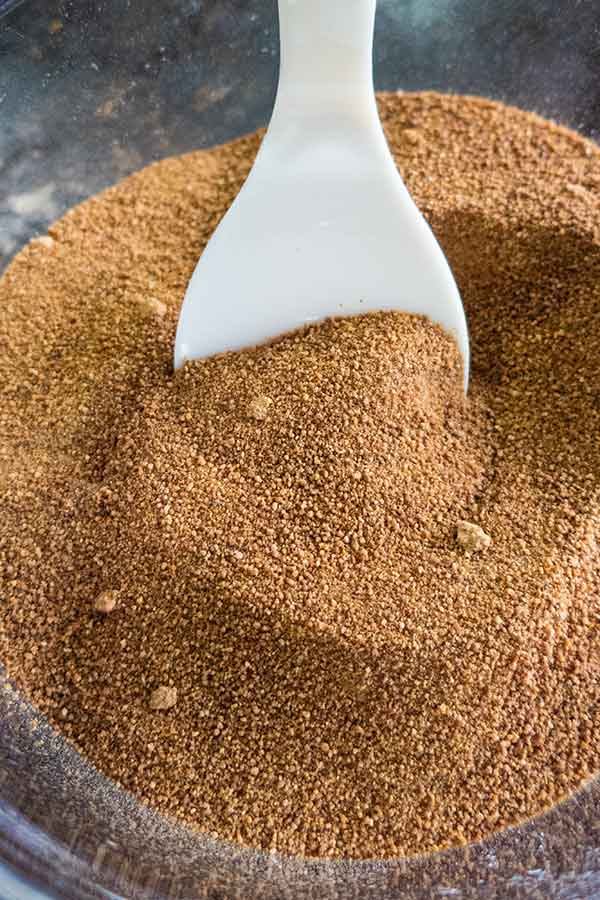 Coconut sugar is still sugar, so very similar to white table sugar. However, if you are looking to keep your blood glucose and energy levels up, coconut sugar is a better choice because of lower chances of a blood sugar spike.
Per serving, coconut sugar contains a small amount of inulin, a type of soluble fiber that can make post-meal blood sugar spikes less likely, as per WebMD.
Coconut sugar is also not as processed and contains minor amounts of nutrients such as zinc, calcium, iron and potassium.
gluten free jam-bellied flax scones recipe overview
Start with mixing dry ingredients in a large bowl. Add grated ice-cold butter and mix in yogurt and cream. Don't overwork the dough. You should have large clumps of dough.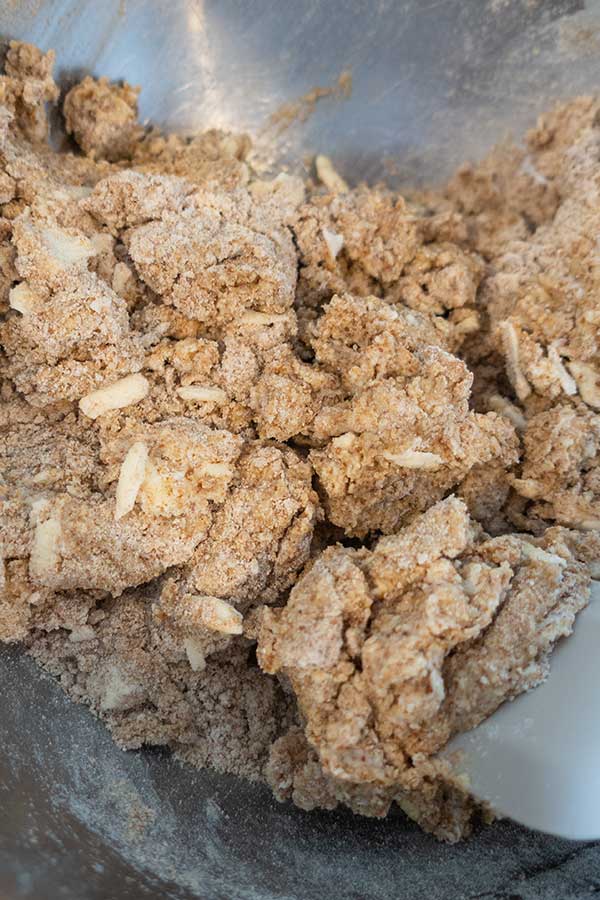 Then, roll out the dough on a lightly floured working surface to about 1/2″ thickness. Cut out into 2 1/2″ rounds, and place half of them on a prepared baking sheet.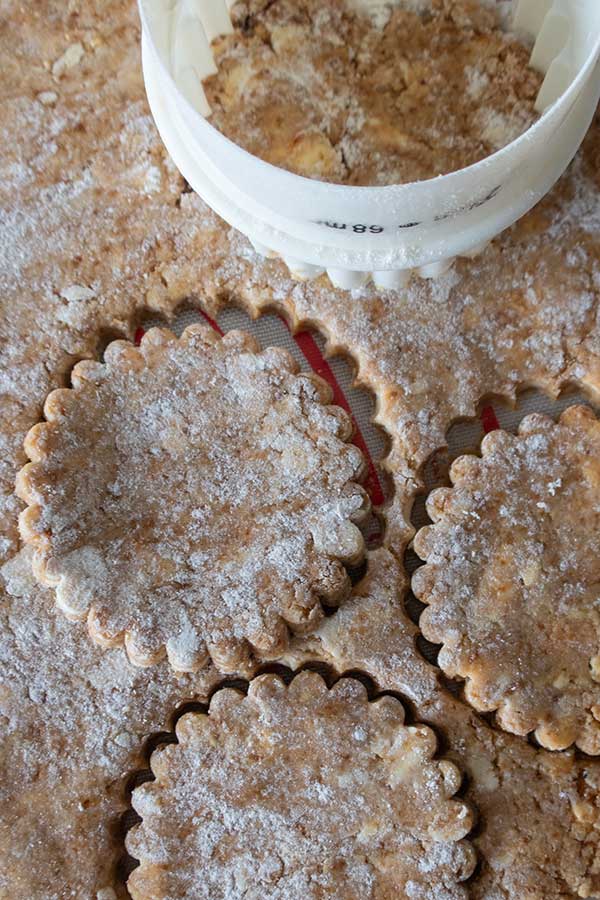 Using the back of a spoon, I used a measuring spoon, make impressions in the center of half of the circles.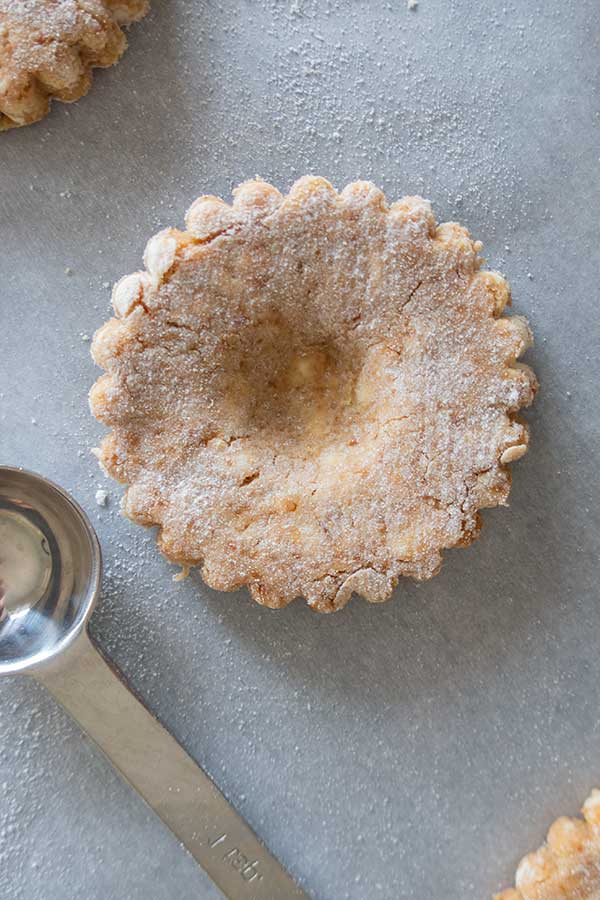 Dollop some jam in the center, brush the edges with egg wash, and top with the remaining dough circles. Using your fingers crimp the edges to seal the jam.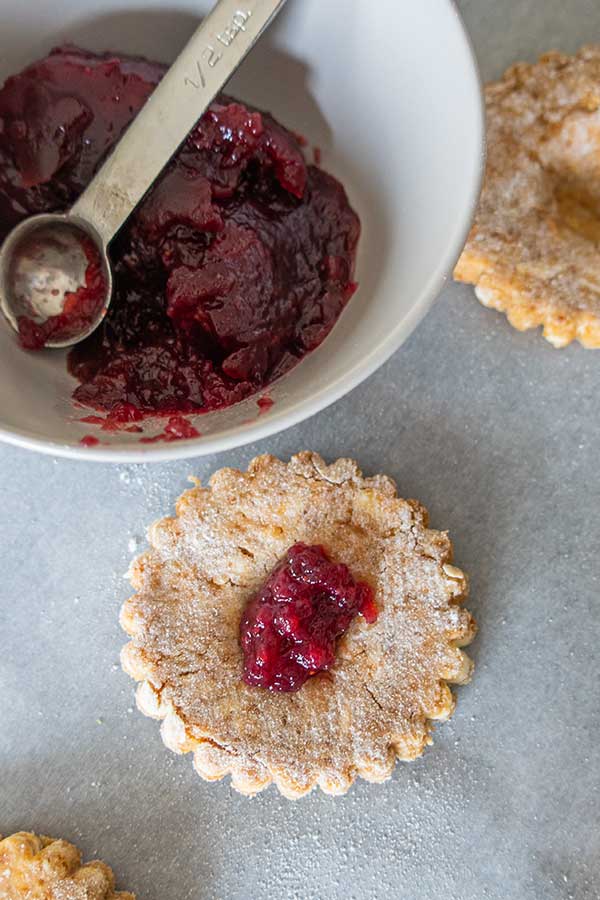 Brush the scones with egg wash, sprinkle with sugar and bake.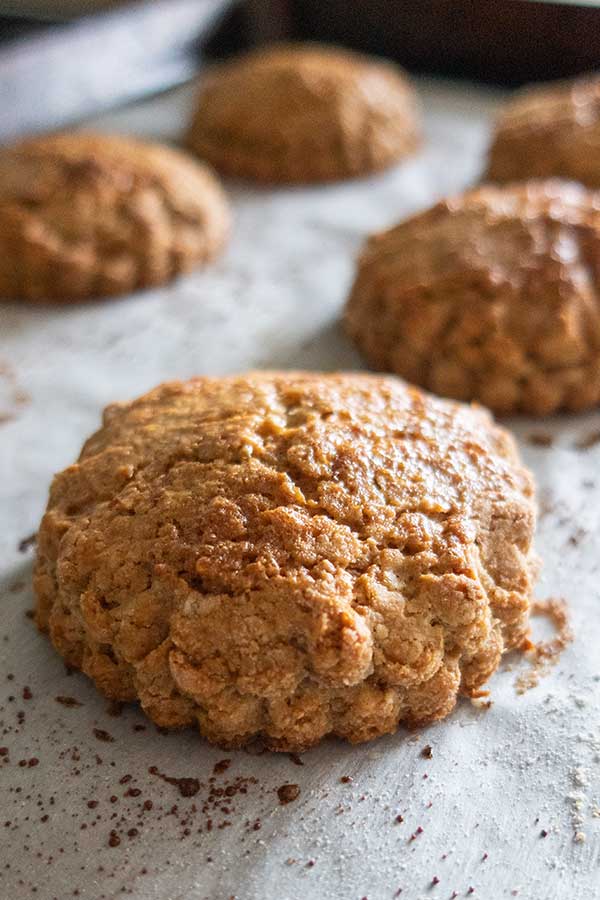 How to store jam-bellied flax scones?
Store scones in an airtight container at room temperature for up to three days. For freshest tasting scones, warm them up in the oven or for 20 seconds in the microwave.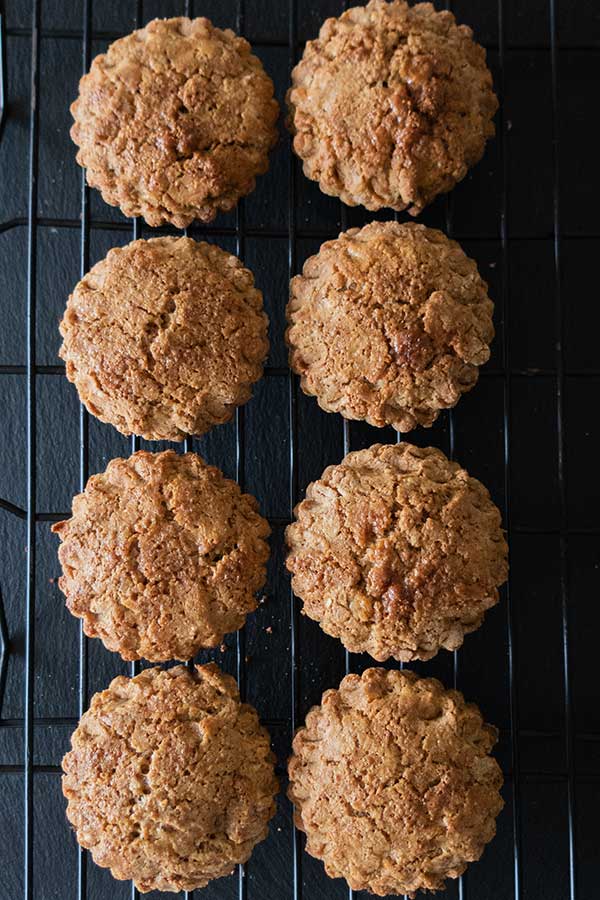 Can you freeze scones?
Yes, you can. Wrap the scones tightly in foil paper, then place them in a freezer bag. To serve, bring the scones to room temperature, then pop them in the oven or microwave to heat them up.
The gluten-free jam-bellied flax scones will keep up to two months in the freezer.
serving suggestion for gluten-free jam-bellied flax scones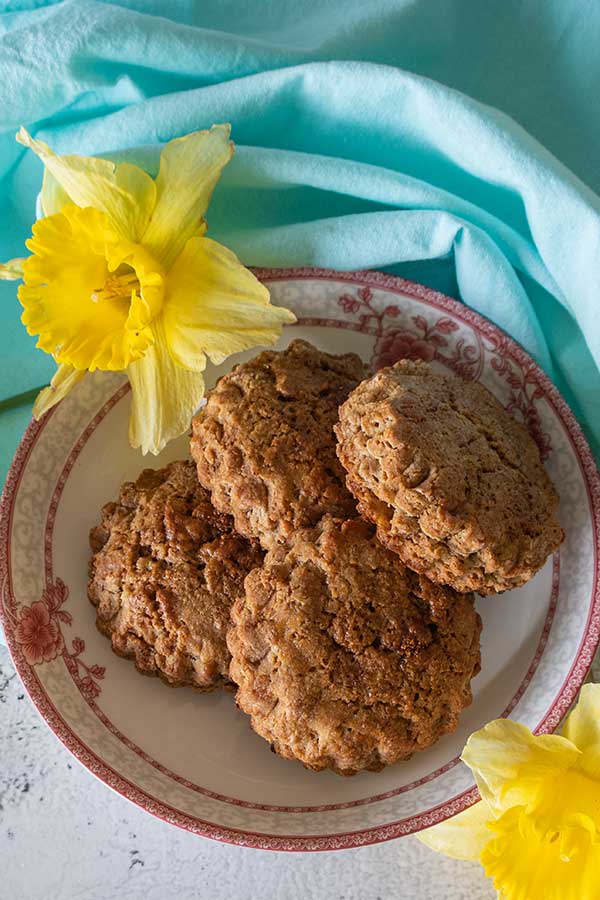 For best texture and flavour, all gluten-free scones should be enjoyed warm. The sweet warm jam, accentuates the nutty buttery flax scones making them perfect for special occasions or brunch. Enjoy!
Let's Connect!
Be sure to FOLLOW US on FACEBOOK or, check us out on PINTEREST. And don't forget to sign up for our newsletter. We always have something new and exciting for you!
Many thanks!
Kristina xx
Gluten-Free Jam-Bellied Flax Scones
Published on Apr 24, 2022
by
Kristina Stosek
Instructions
1.

Preheat the oven to 375 F. Line a baking sheet with parchment paper or spray a baking sheet with cooking oil

2.

In a large bowl, whisk together flour, flaxseed, baking powder, sugar and salt

3.

Using a box grater on the large blade, grate the frozen butter into the flour mixture. Mix to coat the butter with flour

4.

Add cream and yogurt and mix to combine until large clumps form (see pictures in blog)

5.

Roll the dough on a lightly floured surface about 1/2" thick. Cut into 2 1/2" rounds and transfer half of them to the baking sheet. For leftover scraps, stack them on top of each other, and roll out the dough. Continue with cutting out rounds.

6.

Using the back of a teaspoon, make impressions in the center of half of the circles. Fill each impression with about 1 teaspoon of jam. Brush the edges with eggwash and top with the remaining half of the circles. Using your fingers, gently press the edges together to seal the jam

7.

Brush tops with eggwash and sprinkle with coconut sugar. Bake for 16 - 18 minutes. I baked mine for 17 minutes. They should be rich golden colour not dark brown. Remove from the oven, cool on the pan for five minutes, and then transfer onto a cooling rack. Serve warm or at room temperature