Gluten-Free Easy Hot Artichoke Dip Recipe
Published on Mar 14, 2014
by
Kristina Stosek
Prep Time:

10 minutes
Cook Time:

25 minutes
Serves:

6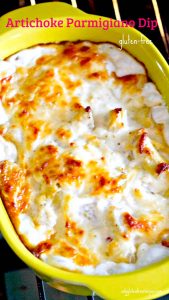 ​This post may contain affiliate links, please see our
privacy policy
for details
When it comes to hot appetizers, cheesy dips are always a huge hit. Especially one like this Gluten-Free Hot Artichoke Dip. Gooey cheesy with tender artichokes throughout. This hot dip is a classic.
When I created this artichoke dip, I had healthiness in mind. I wanted to skip the mayonnaise that is typically used in many hot dips.
I used cooked artichoke hearts, Parmesan and mozzarella cheese, low-fat sour cream, garlic, and fresh lemon juice in this artichoke dip recipe.
A good dip does not need several ingredients, only a good amount of cheese. The artichokes added texture, and the creaminess came from the sour cream.
Since I did not use mayonnaise in this hot artichoke dip, I added fresh lemon juice. I found that some people are sensitive to eggs, so this was a better option.
The combination of sour cream and lemon juice gave me the same results that you would get from using mayonnaise.
The hint of garlic added flavour and tied everything together to perfection.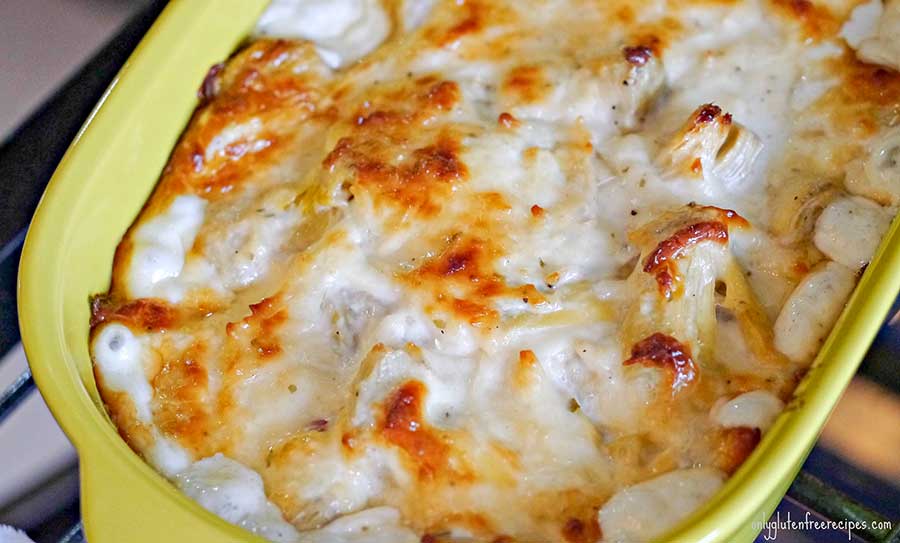 the details…
To make this hot dip is sooo easy! If you have never made an appetizer, this recipe is a keeper. First, mix everything in a bowl. Transfer the mixture into a 4 – 6 cup oven-proof casserole dish, and bake until bubbly.
Hot dips are often served with corn chips, raw veggies or delicious bread for dipping. I found that the gluten-free olive bread is just what this dip needed.
What I love about this hot artichoke dip is that it is mayonnaise-free. The texture and deliciousness are the same. And, it is lower in calories and without eggs – making this dip a healthier option.
Are you having a party? Double the recipe because this hot artichoke dip goes very quickly. Need to bring something to a dinner party? Mix the dip at home, and bake it at the party. This way, the dip is fresh and hot. Enjoy!
Gluten-Free Easy Hot Artichoke Dip Recipe
Published on Mar 14, 2014
by
Kristina Stosek
Instructions
1.

2.

Using a large bowl, mix everything together

3.

Transfer the mixture to a 4 - 6 cup oven-proof casserole dish and bake for 20 - 25 minutes or until the top is golden and bubbling