Gluten-Free Homemade Hamburger Helper
Prep Time
10 Minutes
Difficulty
Beginner
Cook Time
20 Minutes
Serves
4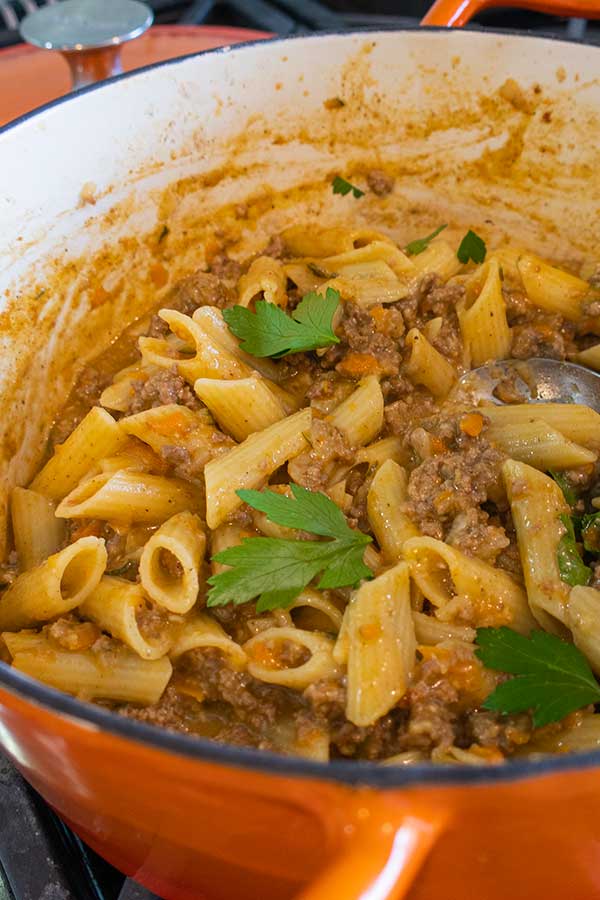 Average Rating: 4.5 | Rated By: 6 users
A healthier classic Hamburger Helper with a depth of flavour and nutritious veggies. This easy one-pot gluten-free pasta dinner is made with ground beef, shredded carrots, zucchini, cheddar cheese, sour cream, spices and gluten-free pasta.
Remember the boxed version? This recipe is a healthier and more delicious option made entirely from scratch in under 30 minutes using only one pot.
classic hamburger helper but healthier
Nothing beats a meal made from scratch. Lean ground beef and fresh veggies cooked in a rich meaty sauce, with gluten-free pasta and classic hamburger helper seasoning. So much goodness in a simple 30-minute one-pot ground beef recipe.
Why is this hamburger helper dinner better?
Firstly, you will need only one pot. So the recipe is simple. The added grated carrots and zucchini add healthiness, moisture and flavour, The best part, you can't tell the hamburger helper is made with veggies. So, even the pickiest eaters will love this healthier version. And you control the seasoning and salt: no additives, colours or excessive sodium.
easiest ground beef recipe, here are the details
Start with a big pot. I love this one. It is a perfect size and pretty so that you can serve the classic hamburger helper dinner straight from the stove to the table. Easy cleanup 🙂
To start, brown the ground beef with onions, which is pretty standard. Next, add the seasoning, ketchup, mustard, zucchini and carrots with some water. Simmer everything for about 15 minutes.
Cooking the sauce first adds depth of flavour and softens the beef and veggies.
Now that the sauce is rich and flavourful, add the pasta. I used gluten-free penne, but you can use any short cut gluten-free pasta. The reason I used penne is that this is a tube-like pasta, and the sauce fills the inside, so every bite is rich and meaty, not just coated with the sauce. 
beef broth is not needed for this hamburger helper recipe
You may have noticed I have not added beef broth to this hamburger helper recipe. The reason for this is, by simmering the beef and veggies first, the beef flavour is intense enough that you do not need to add the broth—another saving for this budget-friendly ground beef recipe.
the secret is not to overcook the gluten-free pasta
The pasta is cooked briefly. You don't want to overcook the pasta, or it will become mushy and the dish will become dry. The penne should be al-dente, cooked but firm to bite. Don't worry; the pasta continues cooking even after you stop cooking it.
At the very end, stir in some sour cream for added creaminess, and cheddar cheese. YUM, so so good! I haven't met anyone yet that didn't enjoy this childhood classic hamburger helper.
A Healthier ground beef pasta dinner kids love!
What got me excited when I started creating this gluten-free version of the classic hamburger helper recipe is that I could include veggies that are not visible to those picky eaters. You can shred the veggies, or if you have super fussy younger children, grate them. The veggies will be invisible.
difference between shredding and grating
Shredding will form small strands visible to the eye, and some picky eaters may object. Grating reduces the food to tiny fragments making the veggies pretty much invisible. 
When making gluten-free carrot muffins, I like to grate the carrots because they add moisture to the muffin, and kids will eat them if they can't spot the carrots…lol.
One of my most visited pages on my site is the gluten-free one-pot casserole dishes. So, check them out. If this ground beef pasta dish isn't for you, I am sure you will find something tasty and simple to make.
This gluten-free hamburger helper is a cozy cold-weather dinner made from scratch in under 30 minutes. It is an excellent pasta recipe to add to easy family dinners because it's comfort food that the entire family will enjoy. 
Besides the flavour, the best part about this gluten-free ground beef recipe is, that this is a budget-friendly pasta dinner. Enjoy!
Let's Connect!
Be sure to FOLLOW US on FACEBOOK and PINTEREST.
Many thanks!
Kristina xx
Ingredients
1 Tbsp. extra virgin olive oil 
1 large yellow onion, finely chopped
1 1/4 lb. lean ground beef
2 garlic cloves, minced or 1/2 tsp. GF garlic powder
1 tsp. GF paprika
1 tsp. GF chilli powder
1 cup shredded zucchini (about 1 small zucchini, skin on)
1 cup shredded carrot (about 1 medium carrot)
2 Tbsp. GF ketchup
1 tsp. GF dijon mustard (optional), but adds good flavour
1/2 cup sour cream
1 1/2 cups shredded cheddar cheese
Sea salt and GF ground black pepper to taste
Chopped fresh herbs for serving (optional)
*As an Amazon Associate and member of other affiliate programs, I earn from qualifying purchases. Please check out my sponsorship and disclosure policy page for more details
Instructions
Heat a large pot over medium-high heat, add olive oil and onions and stir to coat. Add ground beef and cook until brown all over, breaking up the meat as needed. Stir in garlic, paprika and chilli powder until combined
Add zucchini, carrots, ketchup, mustard, season with salt and pepper and add 2 cups of water. Bring to a boil, cover and reduce the heat to simmer. Cook for 15 minutes
Add pasta and 2 more cups of water. Bring to a boil, cover, reduce heat to simmer and cook 8 - 10 minutes, depending on the brand. The pasta should be al-dente, cooked but firm to bite. Do not overcook the pasta
Stir in sour cream and cheese, and while stirring, cook until the cheese has melted and the sauce becomes creamy—about 2 minutes. Taste and adjust salt as needed. If the sauce is too thick, add extra water or milk/cream. The sauce will thicken as the pasta rests. Cover and rest for 10 minutes before serving. Top with fresh chopped herbs if you like
Similar Recipes
Gluten-Free Ground Beef and Mushroom Casserole
This Gluten-Free Ground Beef and Mushroom Casserole is a thirty-minute weeknight pasta dinner. The pasta is smothered with a cheesy, meaty sauce seasoned with basil and oregano. This quick and easy gluten-free Casserole is great for any night of the week because you can have it ready on the table in under thirty minutes.   […] Read More
Prep Time
5 Minutes
Difficulty
Beginner
Cook Time
25 Minutes
Serves
4 - 6
30 Minute Gluten-Free Stovetop Lasagna
Creamy 30 Minute Gluten-Free Stovetop Lasagna never tasted this good before. This Italian dish is the easiest lasagna recipe ever! Creamy and meaty sauce made with buttermilk, cheese, tomato paste, ground beef, mushrooms, onions, garlic, and spices. The sauce is super flavourful, and you don't even have to add ricotta or cottage cheese.     […] Read More
Prep Time
10 Minutes
Difficulty
Beginner
Cook Time
20 Minutes
Serves
6