Gluten-Free Ham and Cheese Fritters
Published on May 12, 2020
by
Kristina Stosek
Prep Time:

10 minutes
Cook Time:

20 minutes
Serves:

30 fritters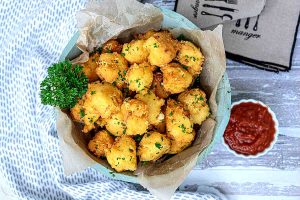 ​This post may contain affiliate links, please see our
privacy policy
for details
Enticingly addictive Gluten-Free Ham and Cheese Fritters – light and pillowy with lightly crispy coating and filled with ham and cheddar chunks.  Finger food is always a favourite, especially when it is filled with melted cheese and pieces of ham throughout.
♥

What is a fritter?

Fritter is a light dough filled with savoury or sweet filling and then fried. The sweet filling can be fresh fruit or jam. For the savoury fritters, they can be filled with so many different things – veggies, meats, cheese or just herbs. These gluten-free fritters are savoury filled with cheddar cheese, ham and a pinch of rosemary. 

The fritter dough is made simply by mixing everything together. Once the dough is made, it is then deep-fried. I know the word fried is not very appealing. The good thing is, these gluten-free fritters absorb very little oil. And besides, indulging once in a while, especially during these difficult times is ok. You will find it's hard to stop with just one, they are that good.

What I love about fritters they are such a versatile food. You can serve them as finger food at dinner parties, enjoy them with hearty soups and stews, or an anytime snack. My favourite way to serve them is with fresh tomato marinara sauce. The two foods are meant to be together.

If you are not a fan of ham or cheese, you can use steamed veggies, chickpeas, fresh herbs, prosciutto, or turn them into something sweet by adding raisins and a little maple syrup or chopped fresh fruit. Either way, this is an excellent basic gluten-free fritter dough recipe that you can use with your favourite add-ins.

If you are looking for finger food, please check out our selection of gluten-free food to share recipes. I am sure you will find something to enjoy or inspire you to create your version. Enjoy!
Gluten-Free Ham and Cheese Fritters
Published on May 12, 2020
by
Kristina Stosek
Instructions
1.

Mix flour, arrowroot powder, baking powder, xanthan gum and salt

2.

Whisk together milk, eggs and olive oil and add to dry ingredients. Mix to combine. Stir in ham and cheese cubes

3.

Heat about 2 inches of vegetable oil over medium heat. Using a small cookie scoop or a teaspoon drop batter into the hot oil. Cook for about 1 1/2 minutes per side. The fritters should be golden brown. Drain on paper towels.