Gluten-Free Cream Cheese Vanilla Cake

Prep Time
15 Minutes
Difficulty
Easy
Cook Time
45 Minutes
Serves
6
Average Rating: 5 | Rated By: 5 users
What a perfect dessert, a Gluten-Free Cream Cheese Vanilla Cake. A layer of light cake topped with fluffy cheesecake with vanilla essence and finished with a buttery crumb topping. Perfection on a plate if you ask me!
This gluten-free dessert is not a dense cheesecake or a simple coffee cake…it is a combination of a delicious cake and a layer of heavenly light vanilla cheesecake. Honestly, it is a slice of heaven, YUM!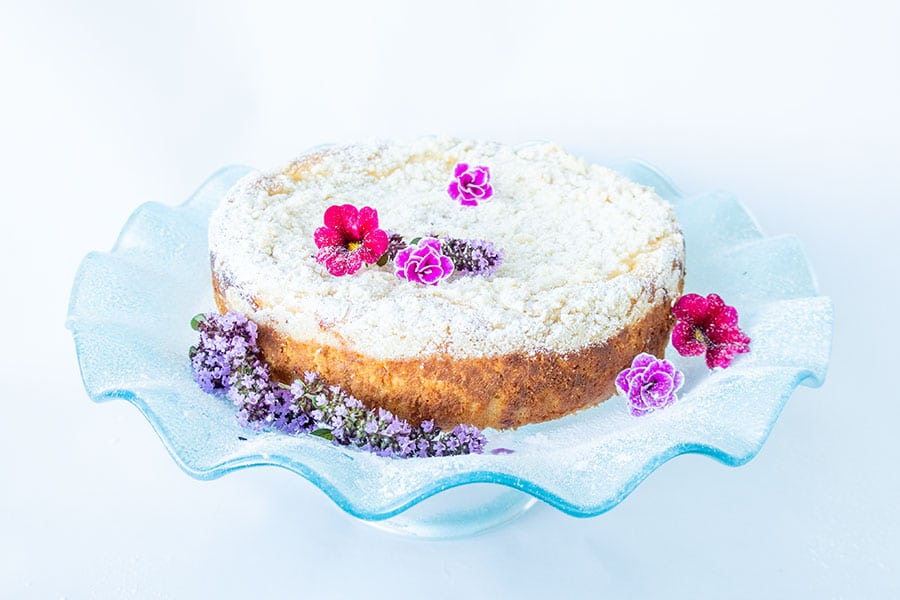 For the cake layer.
To make the cake layer is super simple. The dry ingredients are mixed first, then using only olive oil as fats, cream the egg, sugar, olive oil and yogurt together. Add wet mixture to dry flour, and the sponge cake layer is done. By using yogurt, the gluten-free cake layer is super light with a great texture.
The cheesecake layer.
For the cheesecake layer, nothing too complicated. Everything is creamed together, and you are done. It is essential to have the cream cheese and the eggs at room temperature to achieve a perfectly smooth cream cheese layer.
The topping.
For the buttery crumb topping, there is nothing complicated because it is your typical mixture of butter, flour and sugar.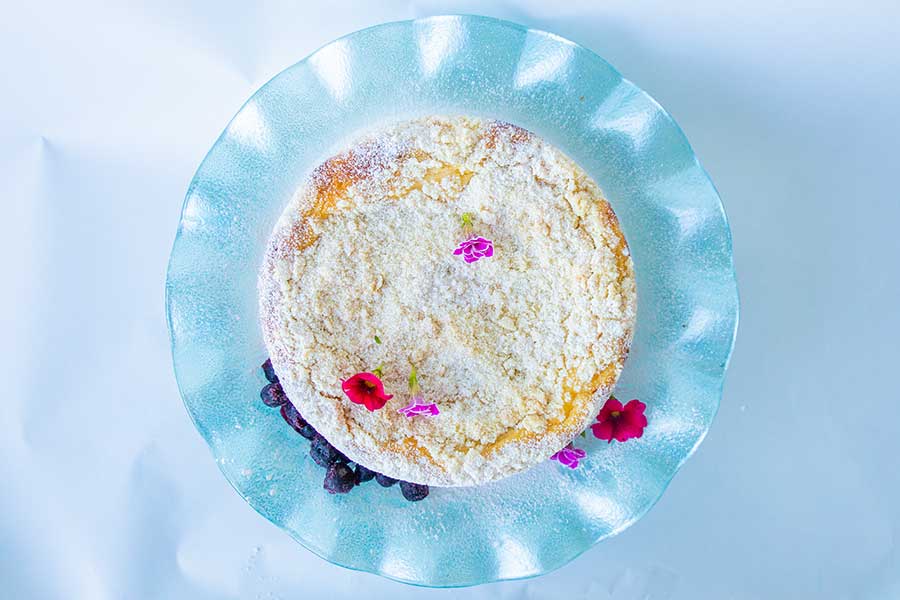 Frequently asked questions!
Can I substitute some ingredients?
This is a vanilla flavoured dessert. If you prefer more of a zesty cream cheesecake, substitute fresh lemon or lime juice for the vanilla and maybe add some zest. For the cake, one of the ingredients is the almond flour. But, you can also use finely ground pecans or walnuts.
To make the nut flour use a food processor, just don't over process or the nut flour will become oily. You can use coconut sugar for the sugar; the only thing that will change is the colour. The coconut sugar will add caramel colour to the layers.
Can I Double the recipe?
I made this recipe to give you six servings, a perfect Sunday dessert for your family, using a 7-inch round springform pan. You can also use an 8-inch square pan. Just make sure to line the pan with extra parchment paper hanging over two sides for easy removal of the cake.
To double the recipe, use a 10-inch springform pan, double the ingredients and increase the baking time to 50 – 55 minutes until the cake is set around the edges but still have a slight wobble in the centre.
Why is my cheesecake dry and grainy?
This happens when the cheesecake is being overcooked. The cheesecake should be set around the edges but still have a slight wobble in the centre.
To summarize.
This gluten-free dessert is for someone that isn't into dense cheesecakes and wants more than just a simple coffee cake. I like to serve this cream cheese vanilla cake just as is, maybe a powdered sugar sprinkle.
Or, you can add fresh berries and make this into a spectacular gluten-free dessert. My family especially loves frozen blueberries or grapes with this dessert.
Are you looking for a cheesecake for that special occasion? Check out this Gluten-Free Black Forest Cheesecake!
Ingredients
CREAM CHEESE LAYER
8 oz. light cream cheese, at room temperature
1/4 cup sugar
2 large eggs, at room temperature
2 tsp. Pure vanilla extract
CAKE LAYER
1/2 cup almond flour
1 tsp. GF aluminum-free baking powder
1/4 tsp. Sea salt
1 large egg
1/4 cup sugar
1/4 cup extra virgin olive oil
1/3 cup full-fat plain Greek yogurt
TOPPING
1/3 cup all-purpose gluten-free flour blend
1/4 cup sugar
2 Tbsp. Cold cubed salted butter (if you are using unsalted butter, add a pinch of salt)
Powdered sugar for dusting (optional)
*As an Amazon Associate and member of other affiliate programs, I earn from qualifying purchases. Please check out my sponsorship and disclosure policy page for more details
Instructions
Preheat oven to 375 F and line the bottom of a 7-inch springform pan with a parchment paper circle.
CREAM CHEESE LAYER
Using an electric mixer mix cream cheese, sugar, eggs, and vanilla in a medium bowl until smooth. Set aside. 
CAKE LAYER
Whisk together flours, baking powder, and salt
In a separate bowl, using an electric mixer, mix egg, sugar, olive oil and yogurt until creamy. Whisk dry ingredients into the wet mixture until fully incorporated and the batter is smooth. Pour batter in the pan.
Spread the cream cheese mixture over the top of the batter, spreading it almost to the edges.
TOPPING
Mix flour with sugar and add butter. Using your fingers blend everything until it feels like a coarse meal. Scatter the crumb mixture over the cream cheese layer. Bake for 40 - 45 minutes. The cheesecake should be set around the edges but still have a slight wobble in the centre.
Allow the cake to cool, then remove from the pan. Dust with powdered sugar if you wish 
Similar Recipes
Coconut Cheesecake With Berry Compote {Gluten-Free}
I just had to share this glorious Gluten-Free Coconut Cheesecake With Berry Compote because it is so insanely delicious! This is a healthy-ish version of coconut cheesecake, and I will explain why… This gluten-free dessert has a buttery oat crust topped with a creamy cheesecake. The cheesecake layer is made with light ricotta cheese, eggs, […] Read More
Prep Time
15 Minutes
Difficulty
Easy
Cook Time
55 Minutes
Serves
8
Gluten-Free Baked German Cheesecake
There are many ways to make a cheesecake. This sumptuous gluten-free cheesecake is baked using two types of cheeses creating that perfect creamy texture. The cake is light, slightly flavoured with fresh lemon juice and if desired topped with our fresh raspberry sauce. Recipe included. What I love about this grain-free cheesecake, it can be […] Read More
Prep Time
20 Minutes
Difficulty
Easy
Cook Time
60 Minutes
Serves
12
Gluten-Free Baked Tiramisu Cheesecake
This Gluten-Free Baked Tiramisu Cheesecake is outstanding! Think of this heavenly dessert as Greece meets Italy. This gluten-free cake is a mix of cheesecake and tiramisu. What a great combination, don't you think? three layer tiramisu cheesecake Three layers make up this cake. First, a buttery chocolate shortbread crust, then a layer of coffee flavoured […] Read More
Prep Time
20 Minutes
Difficulty
Moderate
Cook Time
60 Minutes
Serves
8 - 10