Gluten-Free Coffee Rum Balls
Published on Dec 26, 2017
by
Kristina Stosek
Prep Time:

15 minutes
Cook Time:

minutes
Serves:

20 balls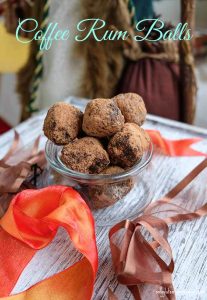 ​This post may contain affiliate links, please see our
privacy policy
for details
Not your typical coffee rum ball recipe. Dates, walnuts, pineapple, and cherries tie nicely with coffee and rum for a festive sweet treat.
I promise you that these gluten-free coffee and rum flavoured mini desserts will satisfy your sweet tooth every time.
What is a coffee rum ball?
These sweet treats are sweetened with only healthy dates. Rum balls are a mixture of raw ingredients rolled into balls and then often rolled in cocoa powder or powdered sugar.
These healthy-ish rum balls are made with fruit, nuts, espresso coffee and a splash of rum. The entire dough for the balls is made easily in a food processor.
Then the dough is shaped into balls and rolled in pure cocoa powder. These coffee and rum flavoured sweets then have to be chilled, allowing them to firm up. So, there is no baking involved…NICE!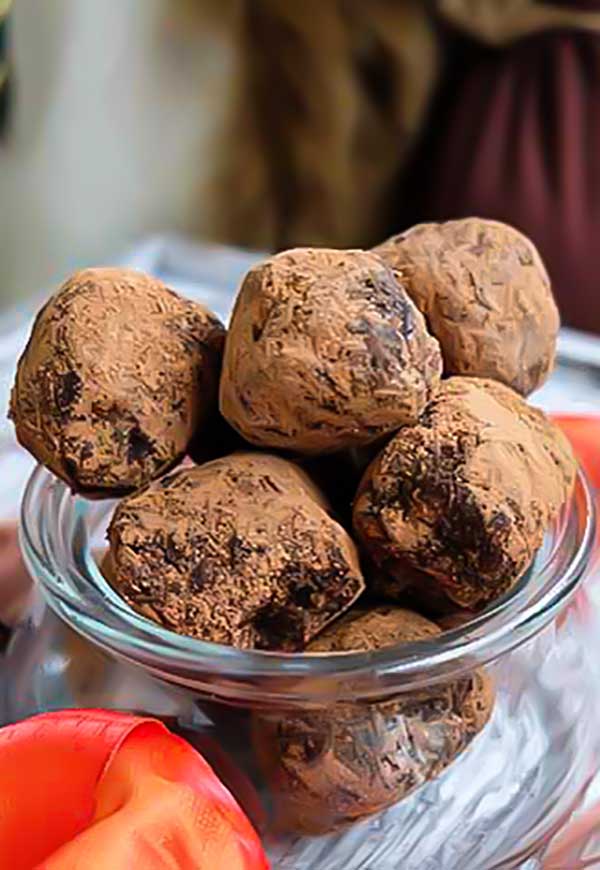 Are dried cherries healthy?
One of the ingredients in this recipe is dried cherries. Surprisingly, cherries are an excellent source of vitamin A (provitamin A) known as beta-carotene. And as with most fruits, they are packed with vitamins and minerals.
This dessert will keep up to 14 days!
I love that these festive sweet treats will keep in the refrigerator for up to 14 days. So you can make them well in advance and always have something sweet on hand when needed. This is why they are so popular during the holidays.
Did I mention, these heavenly grain-free coffee rum balls will melt in your mouth. They are that good!
If you are looking for recipes sweetened with dates. Check out these gluten-free recipes made with dates. One of my favourite dishes is the Chicken and Dates Bacon Wraps Appetizer.
low allergen rum ball recipe,
This rum ball recipe will accommodate most diets because it is a low allergen recipe. The tasty coffee rum balls are grain-free, dairy-free, gluten-free, egg-free and vegan.
If you are looking for a hostess gift idea, these sweets package up nicely for a gift box.
Gluten-Free Coffee Rum Balls
Published on Dec 26, 2017
by
Kristina Stosek
Instructions
1.

Place dates in hot water for 5 minutes, then drain

2.

Add dates to a food processor and process until paste forms

3.

Add balance of ingredients except for cocoa powder and pulse until the mixture is fairly smooth

4.

Shape mixture into walnut size pieces and roll in cocoa powder

5.

Store in an airtight container for a minimum of 24 hours before serving