Gluten Free Cherry and Chocolate Muffins
Published on Jun 20, 2017
by
Kristina Stosek
Prep Time:

15 minutes
Cook Time:

45 minutes
Serves:

12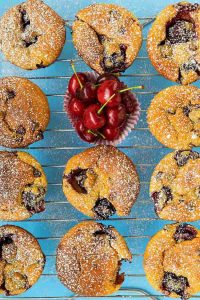 ​This post may contain affiliate links, please see our
privacy policy
for details
This is a Gluten-Free Cherry and Chocolate Muffin recipe not to be missed! These fluffy muffins are the perfect blend of fruity sweetness and indulgent decadence.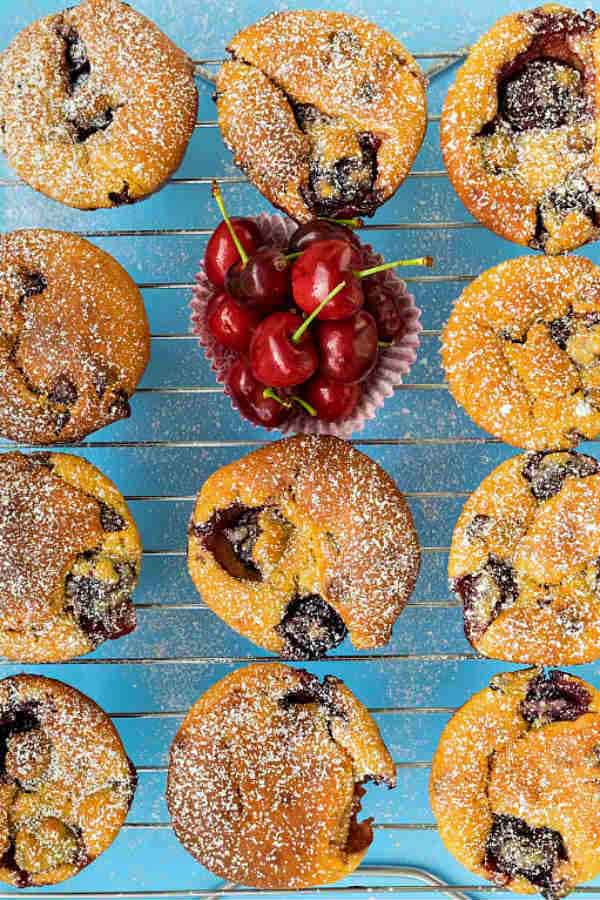 What could be better than a freshly baked muffin? Add fresh cherries and chocolate chips to the mix, and you will have a muffin with bursting juicy cherries and decadent chocolate chips.
Whether you're following a gluten-free diet or simply looking for a new twist on classic muffin flavors, this recipe is sure to become a favorite in your baking repertoire.
Why do fresh cherries make good gluten free muffins?
There are a few reasons why fresh cherries work so well in gluten free muffins:
The natural sweetness of the cherries allows you to cut back on sweeteners
The moisture from the cherries prevents the muffins from becoming too dry.
The bright flavor of fresh cherries is a perfect complement to the chocolate in these muffins.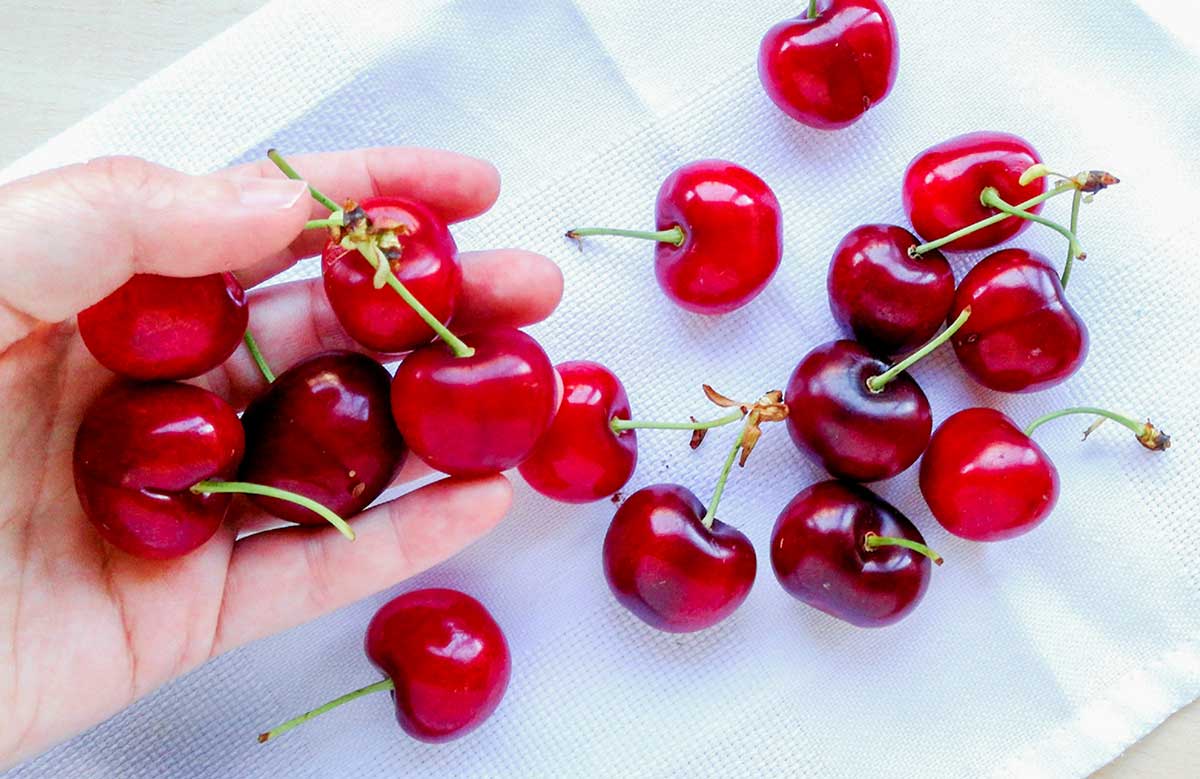 fresh vs frozen cherries in baking
There are many benefits to using fresh cherries in recipes, such as their intense flavor and bright color. On the other hand, frozen cherries are a good option when fresh cherries are out of season or if you want to save time by not having to pit the cherries.
While both types of cherries will work in this recipe, fresh cherries have a better texture and taste sweeter.
Are cherries healthy?
As per WebMD yes, cherries are healthy! Packed with antioxidants, they are linked to several health benefits, including reduced inflammation, improved brain function and a lower risk of cancer.
Another easy cherry recipe you may enjoy is the Gluten Free Skillet Cherry Breakfast Bread, or try one of our Chia Puddings with Cherry Compote.
Why should you cut the cherries in half in muffin recipes?
Whole cherries are too big in muffins. By cutting them in half, they will evenly distribute throughout each muffin. In addition, cutting the cherries in half will release fresh juices, making the gluten-free muffins extra moist and more flavorful.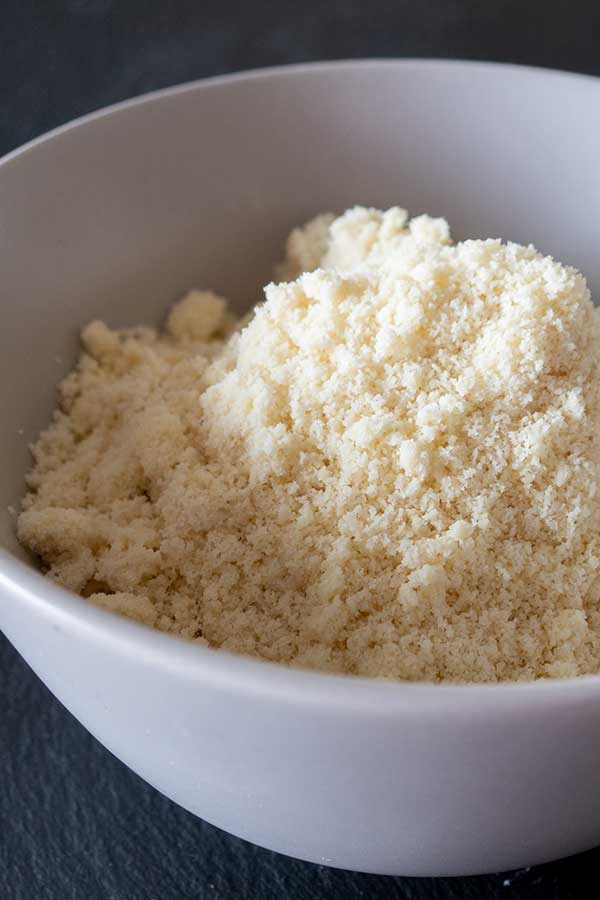 Why is almond flour so good in gluten free muffins?
Almond flour is a great gluten free alternative to traditional wheat flour. It's high in protein and fiber, making the muffin healthier.
Another reason why almond flour is good is that it helps to keep them moist. This is especially important if you use flour without gluten which tends to dry baked goods. Adding almond flour will help balance the dryness and make your muffins more moist and fluffy.
In addition, almond flour has a mild nutty flavor, adding an earthy flavor to muffins.
Why is blanched almond flour better for gluten free diet?
When choosing almond flour for your muffin recipes, look for one made with blanched almonds that are finely ground.
Blanched almonds are whole almonds with the skin removed and contain no phytic acid. For many people, phytic acid may be hard to digest.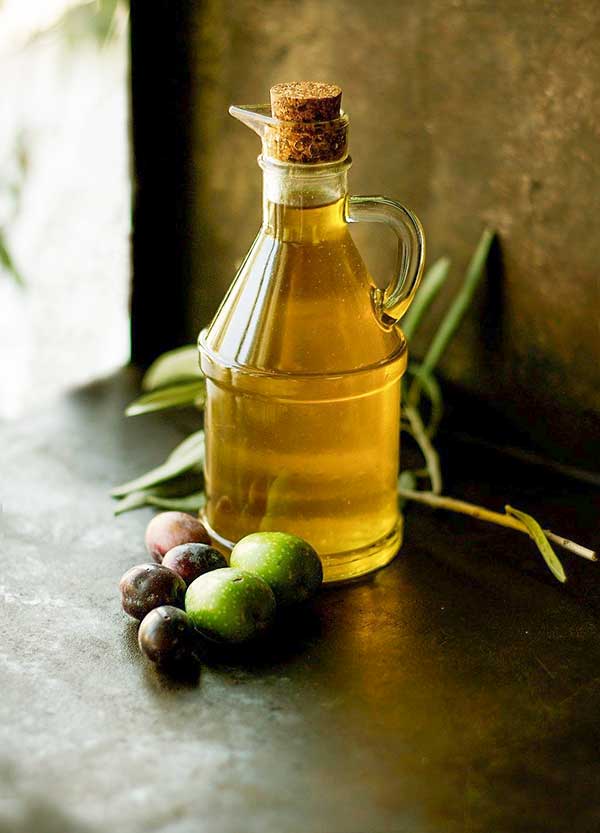 Why add olive oil to gluten free cherry and chocolate muffins?
There are many reasons to add olive oil to muffin recipes. First, olive oil adds moistness and a delicate flavor to gluten free baked goods. It also helps to keep them fresh tasting longer than if you used butter. And most importantly, extra virgin olive oil is high in monounsaturated fatty acids making it a healthier choice.
serving and storage
When it comes to serving and storing these gluten free cherry and chocolate muffins, there are a few things you need to keep in mind. First, these muffins are best served fresh, as with all gluten free baked goods.
Store any leftovers in a closed container at room temperature for up to 3 days. If you want to extend their shelf life, you can store them in the fridge for up to 5 days or in the freezer for up to 3 months.
Summary For Gluten Free Cherry and Chocolate Muffins
This tasty muffin is perfect for a quick and easy breakfast or snack. The best part about these muffins is that they are made with simple ingredients you may already have in your gluten-free pantry.
You will find that this gluten-free cherry and chocolate muffin is wonderfully moist, light, and studded with fresh cherries and chocolate. It will melt in your mouth with deliciousness in every bite that will have everyone asking for seconds!
Let's Connect!
Be sure to FOLLOW US on FACEBOOK and PINTEREST.
Many thanks!
Kristina xx
Gluten Free Cherry and Chocolate Muffins
Published on Jun 20, 2017
by
Kristina Stosek
Instructions
1.

Preheat oven to 360 F and line a muffin pan with parchment paper liners

2.

In a large bowl combine flours, baking powder, xanthan gum, and salt

3.

In a separate bowl, whisk together milk, olive oil, honey/maple syrup, eggs, and vanilla. Gradually add. to dry ingredients and stir just to combine. Do not overmix or they will become dense

4.

Gently stir in chocolate chips and cherries

5.

Pour batter into prepared muffin pan and bake for 40 - 45 minutes or until the tops are golden and the muffins pass the toothpick test

6.

After 5 minutes, transfer the muffins onto a cooling rack to cool
Leave a Comment
Kristina
So happy you enjoyed them. Cherries are my favourite fruit, so I try to use them in as many recipes as I can when they are in season xx
Thank you for this recipe! The muffins are delicious