Gluten-Free Cheese and Jalapeño Bagel
Published on Mar 30, 2018
by
Kristina Stosek
Prep Time:

10 minutes
Cook Time:

35 minutes
Serves:

4
​This post may contain affiliate links, please see our
privacy policy
for details
This Gluten-Free Cheese and Jalapeño Bagel recipe is fun to make and the bagel is particularly good when toasted for breakfast with eggs or for making bagel sandwiches with avocado egg salad or salmon spread.
Jalapeño bagels without donut pans – recipe details.
The bagel dough takes only minutes to prepare. First, mix dry ingredients with yogurt and sour cream and form small balls. Now comes the fun part.
Place the dough balls on a baking pan lined with parchment paper. Using your finger, poke a hole in the middle of each ball, then spread out the hole to about 1-inch in diameter.
Smooth the tops with wet hands. That's it. Super simple. No need for donut pans. But if you have a donut pan, use it, it will save you time, and you will have a perfectly shaped gluten-free cheese and Jalapeño bagel.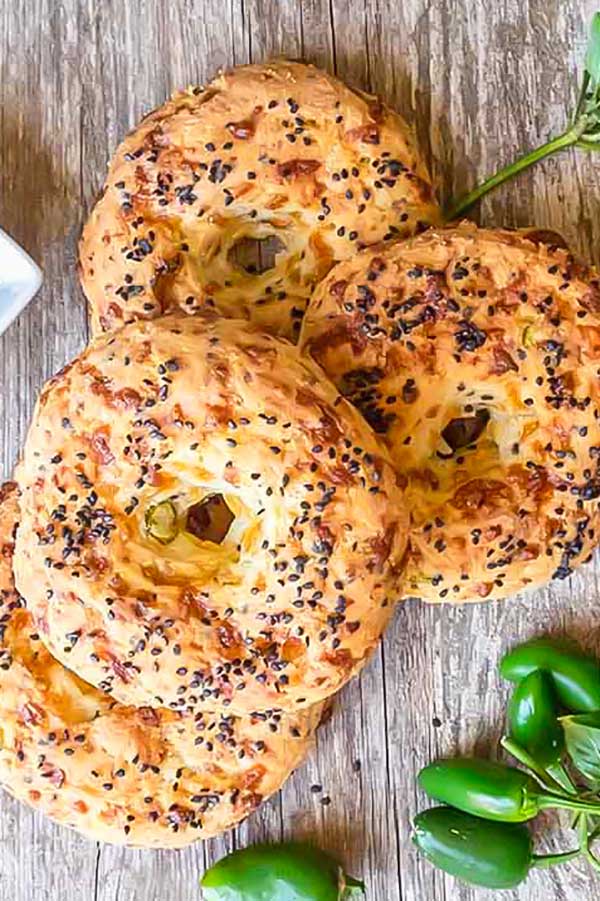 Add healthy sesame seeds
To make the bagels extra special I added sesame seeds not only for the texture and flavour but for their many health benefits.
Sesame seeds are an excellent source of copper and manganese, but they are also a good source of calcium, magnesium, iron, phosphorus, vitamin B1, zinc, molybdenum, selenium, and dietary fiber. Jalapeño is another mildly spicy green pepper not to be shy from.
Some studies suggest that jalapeño peppers have been known to aid in weight loss and fight cancer cells and tumors as per Dr. Axe
I hope you enjoy these gluten-free cheese and jalapeño bagels, but be warned; they'll disappear before you know it. I always double the recipe because they freeze well!
Gluten-Free Cheese and Jalapeño Bagel
Published on Mar 30, 2018
by
Kristina Stosek
Instructions
1.

Preheat oven to 400 F and line a baking pan with parchment paper

2.

In a small bowl mix flour, sesame seeds, baking powder and salt. Add mozzarella and jalapeños and stir to combine

3.

Add yogurt and sour cream and mix forming a dough

4.

Wet your hands and roll dough into 4 balls. Place on prepared baking pan and using your finger poke a hole in the middle of each ball. Spread out the hole about 1-inch in diameter and smooth the tops with wet hands. Sprinkle with sesame seeds. Or, ultimately use a non-stick donut pan

5.

Bake for 25 minutes, then reduce heat to 375 F and bake for 10 more minutes.

6.

Cool on the baking sheet or in the pan
Leave a Comment
I used the flour you recommended and they turned out delicious. They did take a little longer to bake.
Kristina
I am very sorry to hear that. Did you use the flour I recommended? This GF flour blend is rice based and works beautifully in this recipe. Sometimes other blends don't work the same. Again I am sorry they did not turn out for you.
These bagels took forever the cook and after an hour they were dried out and still wet in the middle. Very disappointing