Gluten-Free Cheese Breadsticks Recipe
Published on Dec 13, 2018
by
Kristina Stosek
Prep Time:

15 minutes
Cook Time:

18 minutes
Serves:

8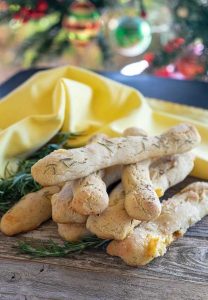 ​This post may contain affiliate links, please see our
privacy policy
for details
You will love this Gluten-Free Cheese Breadstick Recipe! These easy cheesy breadsticks are a perfect savoury pairing with antipasto, soups and stews or enjoy as a savoury snack. These gluten-free breadsticks taste just like the ones they serve in Italian restaurants with antipasto.
a simple gluten-free breadsticks recipe…
The recipe is so simple it will surprise you – quick and easy in 30 minutes. I know it sounds too good to be true, but here you go! To make them, mix the ingredients, roll into logs and sprinkle with your favourite toppings.
That is it! Easy and gluten-free, with limitless possibilities. Once they are ready for the oven, you can add different toppings—dried herbs like rosemary or thyme, caraway seeds, poppy seeds or flaky salt.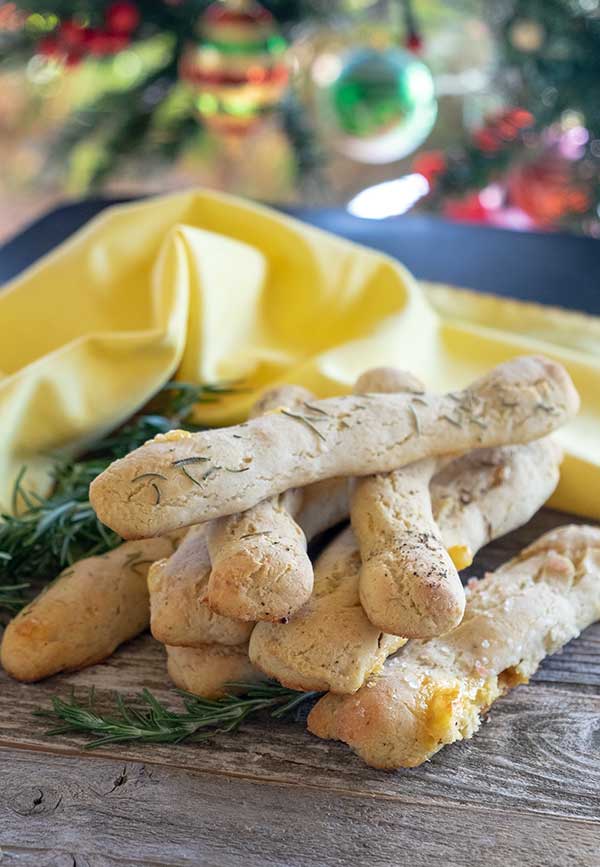 cheese breadsticks are excellent for when entertaining…
The cheese breadsticks are excellent for when you are entertaining. You will most certainly impress your guests by substituting the gluten-free cheese breadsticks for bread. Bake them fresh as your guests are arriving, the aroma from freshly baked breadsticks will fill your home beautifully.
There is nothing more intriguing when walking into someone's home, and the fresh smell of baked bread is lingering throughout the house. Even if you are a novice cook, you will succeed. If you have any leftovers for the next day, just pop them in a toaster, the breadsticks toast beautifully.
If you are looking for a crusty French bread, check out this gluten-free French Baguette recipe.
Gluten-Free Cheese Breadsticks Recipe
Published on Dec 13, 2018
by
Kristina Stosek
Instructions
1.

Preheat oven to 400 F and line a baking sheet with parchment paper

2.

In a medium bowl whisk together flour, baking powder, baking soda, black pepper and salt.

3.

Stir in cheddar cheese until combined

4.

Add yogurt and stir until dough forms

5.

Place dough on a lightly floured surface and cut into 8 equal disks. Roll each disk into about a 4-inch long log and place on the baking sheet

6.

Brush each log with olive oil and sprinkle with desired toppings

7.

Bake for 15 - 18 minutes until golden