Gluten Free Cauliflower Quinoa Tidbits
Published on Apr 02, 2016
by
Kristina Stosek
Prep Time:

15 minutes
Cook Time:

20 minutes
Serves:

16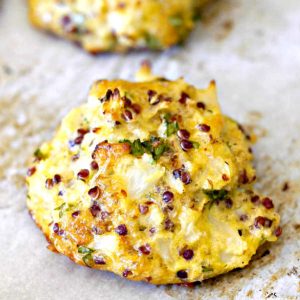 ​This post may contain affiliate links, please see our
privacy policy
for details
Healthy Gluten Free Cauliflower Quinoa Tidbits… These melt in your mouth savoury morsels go especially well with Baked Spinach Ricotta Dip or a hot sauce. Just grab some cauliflower, cheddar cheese, quinoa, eggs, and some basic ingredients shape it into small balls and bake.
If you are looking for a healthier snack, or a gluten free appetizer, these gluten free quinoa tidbits are perfect.
Very tasty, easy to make and nutritious. This gluten snack is high in protein and rich in fiber, making this a nutritious snack for anytime of the day. Need more quinoa recipes? Check out our selection of gluten free quinoa salad recipes!
Gluten Free Cauliflower Quinoa Tidbits
Published on Apr 02, 2016
by
Kristina Stosek
Instructions
1.

In a medium size bowl combine cauliflower, cheese, quinoa, eggs and parsley

2.

In a separate bowl mix dry ingredients

3.

Add dry ingredients to cauliflower mixture and combine well. Refrigerate for 1 hour

4.

Preheat oven to 425 F and line a baking sheet with parchment paper

5.

Shape the mixture into 16 small balls and place on a prepared baking sheet. Bake for 20 minutes

6.

Cool for 5 minutes before transferring to a serving plate