Gluten-Free Carrot Pancakes
Published on Feb 18, 2019
by
Kristina Stosek
Prep Time:

10 minutes
Cook Time:

20 minutes
Serves:

8 (3-inch) pancakes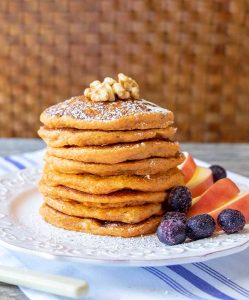 ​This post may contain affiliate links, please see our
privacy policy
for details
These Gluten-Free Carrot Pancakes are super healthy and fluffy with gorgeous earthy colour and flavour. But, it is fun to go beyond the usual pancakes, and why not try something different and more nourishing.
You will enjoy these delicious gluten-free carrot pancakes if you like carrot cake. After all, who doesn't like pancakes, especially when they taste like a carrot cake. Yes, a carrot cake but healthier.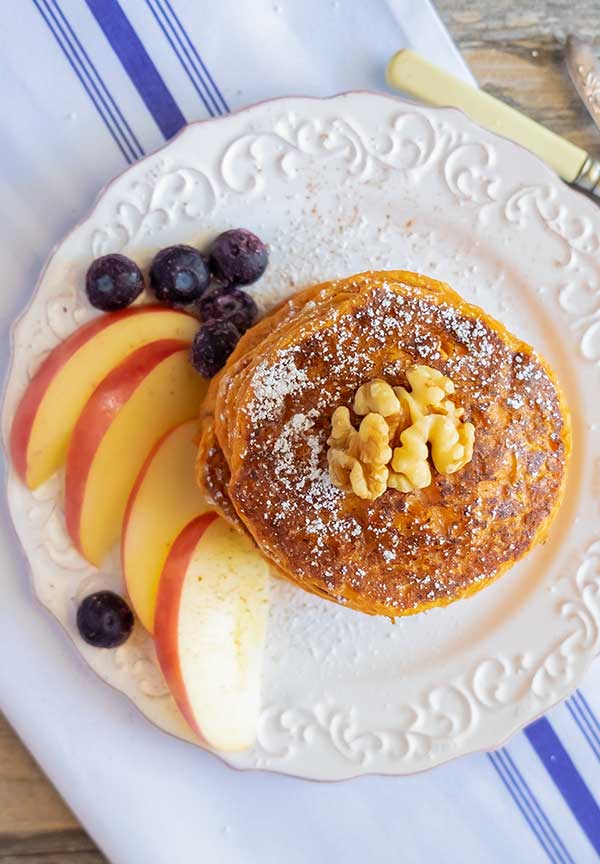 In this recipe, I used carrots, flaxseed, and walnuts. And to sweeten them up, a splash of pure maple syrup.
Why is this healthier gluten-free pancake recipe?
For the carrot cake flavour, I used cinnamon and nutmeg. For added healthiness, I included flax seeds. Flax seeds are nutrient-rich and are a good source of dietary fiber. And, of course, the fresh antioxidant-rich carrots.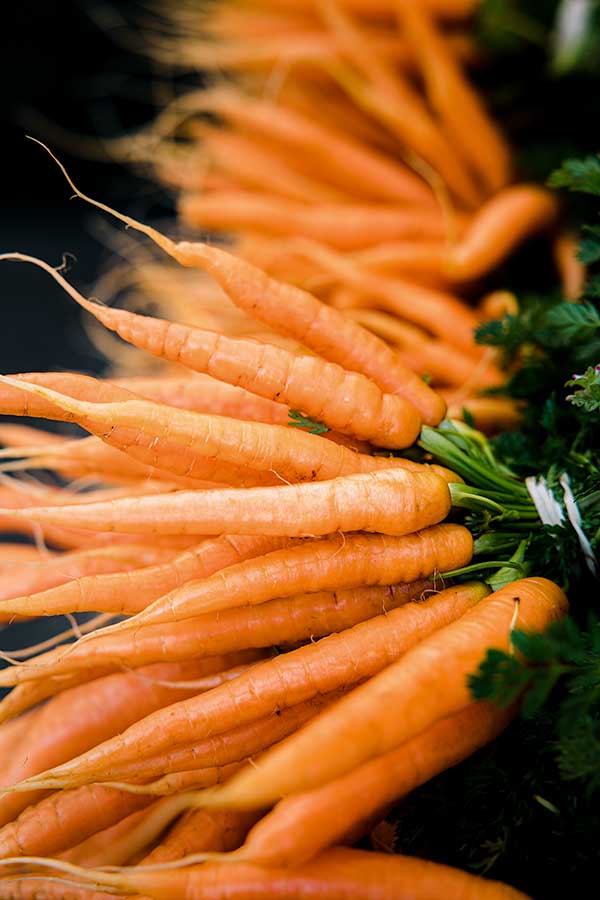 Why are carrots so healthy?
Carrots are also highly nutritious and packed with many nutrients that are vital when following a well-balanced diet. In addition, carrots are excellent sources of nutrients like potassium, antioxidants, and vitamin A, just to name a few.
Carrots have a red-orange pigment called beta carotene. The human body converts beta carotene into vitamin A.
According to Mayo Clinic, vitamin A is a nutrient essential to vision, growth, cell division, reproduction and immunity. Vitamin A also has powerful antioxidant properties.
For this gluten-free pancake recipe, you have the option to use regular or dairy-free milk. Dairy-free milk is essential for those who are lactose intolerant.
I seriously LOVE this gluten-free carrot pancake recipe because you can get your kids to eat more carrots without them knowing. So, another easy way to get your kids to eat more vegetables.
We need all the recipes with hidden fruit and veggies in them that we can find to keep a diet for our kids nutritionally well balanced, especially for the picky eaters.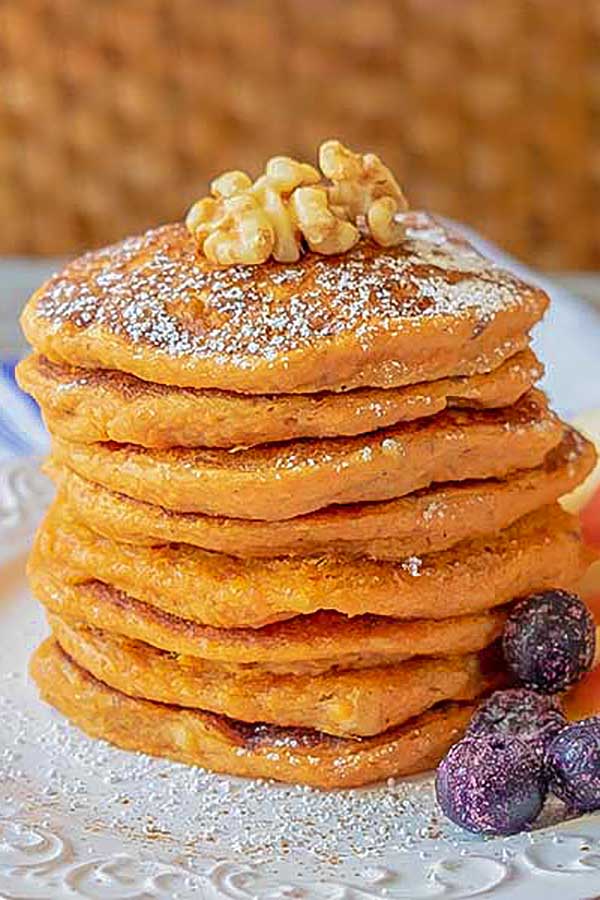 What toppings go best with carrot pancakes?
We all know pancakes are only as good as the toppings. So here are some favourable toppings to make these gluten-free carrot pancakes extra special.
Starting with my favourite pancake topping, pure maple syrup, I know classic and simple, but the maple syrup flavour accentuates the earthy taste in these wholesome pancakes.
Some other toppings that my family loves are fresh fruit, chopped nuts, butter (or vegan butter), cream cheese, powdered coconut sugar, yogurt, jam or marmalade and even whipped cream or a dollop of vanilla bean ice cream.
Why not try something different the next time you make breakfast, like these gluten-free carrot pancakes. Kids love them, so maybe a new healthy dish to add to their diet.
If you need more breakfast ideas, check out our selection of wholesome gluten-free breakfast recipes 🙂
Gluten-Free Carrot Pancakes
Published on Feb 18, 2019
by
Kristina Stosek
Instructions
1.

Cut carrots into large pieces and place in the bowl of a food processor. Grate finely. If you don't have a food processor, using a grater grate the carrots finely, then continue with the next step

2.

Add milk, maple syrup, egg, flaxseed and vanilla. Mix to combine. Set aside for 10 minutes

3.

In a large bowl whisk together flour, baking powder, cinnamon, nutmeg and salt. Add carrot mixture and mix to combine. Do not over mix. Stir in walnuts

4.

Heat about 2 teaspoons of butter/coconut oil in a non-stick skillet over medium heat. Add 1/4 cup of batter to the pan for each pancake. Cook for about 3 minutes, you should see bubbles forming on the top. Flip and cook about 2 more minutes. Continue with remaining batter using oil as needed. If you have a large skillet, you can cook 2 - 4 pancakes at a time