Gluten-Free Blueberry Crumble
Published on Feb 15, 2022
by
Kristina Stosek
Prep Time:

15 minutes
Cook Time:

60 minutes
Serves:

6 - 8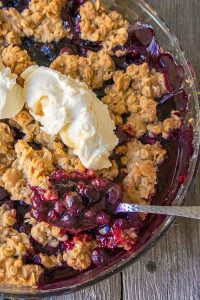 ​This post may contain affiliate links, please see our
privacy policy
for details
This Gluten-Free Blueberry Crumble is overflowing with fresh juicy blueberries with notes of fresh orange flavour and a buttery oat crumble hinted with cinnamon. To sweeten things up, a splash of pure maple syrup. Top with vanilla ice cream or maple ricotta for the best blueberry crumble.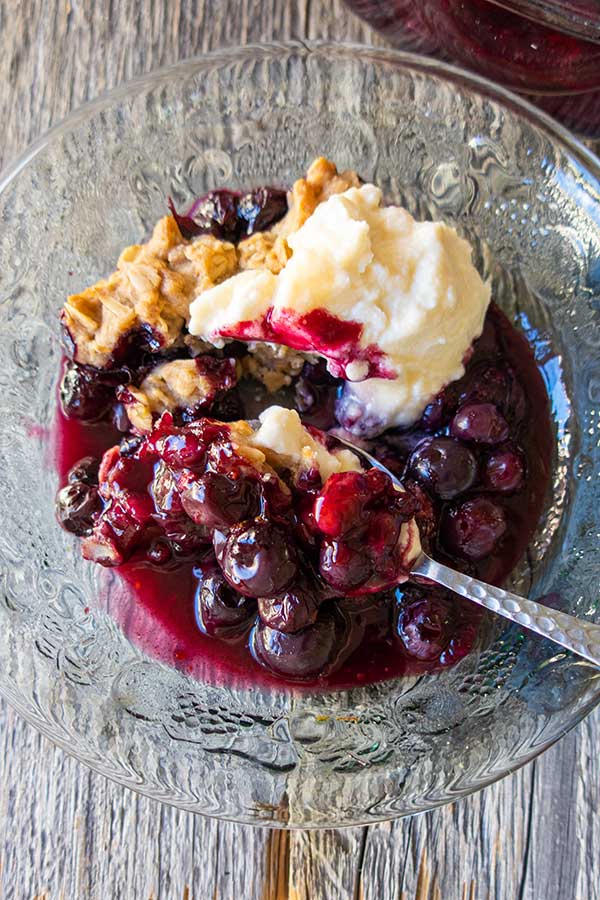 Fresh blueberries are the easiest and one of the healthiest fruits to bake with. Although blueberries are a fruit, they are called berries. These small berries are a deep purple colour and are low in calories and high in nutrients.
Driscoll's recent studies found that blueberries may influence genes that regulate fat-burning and storage, helping reduce abdominal fat and lower cholesterol.
Blueberries are antioxidant-rich delicate fruits and an excellent source of fiber that will keep you full, thus avoiding extra calories.
How to make the best blueberry crumble?
The details are pretty easy. Start with the fruit. Fresh blueberries are tossed together with fresh orange juice and orange zest, vanilla, tapioca starch, maple syrup and a pinch of cinnamon.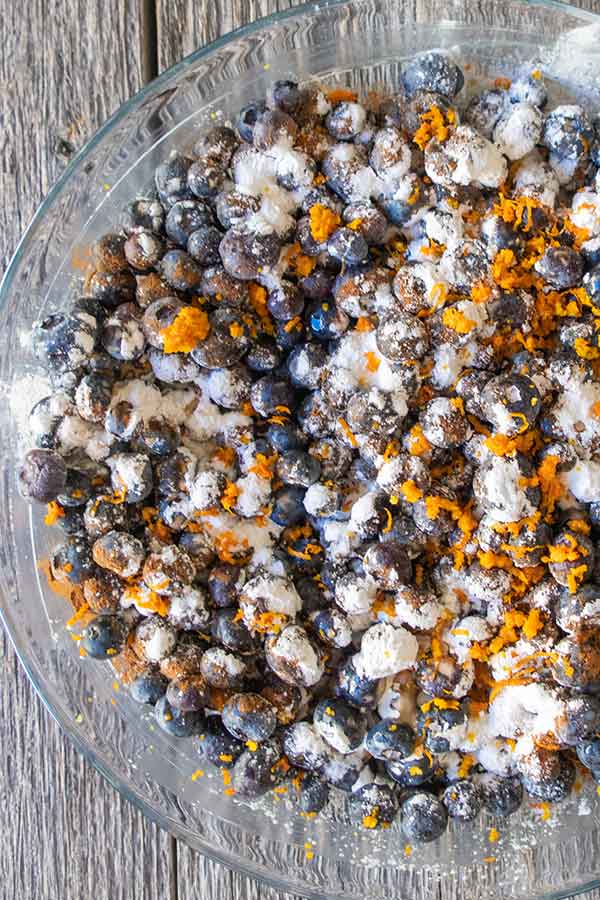 The tapioca starch will create a thick juicy sauce you can eat with a spoon just as is. It is sooo good even without the buttery oat crumble.
But the gluten-free oat topping adds that extra special deliciousness to this blueberry crumble.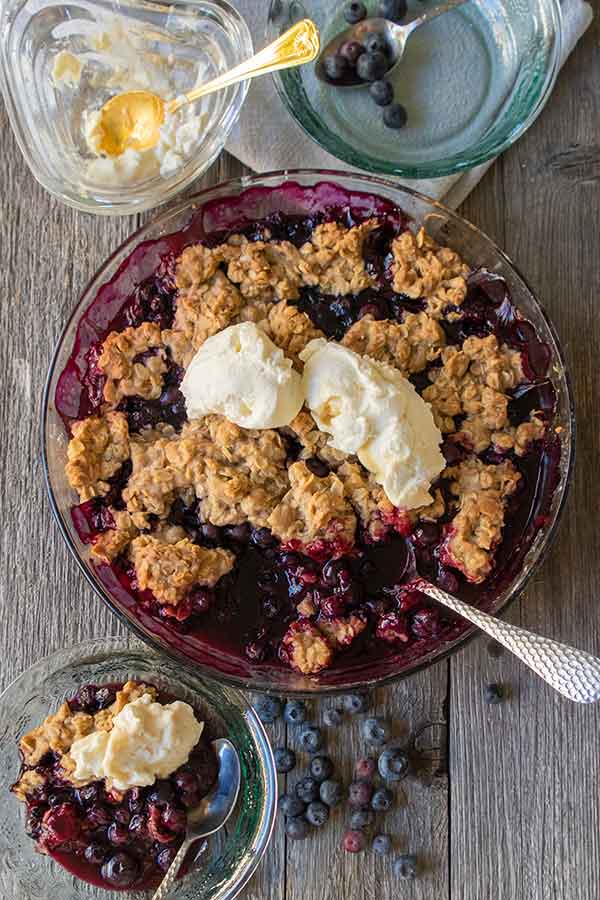 The difference between a crumble also called crisp and cobbler.
Crumble is a fruit dessert made with brown sugar streusel topping often containing rolled oats. A cobbler is also made with fruit; however, the top is made with pie dough or biscuit dough. And both desserts are made without a bottom crust. If you love blueberries another blueberry recipe you may enjoy is the blueberry clafoutis.
The simple details for gluten-free blueberry crumble.
There is nothing simpler than a berry crumble. Once the berries are prepared, the crumble is super simple. Mix gluten-free flour with certified gluten-free oats, melted butter, maple syrup, cinnamon and a pinch of salt. Sometimes I add some orange or lemon zest to the crumble.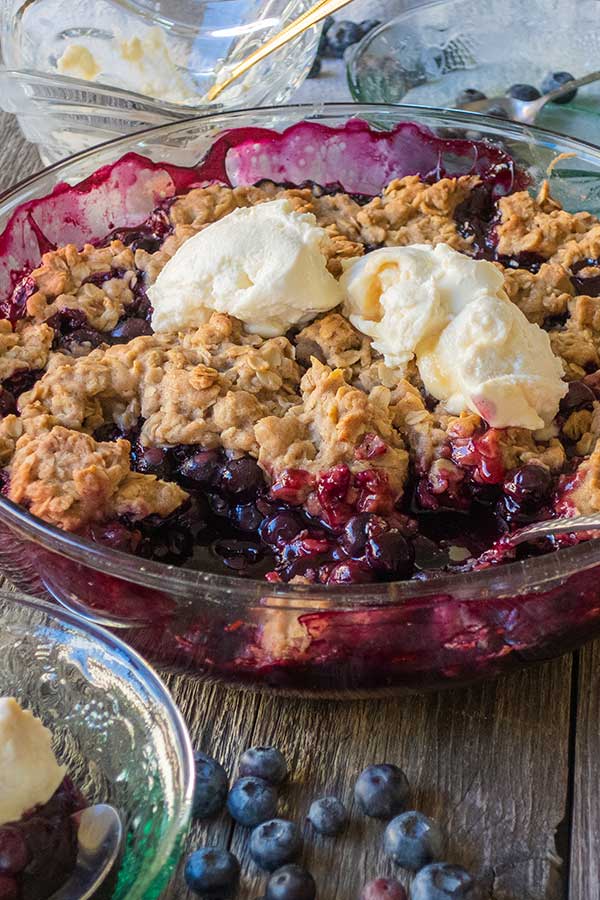 Top the blueberries with the oat crumble and lightly sprinkle with brown sugar. The brown sugar has an added flavour of molasses which finishes the topping to perfection.
Best way to bake a gluten-free crumble.
The blueberry sauce needs to thicken without burning the crumble topping. This is why you should bake the crumble first covered with foil paper. Then, to get that golden brown crispy topping, remove the foil paper and continue baking until done!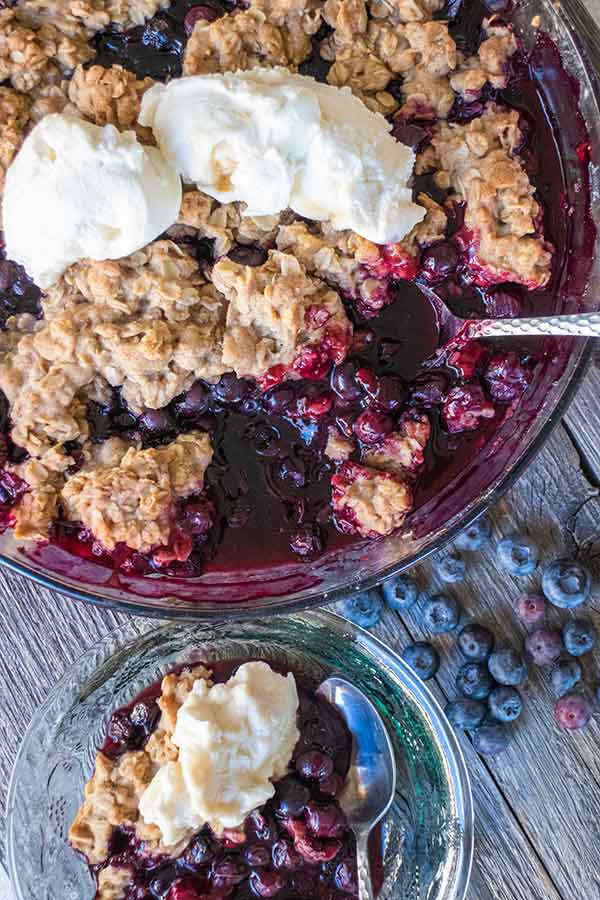 Baking with blueberries is so easy.
Fresh blueberries are grown all year long and can be found in your grocery store at any given month throughout the year. The only thing you need to do is thoroughly wash them before adding them to your recipes.
Another stunning gluten-free blueberry dessert you may enjoy is the dairy-free Blueberry Vanilla Tart!
Best way to wash blueberries.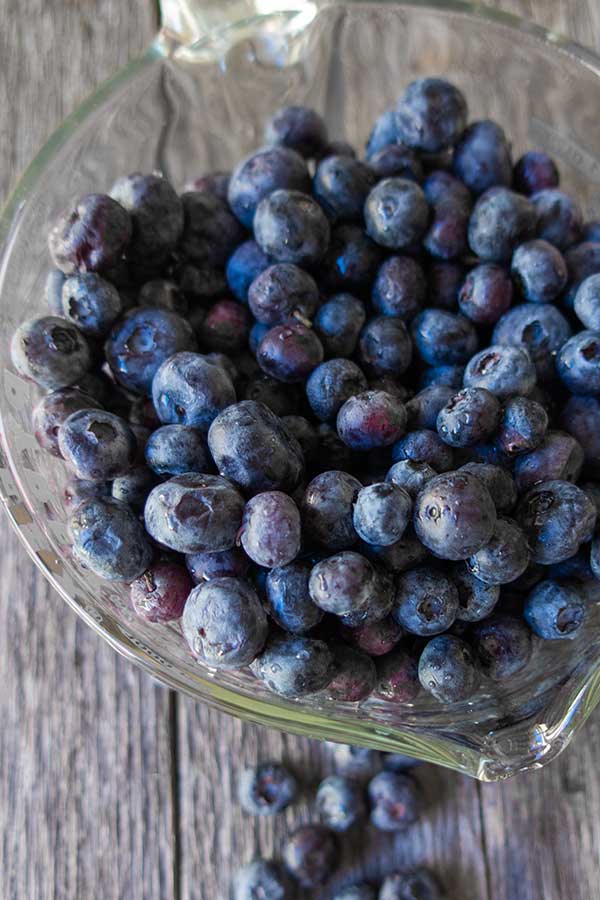 Blueberries should be washed just before you use them. Place berries in a colander (strainer) and dip the colander in a larger bowl of cold water with 2 tablespoons of vinegar.
Soak them for 5 minutes, then swish the berries in the water and rinse. Soaking blueberries longer can cause them to absorb the water and make them mushy.
Toppings for blueberry crumble.
First, the gluten-free blueberry dessert or breakfast is delicious just as is. However, I like to add a topping of maple ricotta, or a dollop of plain yogurt, especially when I serve the crumble for breakfast.
To enjoy this gluten-free blueberry crumble as a dessert, I always add vanilla bean ice cream or whipped cream. YUM!
Gluten-Free Blueberry Crumble
Published on Feb 15, 2022
by
Kristina Stosek
Instructions
1.

Preheat oven to 350 F and grease a 2-quart baking dish with butter

2.

Add blueberries, orange juice, tapioca, cinnamon, vanilla, maple syrup and orange zest to the baking dish. Using a spatula, gently mix to coat the blueberries evenly

3.

Combine oats, flour, cinnamon and salt in a medium bowl. 

4.

Add butter to a small pot and set over medium heat. Allow the butter to brown lightly until it smells toasted, about 2-3 minutes. Remove from the heat and whisk in the maple syrup

5.

Add butter mixture into dry ingredients and mix to combine. Using your fingers, sprinkle over blueberries leaving large clumps of the crumble and exposing some of the blueberries. Sprinkle only the crumble with brown sugar

6.

Cover with foil paper the shiny side facing up and bake for 30 minutes. Remove the foil and continue baking for 25 - 30 minutes until juices are thickened, and the topping has turned light golden brown. Cool for 15 minutes, then serve.

7.

For maple ricotta; whisk the ricotta with maple syrup. Add a dollop of ricotta to each serving