Gluten-Free Baked Honey Garlic Chicken
Published on Feb 12, 2015
by
Kristina Stosek
Prep Time:

15 minutes
Cook Time:

30 minutes
Serves:

4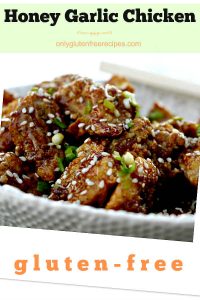 ​This post may contain affiliate links, please see our
privacy policy
for details
Gluten-Free Baked Honey Garlic Chicken – the most delicious super crispy chicken coated with a honey garlic sauce topped with sesame seeds and green onions. I used to love ordering this chicken dish when I'd get takeout, and I missed it once I went gluten-free. This crispy chicken flavoured with honey garlic sauce offers the same flavours as your favourite takeout, but without the gluten, without deep frying, extra salt or msg.
♥

This honey garlic chicken recipe is as easy as it gets 🙂

For the recipe, first, you start with the chicken. The chicken pieces are first dipped in eggs. This will create a wet coating allowing the dry ingredients to stick to the chicken. The flour mixture is made with gluten-free flour, almond flour, tapioca starch and salt. The chicken is well coated and then baked in an oven at a high temperature of 400 F. This will give the outside of the chicken that crispy coating. While the chicken is baking, prepare the sauce. This is as simple as you can imagine. Place tamari sauce, garlic, honey, and if you like the sauce to be spicy a bit of gluten-free sriracha sauce into a saucepan and cook for three minutes. Once the chicken is cooked, toss the pieces in the honey garlic sauce. For the finish, sprinkle with sesame seeds and thinly sliced onions. Anyone can make this gluten-free chicken appetizer, it is that easy!
♥

Is this an appetizer or can you serve it as a main?

This is what I love about this dish → it can be served as an appetizer, or as a light meal with a salad or over rice. For me, I love it with Indian Lemon Rice
Gluten-Free Baked Honey Garlic Chicken
Published on Feb 12, 2015
by
Kristina Stosek
Instructions
1.

Preheat oven to 400 F and line a baking sheet with parchment paper

2.

Beat the eggs in a shallow bowl

3.

Combine both flours, tapioca and salt in a large bowl

4.

Add chicken to the eggs and toss until each piece is well coated

5.

Coat each piece with the flour and place on a baking sheet.

6.

Bake for 30 minutes turning halfway

7.

While the chicken is baking, add the sauce ingredients to a small saucepan and cook for 3 minutes or until the sauce thickens. Stirring as needed

8.

Pour the sauce over baked chicken and toss until pieces are entirely coated. Sprinkle the chicken with sesame seeds and green onions.