Gluten Free Baked Cheese and Bacon Donuts
Published on Aug 14, 2023
by
Kristina Stosek
Prep Time:

10 minutes
Cook Time:

30 minutes
Serves:

6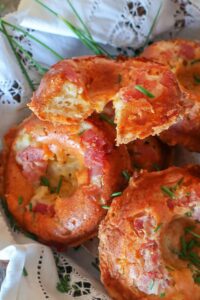 ​This post may contain affiliate links, please see our
privacy policy
for details
Perfect easy savory breakfast to enjoy. Gluten-Free Cheese and Bacon Donuts – Baked, No Yeast, No Eggs, No Sugar, only FLAVOR! This breakfast donut is the perfect fusion of cheesy goodness and smoky bacon in every bite.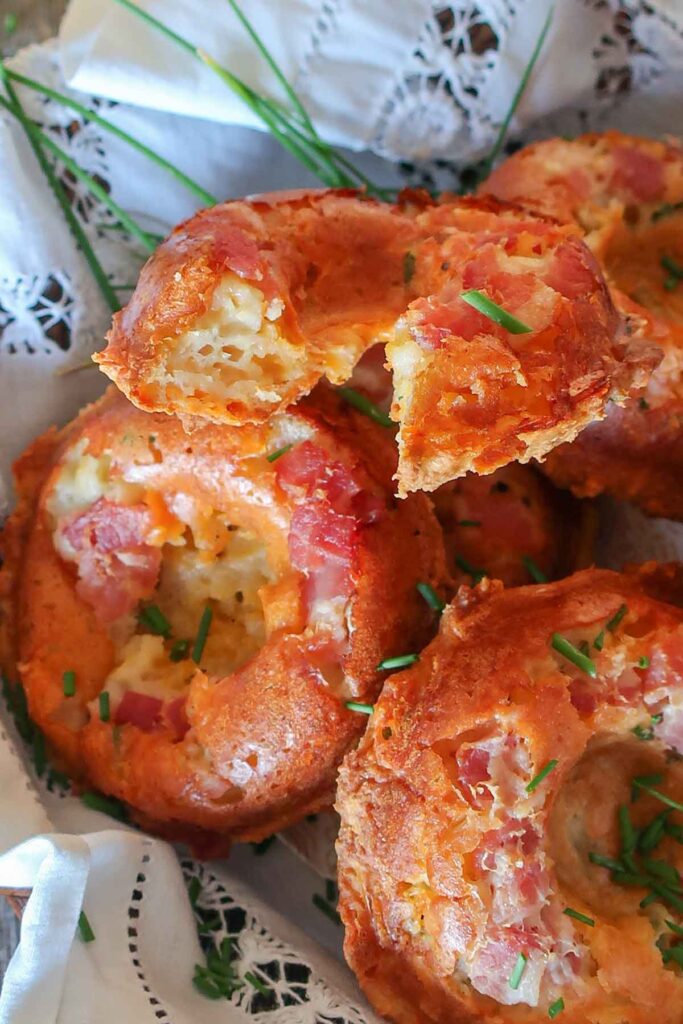 Looking for a Gluten-Free Breakfast Option? Try this simple to make, hearty, and so-good baked cheesy bacon donut recipe. Basic ingredients such as bacon, cheese, yogurt, and gluten-free flour blend make this a quick and easy savory donut recipe.
Gluten Free Cheese and Bacon Baked Donut Recipe Details
This savory donut recipe has only five ingredients plus seasoning. Here are the simple recipe details.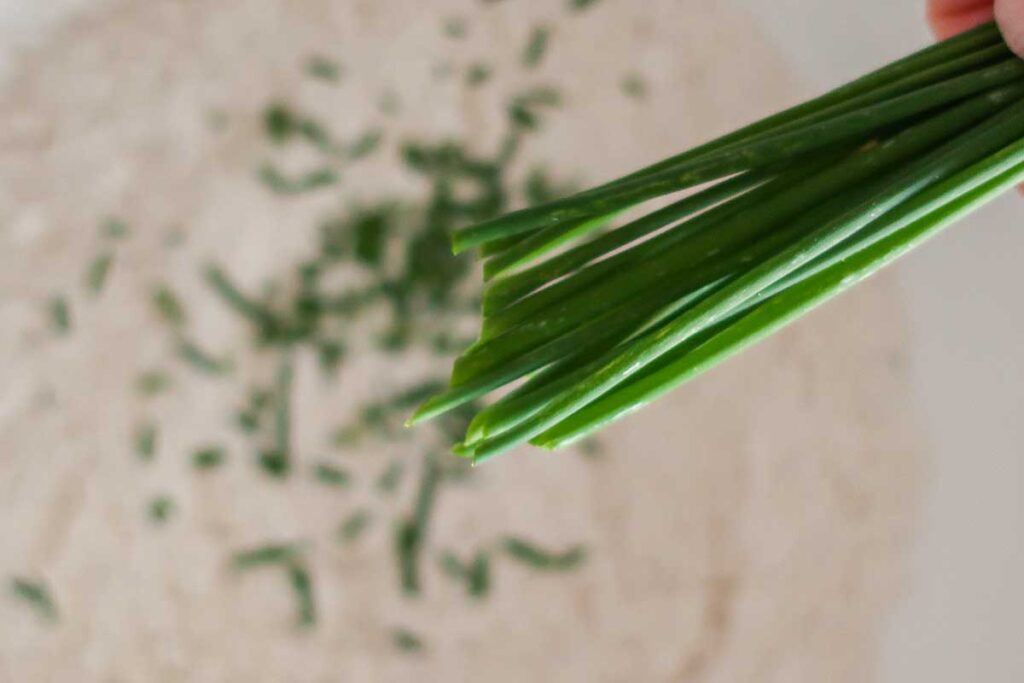 Mix the dry ingredients; flour, baking soda, salt, and pepper. Add grated cheese, and if you like, you can add herbs or thinly sliced green onions or chives, which I used in this recipe. Mix in yogurt, and the gluten free donut dough is ready.
The next step is to prepare the pan; lightly brush a six-cavity donut pan with oil and line it with chopped uncooked bacon.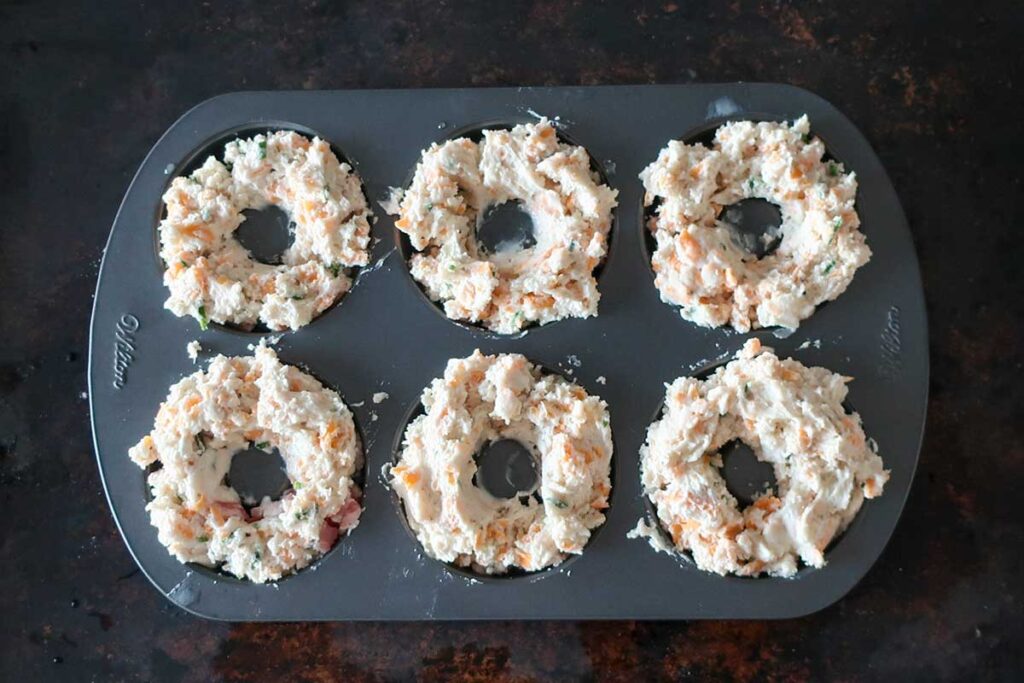 Then the dough is spooned over the bacon, and then the donuts are baked. That's all there is to this savory gluten free baked donut recipe.
Most frequently asked questions about baked gluten free donuts?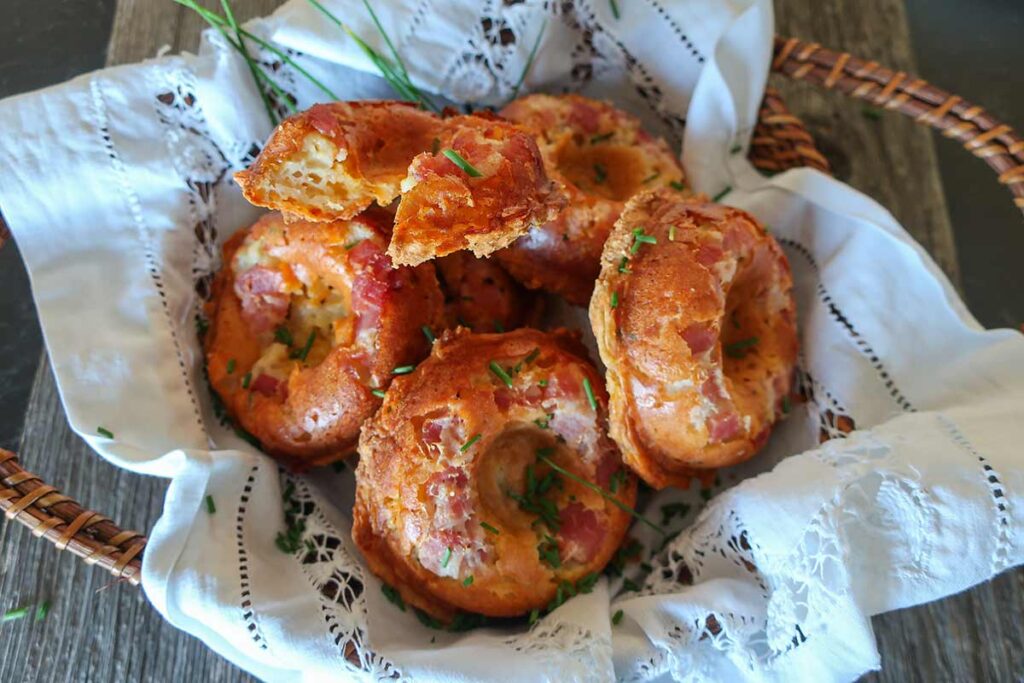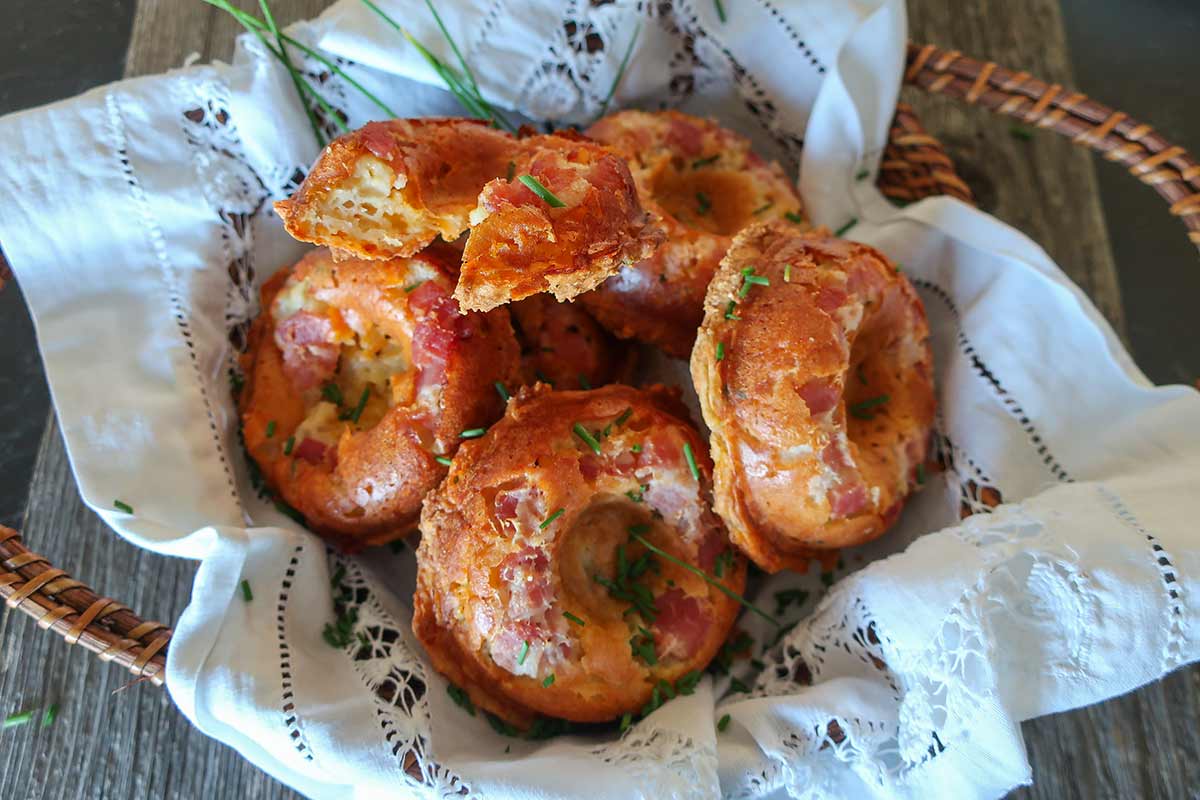 What is the best flour for gluten-free donuts?
You will need a blend of flours for the best texture for donuts. Often it would be rice flour, almond flour, and tapioca flour. However, I wanted to keep the recipe simple and nut-free, so I used a gluten free flour blend.
Do gluten-free donuts rise like regular donuts?
Gluten-free donuts may not rise as much as traditional donuts due to the absence of gluten. Baking powder or baking soda is typically used to help them rise.
How can I prevent gluten-free donuts from being dry?
Moist ingredients like yogurt or oil can help keep gluten-free donuts moist. Proper measuring and not overbaking are also important.
Can I use a regular donut pan for gluten free donuts?
Yes, a regular donut pan can be used, but it's recommended to grease it well to prevent sticking, as the gluten free batter can be stickier.
What toppings can I use on savory gluten free donuts?
You can use various toppings like sesame seeds, poppy seeds, chopped nuts, herbs, and cheese.
Are baked gluten-free donuts healthier than fried ones?
Yes, they are healthier than fried ones, as they contain less fat and fewer calories.
How can I ensure my gluten-free donuts have the right texture?
The right flour blend, proper leavening agents, and moisture-retaining ingredients like yogurt can help achieve a good texture.
Can I freeze gluten-free donuts?
Yes, you can freeze gluten-free donuts. Allow them to cool completely, then store in an airtight container or freezer-safe bag. Thaw at room temperature, then reheat in the microwave or oven.
What other flavors can I use in savory gluten free baked breakfast donuts?
Here are some choices.
Spinach and Feta: Incorporating chopped spinach and crumbled feta cheese into the dough can create a nutritious and savory breakfast option.
Herb and Garlic: Using herbs like rosemary, thyme, or garlic in the dough can result in fragrant and savory donuts.
Sundried Tomato and Basil: Adding sundried tomatoes and fresh basil to the dough can create a Mediterranean-inspired flavor profile.
Sausage and Onion: Mixing cooked sausage and caramelized onions into the dough can create a hearty and savory breakfast option.
Veggie-packed: Donuts made with grated zucchini, carrots, or other vegetables can add a nutritional punch to your morning.
If you prefer a sweet donut our popular Gluten-Free Baked Chocolate Donut Recipe, or the Gluten-Free Baked Apple Cider Donut Recipe.
Why use baking soda instead of baking powder in a gluten free donut recipe that is made with yogurt?
Leavening Agent Balance: Baking soda is a more potent leavening agent than baking powder. When working with gluten-free recipes, which often lack the structure gluten provides, baking soda can provide a more significant lift and rise to the donuts. This can result in a lighter and fluffier texture, which can be especially important in gluten free baked donuts.
Acidity from Yogurt: Yogurt is slightly acidic, and when combined with baking soda, it creates a reaction that produces carbon dioxide gas. This gas helps the donuts rise and become fluffy.
Neutralizing Flavor: Baking soda can help neutralize any tangy or acidic flavors from the yogurt, creating a tasty donut.
However, when using baking soda, it's important to have enough acidity in the recipe to activate it properly. Since yogurt is slightly acidic, it complements the use of baking soda well.
If your recipe lacks acidity, you might need to add an acidic ingredient (like lemon juice or vinegar) to ensure the baking soda reacts properly.
Remember that baking soda is more potent, so you need less than baking powder.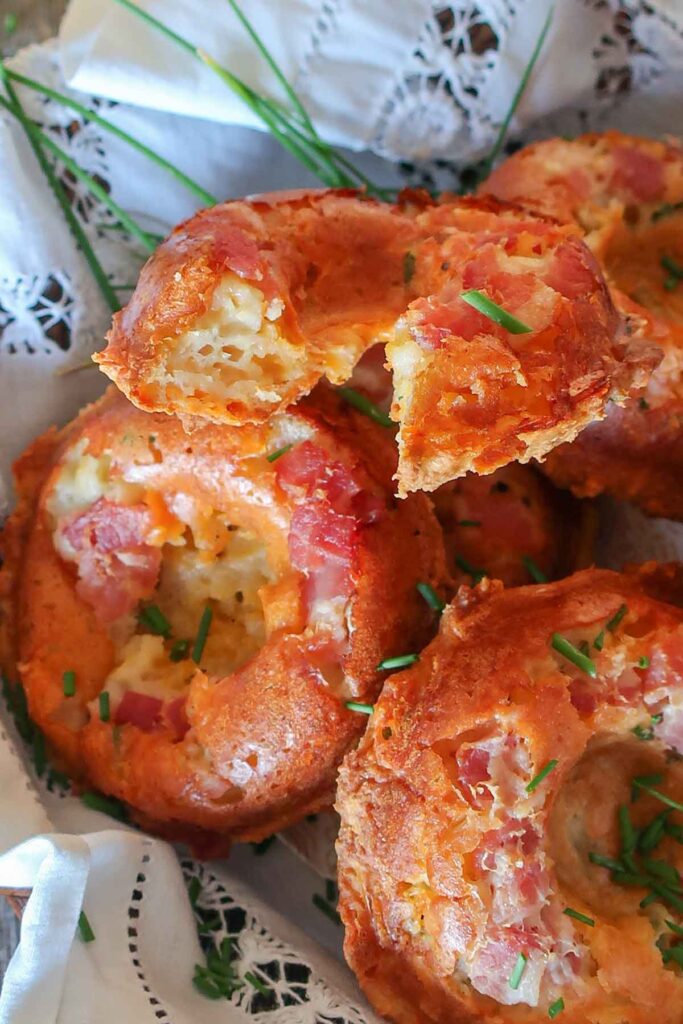 Breakfast or Brunch?
So why not indulge in the irresistible savory Gluten-Free Cheese and Bacon Donuts with a twist? These donuts can be a fun and unique way to enjoy a savory breakfast treat or add scrambled eggs and fresh fruit for a full-on Sunday brunch.
Let's Connect!
Be sure to FOLLOW US on FACEBOOK and PINTEREST. And don't forget to sign up for our newsletter, the form is at the bottom of this page. We always have something new and exciting for you!
Many thanks!
Kristina xx
Gluten Free Baked Cheese and Bacon Donuts
Published on Aug 14, 2023
by
Kristina Stosek
Instructions
1.

2.

Lightly brush a 6-cavity donut pan, including the centers, with oil, and line the bottoms with chopped bacon. (see photo in the post)

3.

Mix the flour, baking soda, salt, and pepper. Add grated cheese and chives, if using, and combine. Briefly mix in yogurt until a sticky dough forms. Do not overwork the dough, or the donuts will become dense

4.

Spoon the dough evenly over the bacon. If you want the donuts to be smooth, wet your fingers with water and smooth the tops. I left them rustic looking

5.

Bake for 15 minutes at 400 F, then reduce the oven temperature to 375 F and continue baking for 12 - 15 minutes, or until the tops are golden brown

6.

Cool in the donut pan for 10 minutes, then remove them from the pan and transfer onto a cooling rack to cool