Gluten-Free Apple Bread and Butter Pudding
Published on Jul 01, 2020
by
Kristina Stosek
Prep Time:

20 minutes
Cook Time:

45 minutes
Serves:

8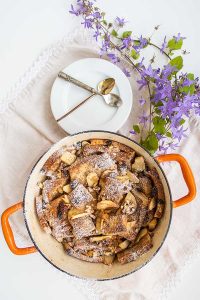 ​This post may contain affiliate links, please see our
privacy policy
for details
Some days are just meant for indulgences such as this Gluten-Free Apple Bread and Butter Pudding. Thin slices of tart Granny Smith apples between layers of cinnamon bread, nuts and raisins all baked in vanilla custard finished with crusty maple topping.
It is not often I indulge in buttery sweet treats, but some days… You just need it. I love apples, so I thought why not make a gluten-free apple bread and butter pudding today 🙂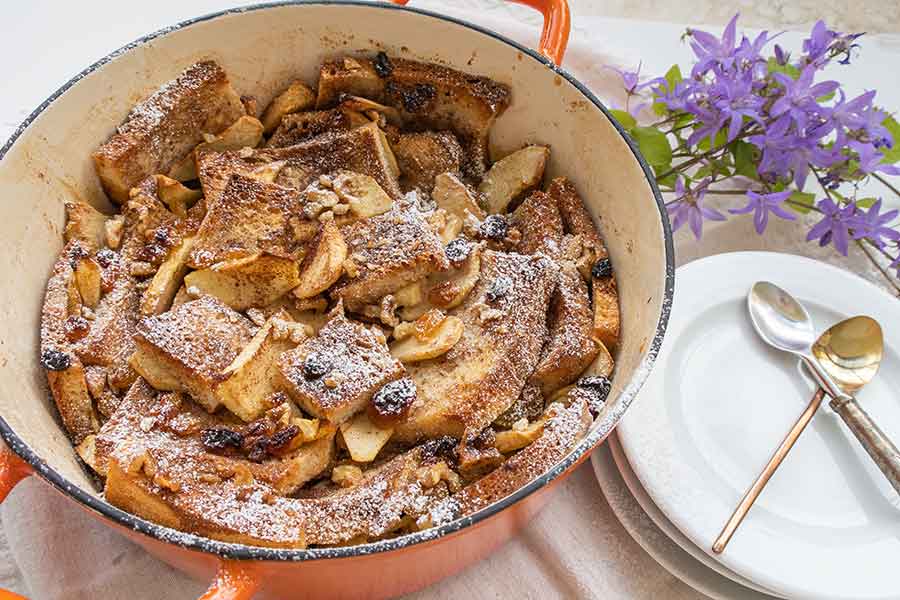 ♥
What is bread and butter pudding?
Bread pudding originated in the 11th century in England. The pudding is a simple dessert made with bread, a mixture of eggs, milk, spices, sugar and vanilla and sometimes may have fruit. Bread and butter pudding is very similar except you butter the bread first before you add the milk.
Today I wanted to make a gluten-free bread and butter pudding…because it is one of those days where comfort food is needed. I have made both versions of the pudding, but honestly, the bread and butter pudding is sooo much tastier.
The buttery bread baked with apples, raisins, walnuts, cinnamon and creamy custard is unapologetically delicious!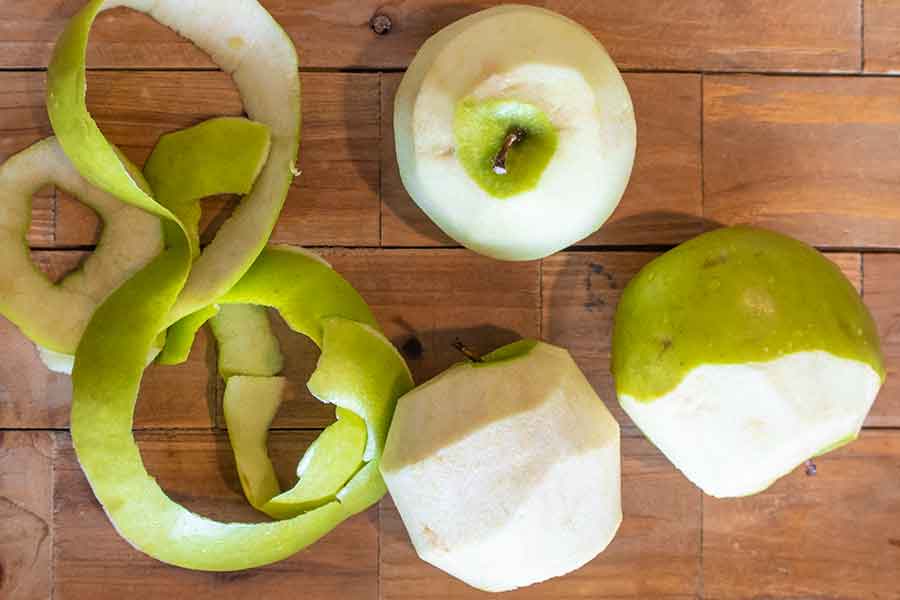 ♥

How to make apple bread and butter pudding?
First, you start with the bread. Since I am making a gluten-free version of the pudding, the bread has to be gluten-free. I found that for the best results, you should use gluten-free white bread. I found a great Millet and Chia Bread, made by Little Northern Bakehouse… it is perfect for this recipe.
For the apples, it is essential to use tart apples. The tartness balances the sweetness. Otherwise, the bread pudding is too sweet. Granny Smith apples work best in this recipe.
This is where the cinnamon comes in, I mean, there is nothing better than a combination of apples and cinnamon.
I have also added raisins and nuts for texture and extra goodness. I usually use walnuts, but pecans are delicious too.
Finally, the mixture that holds everything together into a custard like pudding. You can use cream or milk, eggs, vanilla and sugar – very simple. I also added a drizzle of maple syrup over the top to this gluten-free bread and butter pudding. The maple syrup gave the pudding a sweet crispy finish.
♥

What to serve with bread pudding?
Bread pudding can be served with just a sprinkle of powdered sugar. But if you want to make it extra special, add vanilla bean ice cream, caramel sauce or go all out and make whisky cream sauce. If you like apple bread pudding check out the breakfast apple yogurt cake 🙂
→ Recipe for whiskey cream sauce.
1 1/2 cups heavy cream
2 large egg yolks
1/3 cup sugar
4 Tbsp. Unsalted butter
1/4 cup whiskey
Add the cream, egg yolks and sugar to a saucepan and whisk until smooth. Cook over medium heat for 8 – 10 minutes, continually whisking until the mixture thinly coats back of the spoon. Remove from the heat and cool, stirring often as it cools.
If today is one of those days when you need some comfort, I know this apple bread and butter pudding will do the trick. ENJOY!
Gluten-Free Apple Bread and Butter Pudding
Published on Jul 01, 2020
by
Kristina Stosek
Instructions
1.

Preheat oven to 375 F and coat a 9-inch round high sided baking dish with butter, or use a dish of choice

2.

Generously butter bread slices and cut into 1-inch strips

3.

Combine 1/3 cup sugar, cinnamon, raisins and nuts

4.

In a large bowl toss together apple slices, bread and sugar mixture

5.

Spoon the mixture into the buttered dish

6.

For the pudding, whisk together cream, eggs, vanilla and 1/4 cup sugar. Pour over the bread mixture and let sit for 15 minutes

7.

Drizzle with maple syrup and bake for 40 - 45 minutes until golden brown