Food Processor Gluten Free Bread
Published on Jun 25, 2023
by
Kristina Stosek
Prep Time:

5 + rising minutes
Cook Time:

45 minutes
Serves:

1 loaf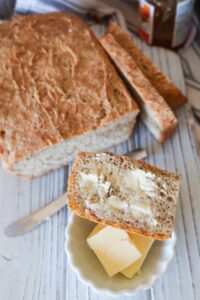 ​This post may contain affiliate links, please see our
privacy policy
for details
This is the VERY BEST food processor gluten free bread recipe. The sandwich-like texture can make any gluten free sandwich stand out because you can't tell the bread is gluten free. The crumb is moist, tender, and compact and will hold your favorite veggies, meats, and spreads. The crust is firm but not crispy, just like a sandwich bread should be.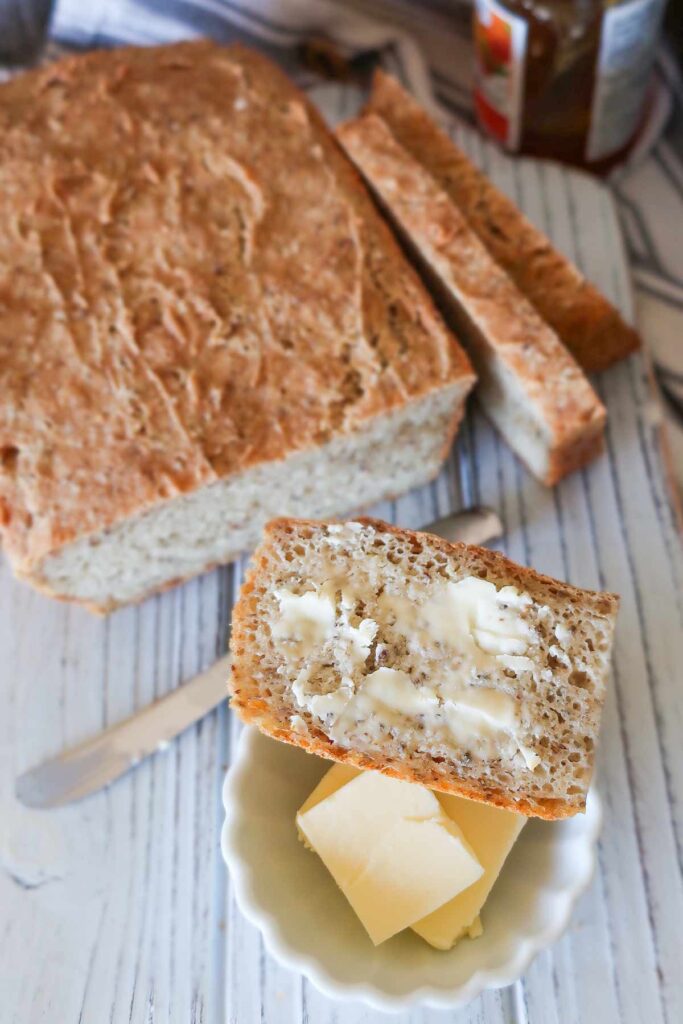 Why use a food processor to make gluten free bread?
First, it is easy. Dump everything in the food processor bowl and let it do its work. It takes about 2 minutes. Clean-up is easier, and using a food processor will give the bread a smoother texture by ensuring thorough mixing and incorporating of ingredients.
How to make a food processor gluten free bread?
The process of this gluten free bread recipe is simple. First, add the dry ingredients and pulse a few times to combine.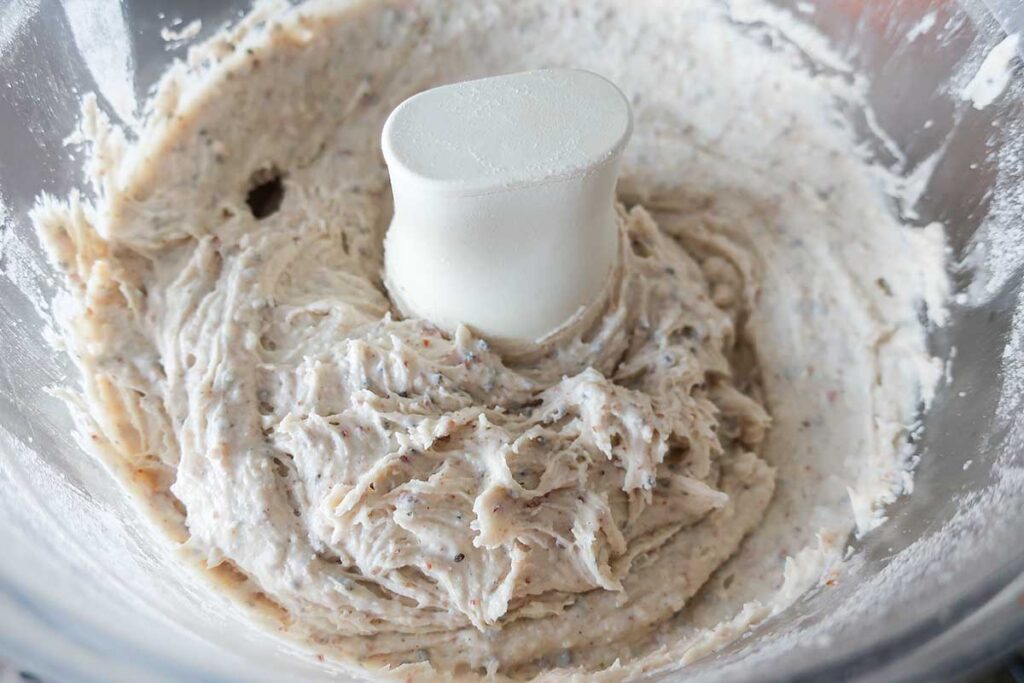 Then, add the wet ingredients and process until the dough is smooth. This takes about two minutes.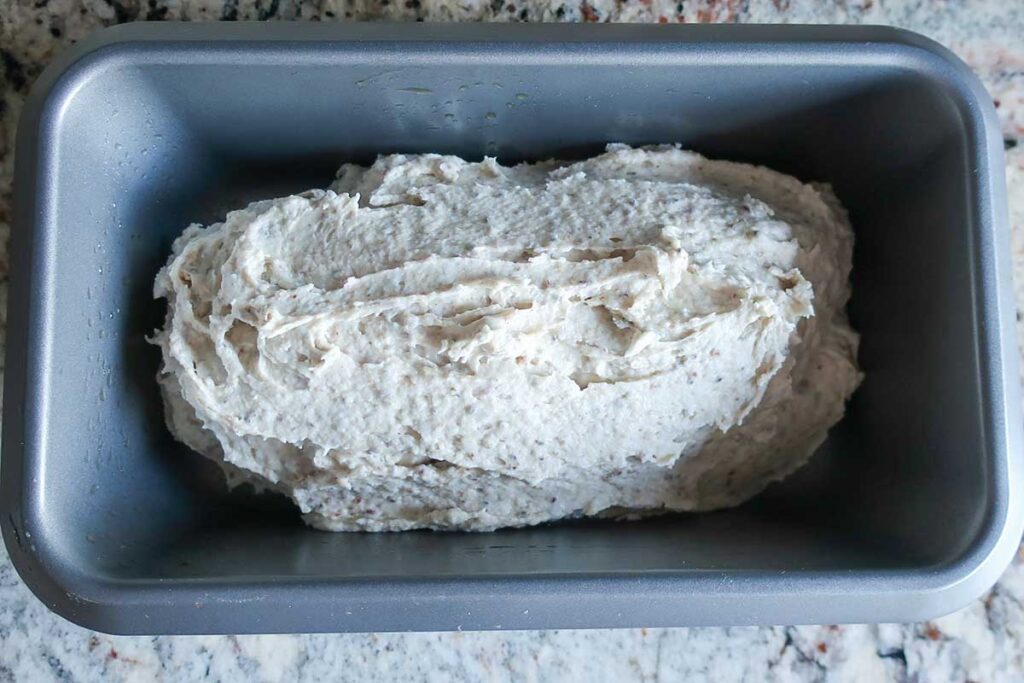 Transfer the bread dough to a lightly oiled bread pan and loosely cover with a damp kitchen towel. Allow the dough to rise in a warm place. The dough will double in size.
Bake at the right temperature. Once cooked, transfer the bread to a cooling rack and cool completely before slicing. Enjoy!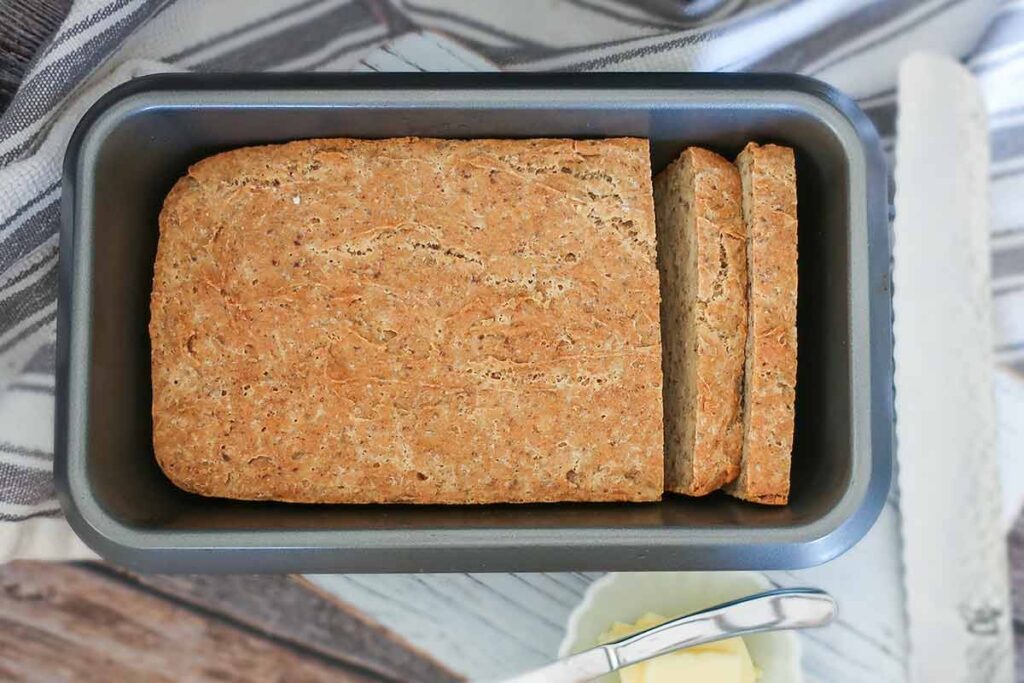 The ingredients
The ingredients in this food processor gluten free bread recipe are classic, except for one ingredient.
For the flour, I used a gluten free flour blend with xanthan gum to keep this recipe simple. However, I wanted to give the bread healthiness and flavor that you would find in wheat bread, so I added ground flaxseed and psyllium husk powder. These two naturally gluten free ingredients will provide great bread texture and flavor. Not like the starchy, crumbly bread you would find in your local supermarket.
The ingredient that gives the bread a good rise beside the rapid-rise yeast is egg whites. You can't omit the egg whites, or the bread will be dense and heavy.
In addition, I added 1/4 cup of healthy seeds. The seeds are optional but they add hearty flavor, nutrition, and fiber. You can use any seeds you have on hand. I used pumpkin, chia, and whole flax seeds.
Check out our complete list of sweet and savory gluten free bread recipes to get you inspired!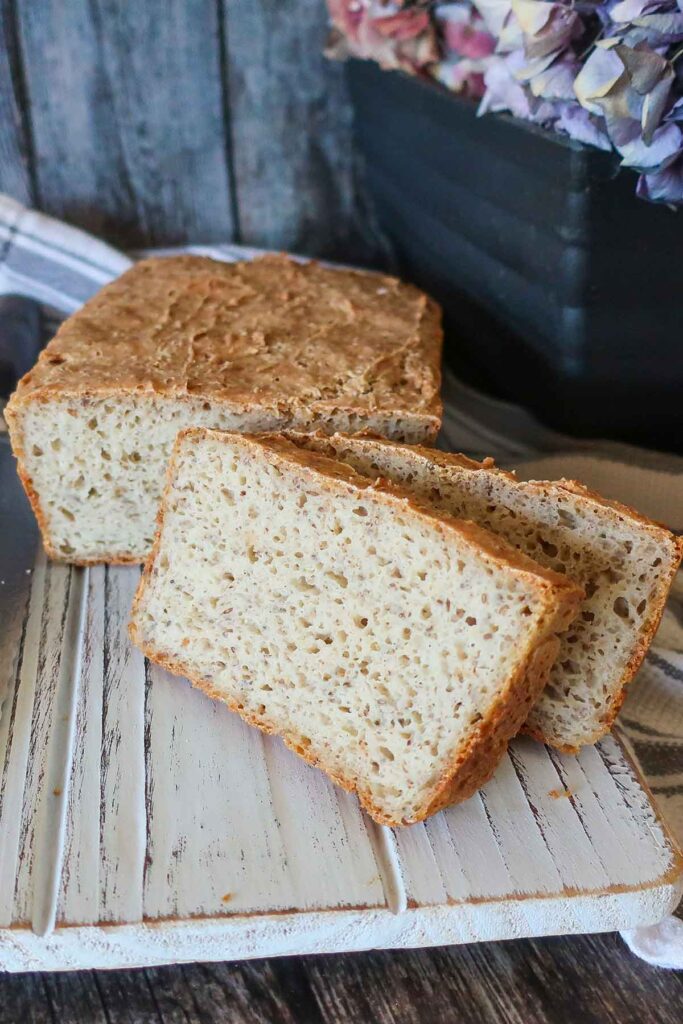 4 Tips to make the best gluten free bread using a food processor
Don't scoop flour! Measuring flour correctly is a critical step when baking. Don't scoop from the bag with your measuring cup when measuring flour. This can compress the flour up to 25%, and you will get dry, dense, heavy bread. Use a spoon to scoop flour into the measuring cup and level off with a knife
Room temperature. For yeast recipes, bring all wet ingredients, such as eggs or vinegar, to room temperature before adding them. Yeast needs warmth to grow; if your ingredients are too cold or hot, it may prevent full yeast growth.
Make sure your rising spot is nice and warm. An excellent method for letting yeast bread rise is using the oven method. Turn on your oven to 200º F for 5 minutes, then turn it off. The oven will create the perfect environment for rising yeast dough.
The bread is fully cooked. The best way to tell if the gluten bread is done is to insert an instant-read thermometer into the bottom of the loaf (but not touching the pan). The temperature should be approximately 205-210º F when it is done.
By following these 4 tips and the recipe, will guarantee the perfect gluten-free bread made in a food processor.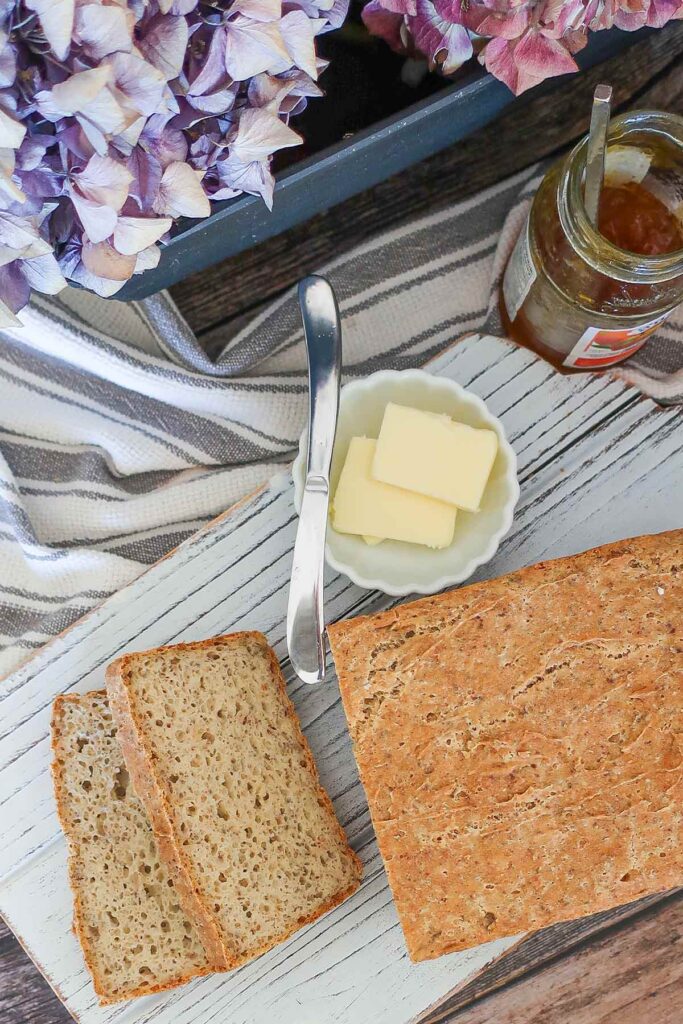 Food Processor Gluten Free Bread Highlights
This is the easiest recipe for basic gluten free sandwich bread because by using a food processor the hands on time is under 5 minutes.
The clean-up is quick.
The flavor and texture are just like bread made with wheat flour.
This bread is excellent for making sandwiches because it is moist, tender, and firm enough to hold your favorite sandwich filling. And most importantly, the bread is nutritious and tastes addictively delicious!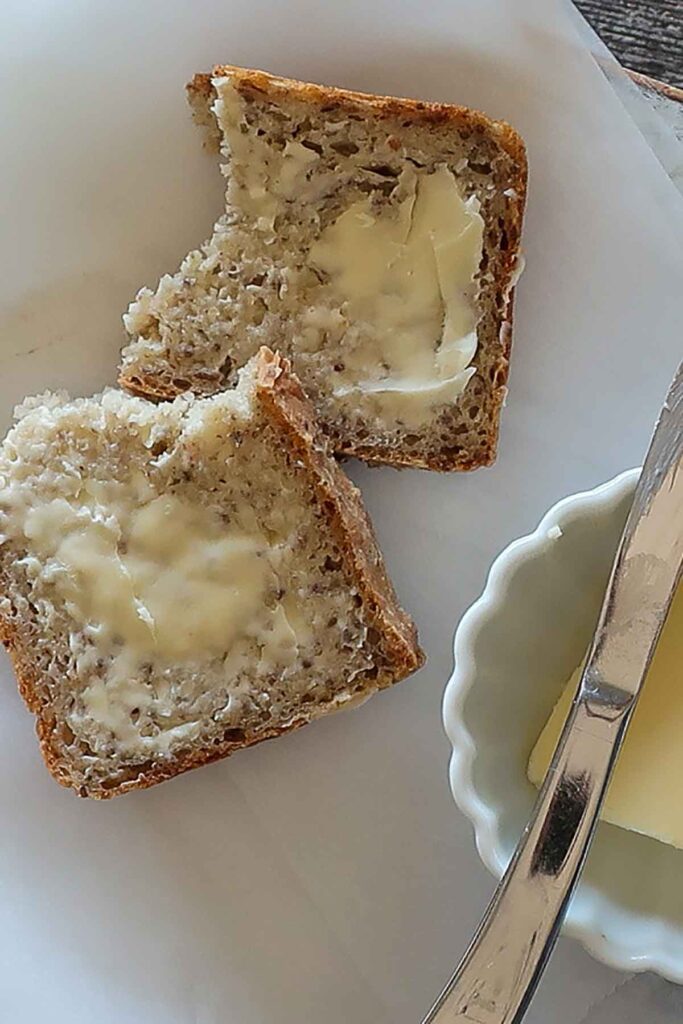 Let's Connect!
Be sure to FOLLOW US on FACEBOOK and PINTEREST. And don't forget to sign up for our newsletter, the form is at the bottom of this page. We always have something new and exciting for you!
Many thanks!
Kristina xx
Food Processor Gluten Free Bread
Published on Jun 25, 2023
by
Kristina Stosek
Instructions
1.

In a 12-cup food processor bowl, add flour, flaxseed, psyllium husk powder, yeast, and salt. Pulse a few times to mix the dry ingredients evenly.

2.

Add water, olive oil, sweetener, apple cider vinegar, and egg whites in that order. Start the food processor. The dough should come together and form a sticky mass. About 2 minutes. If you notice some dry spots on the side of the bowl, scrape them down using a spatula and process until smooth

3.

If you use add-ins, add them at the end, and pulse to distribute through the dough.

4.

Transfer the dough to a lightly oiled bread pan—no need to smooth the top. See the photo in the post.

5.

Cover the pan with a damp clean, warm kitchen towel and allow the dough to rise in a warm place until it doubles. This may take around 1-2 hours, depending on the temperature of your rising place. I did mine using the oven method, and it took 1 hour. *See the post for the oven method

6.

Preheat your oven to 375 F

7.

Once the dough has risen, bake it in the preheated oven for 45 - 50 minutes, or until the bread's crust turns golden brown and the internal temperature is 205 F

8.

Remove bread from the oven and transfer it to a wire rack to cool completely before slicing
Leave a Comment
Kristina
Francine, it goes in the oven. The oven should be barely warm.
Hi Kristina, I am planning to make this bread tomorrow morning and my question is of the oven method for the dough to rise, do you put it on top of stove or in the oven? Thank you
Kristina
yes Lynne, psyllium husk can also be ground into a powder
Getting ready to make this but my psyllium is whole. Can I just grind it?
Kristina
Monique, the egg whites give the bread a better rise. But, yes you can use whole eggs
Kristina
Kristina
Jan, I find it blends better.
Why do you have to use powdered psyllium husk instead of the regular one?
Can I use plain white vinegar instead of apple cider vinegar?
Could I use whole eggs instead of just the egg whites?
Kristina
1 cup is 8 ounces. When measuring flour, fill the measuring cup with a spoon then level it off with a knife. Do not dip the measuring cup into the flour or you will end up with too much flour, thank you.
Hi, I am from the UK, I would love to try this receipe however, could you tell me how many ounces or grams are equal to 1 x cup please?